Working Group on Freedom of Opinion and Expression
Freedom of expression is not only one of the core human rights protected by international law, but also one of the anchors of democracy – as emphasized in the Warsaw Declaration. Each and every day, it is challenged by constant restrictions from governments around the world that wish to undermine public opinion and criticism.
The Working Group on Freedom of Opinion and Expression seeks to foster collaboration among the Community of Democracies' participating states and civil society organizations to promote freedom of opinion and counter the trends that suppress it. Areas of collaboration include coordinated multilateral activity and consensus-building initiatives, joint advocacy and programmatic projects to address journalist safety and existing restrictive measures.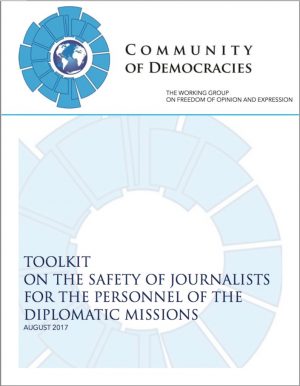 "Toolkit on the Safety of Journalists for the Personnel of the Diplomatic Missions."
Published in September 2017, this first ever toolkit on the safety of journalists for the personnel of the diplomatic missions, was was commissioned by the Working Group on the Freedom of Opinion and Expression.
The Toolkit's key objective is to provide guidance on the safety of journalists and media actors to diplomatic personnel who might come into contact with journalists in distress. The toolkit will help diplomats create a safer environment for journalists and, in turn, help protect freedom of speech and our democratic institutions.