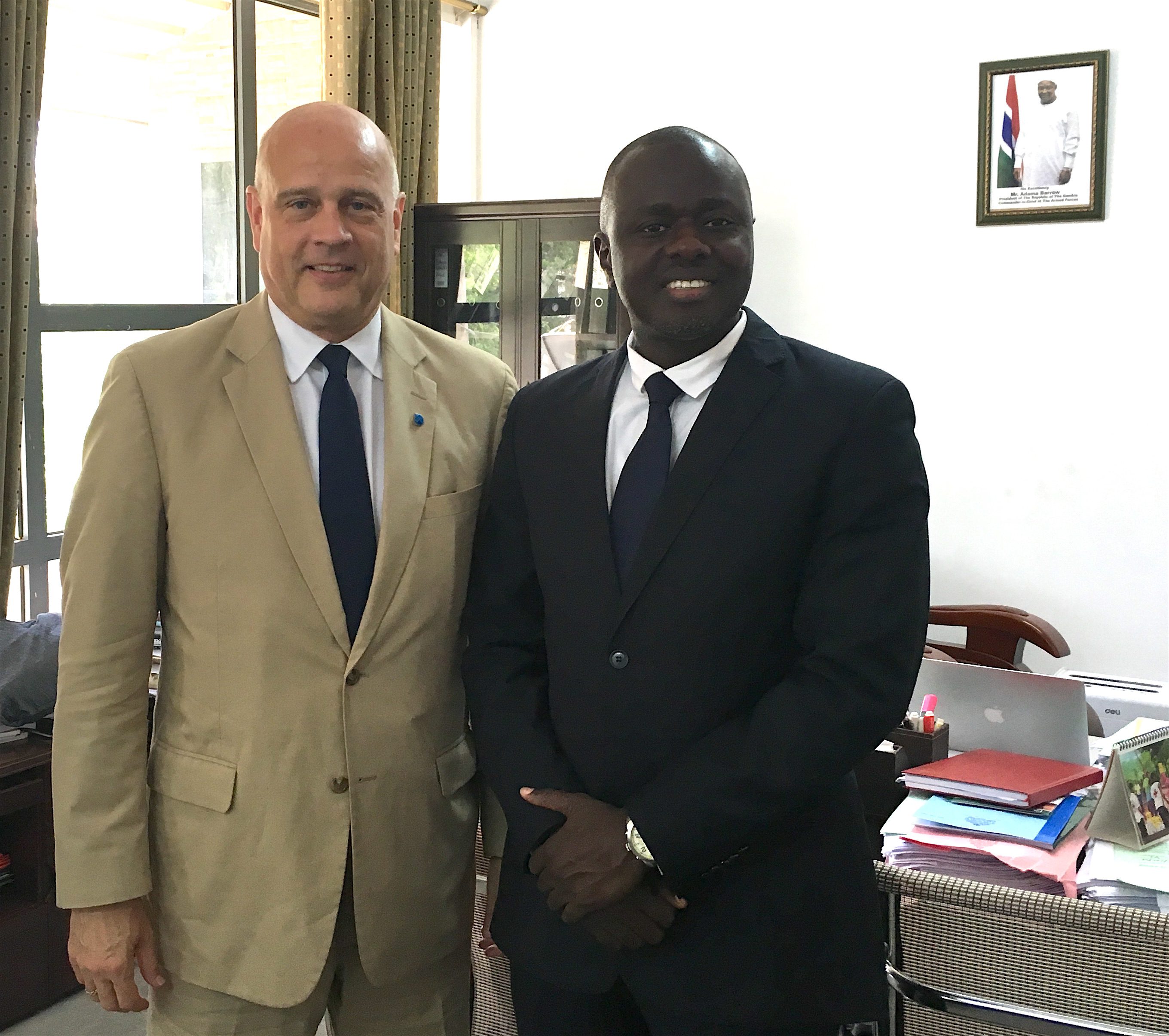 In its new, five-year Strategic Plan, the Community of Democracies' (CoD) Governing Council stated its intention in Strategic Objective Two to provide "sustained support for key democratic consolidation" in transitioning countries.
Under this strategic objective, Secretary General Thomas E. Garrett recently made the Community of Democracies' first official visit to The Gambia (July 17-20). The country's peaceful transition to democracy, following more than two decades of autocratic rule, marked an important milestone in its history and that of the region and creates an important opportunity for the Community of Democracies to support the Gambian people.
During his visit, Secretary General met with high-level government officials and representatives of civil society organizations, the private sector and CoD Governing Council Member States embassies to gain a deeper understanding of the country's current democracy-related challenges and opportunities and discuss how the Community of Democracies may support democratic reforms that are underway in The Gambia.
 'We've seen the evidence of this government working for democracy and even more importantly, we have seen inspiring evidence of Gambian people being devoted to democracy. And I think a partnership between Gambian people, civil society and the government of Gambia, as well as the international community as represented by groups as ours-shows there is a real opportunity here for democracy to take hold and to provide prosperity and peace for the people of this country.''– highlighted Secretary General in an interview with the Gambian TV & Radio Services (GRTS).
Among those he met, many underlined the need for democracy education to explain what democracy means in practice – while there is public awareness of the importance of democracy and democratic spirits are often high, civic education is needed to ensure that people do understand how democracy works to deliver, in relation to specific democratic values such as the freedom of opinion and expression or the freedom of assembly, and how they can exercise their democratic rights.
Secretary General was impressed with the vibrant and engaged civil society of The Gambia and most specifically with the numerous youth organizations characterized by their energetic spirit. With 60 percent of the population being under the age of 35, the need for youth empowerment and inclusion is seen as an issue of high importance. The dictatorial rule of the previous president combined with the high unemployment rate among this demographic group led many young Gambians in the past to seek opportunity and freedom abroad, often using the dangerous "backway" to Europe through the seas and desert transit.  Now, with the possibility of shaping a democratic nation, young people are making their presence felt across all sectors of society.
Following the visit, Secretary General will share his findings with the Governing Council Member States to discuss next steps. With broad geographical participation from new and established democracies from all regions in the world, the Community's Governing Council provides a platform that facilitates multi-stakeholder approach and coordinated engagement to support democratic reforms in transitioning countries.