The Community of Democracies (CoD) is committed to the advancement of women's participation in public life, in line with its Strategic Plan 2018-2023, which sets gender equality as one of the cross-cutting themes mainstreamed into all activities undertaken by the CoD, and the United Nations 2030 Sustainable Development Agenda that recognizes Sustainable Development Goal 5 on gender equality, as crucial to the achievement of all SDGs.
In the recent years, the CoD efforts towards advancing gender equality in public life focused on two important areas: improving women's political participation at all levels and engaging women in sustaining peace.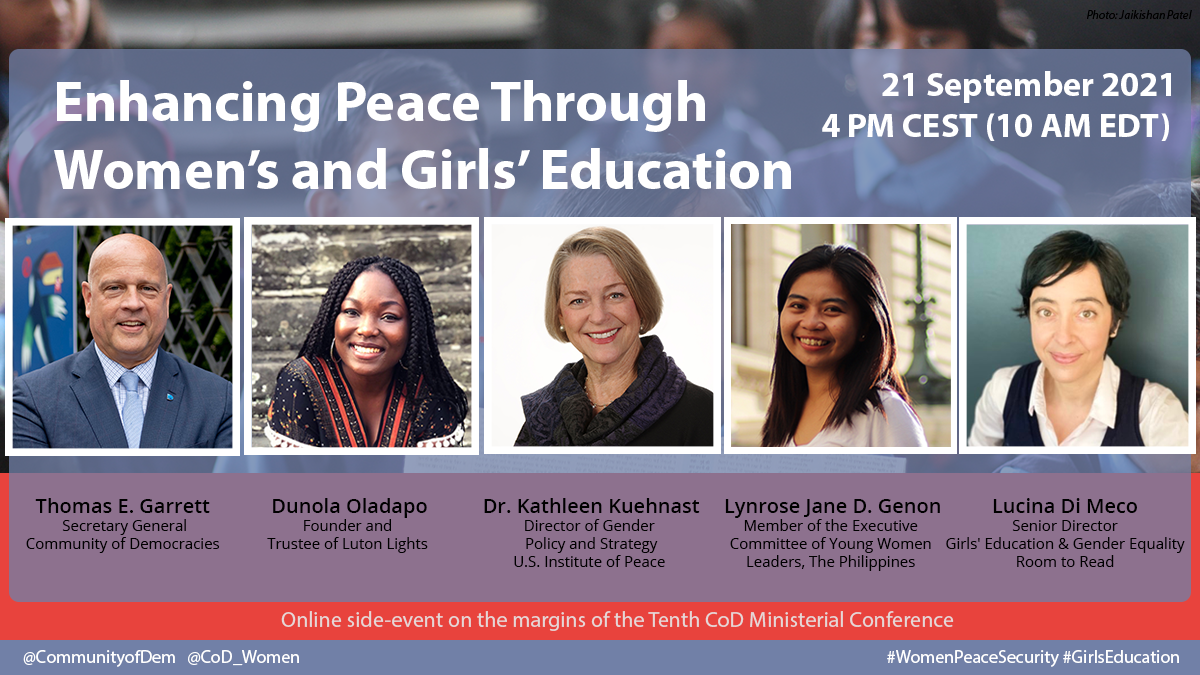 Enhancing Peace Through Women's and Girls' Education
This virtual side event organized on the margins of the CoD 10th Ministerial Conference discussed the critical value of education of women and girls for peacebuilding processes and conflict resolution. It highlighted the disproportionate impact of war or conflict on women and girls, their education and self-development, and discussed potential solutions to support women during the conflict and post conflict realities to unleash their full potential.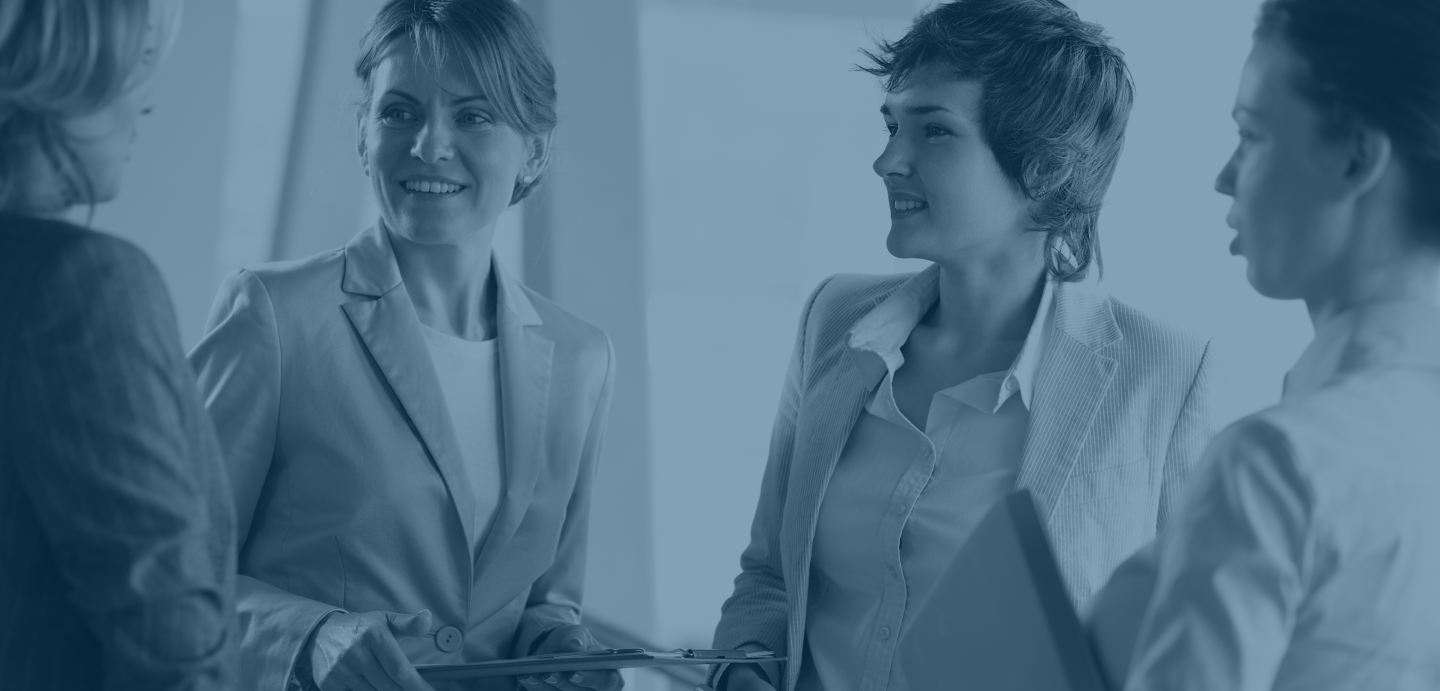 Women Leading in Crises: CoD Interview Series
To shine a spotlight on women leaders, the Permanent Secretariat of the Community of Democracies developed a series of articles about women tirelessly working at the frontlines of crises, including in the pandemic, during natural disasters, political and economic crisis, and conflict. This interview series brings together a diverse set of voices of established and emerging women activists and politicians to discuss their experiences of leadership in each region of the world.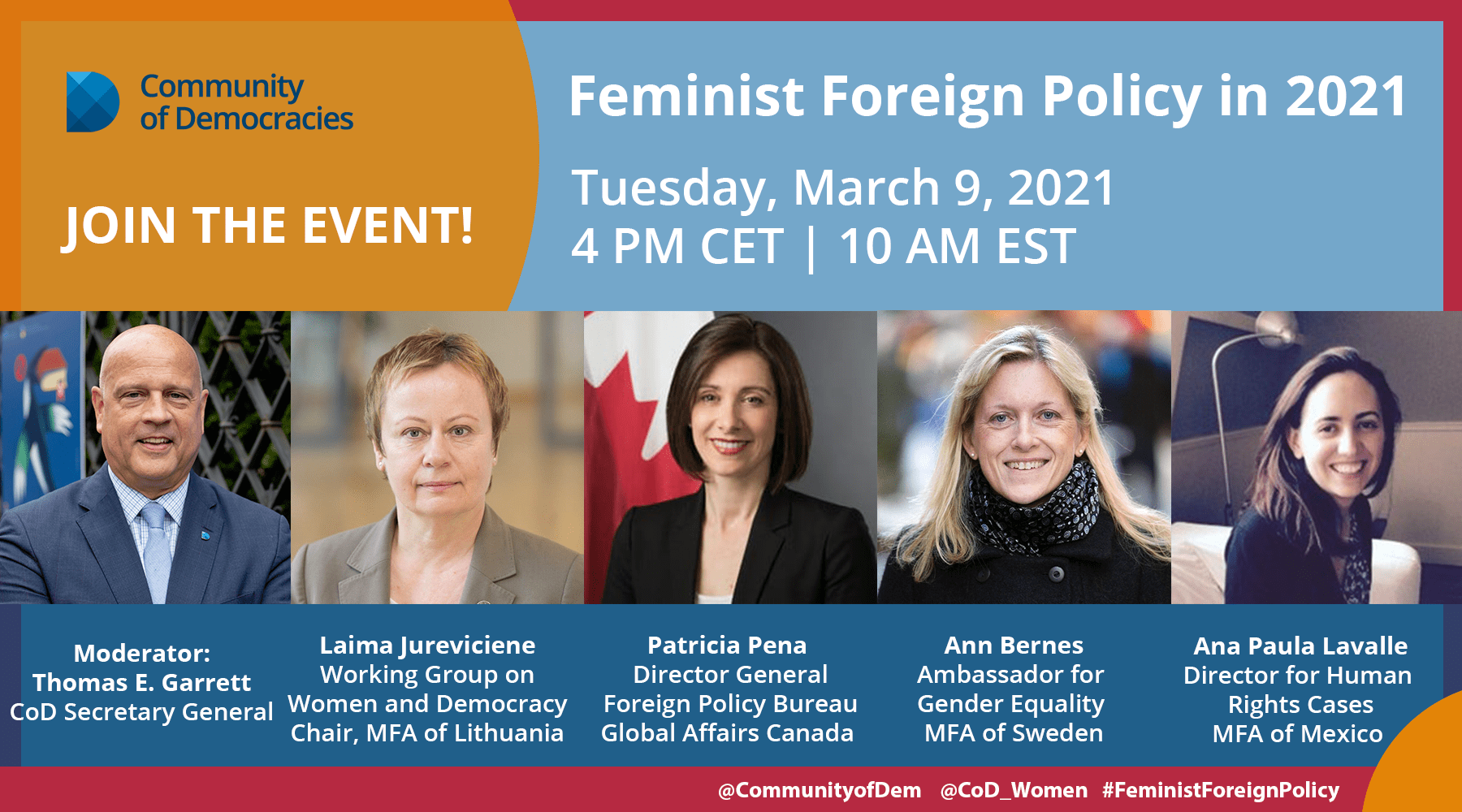 Feminist Foreign Policy in 2021
The event featured representatives of the CoD Governing Council Member States presenting the main objectives and priorities of the Feminist Foreign Policy of their countries.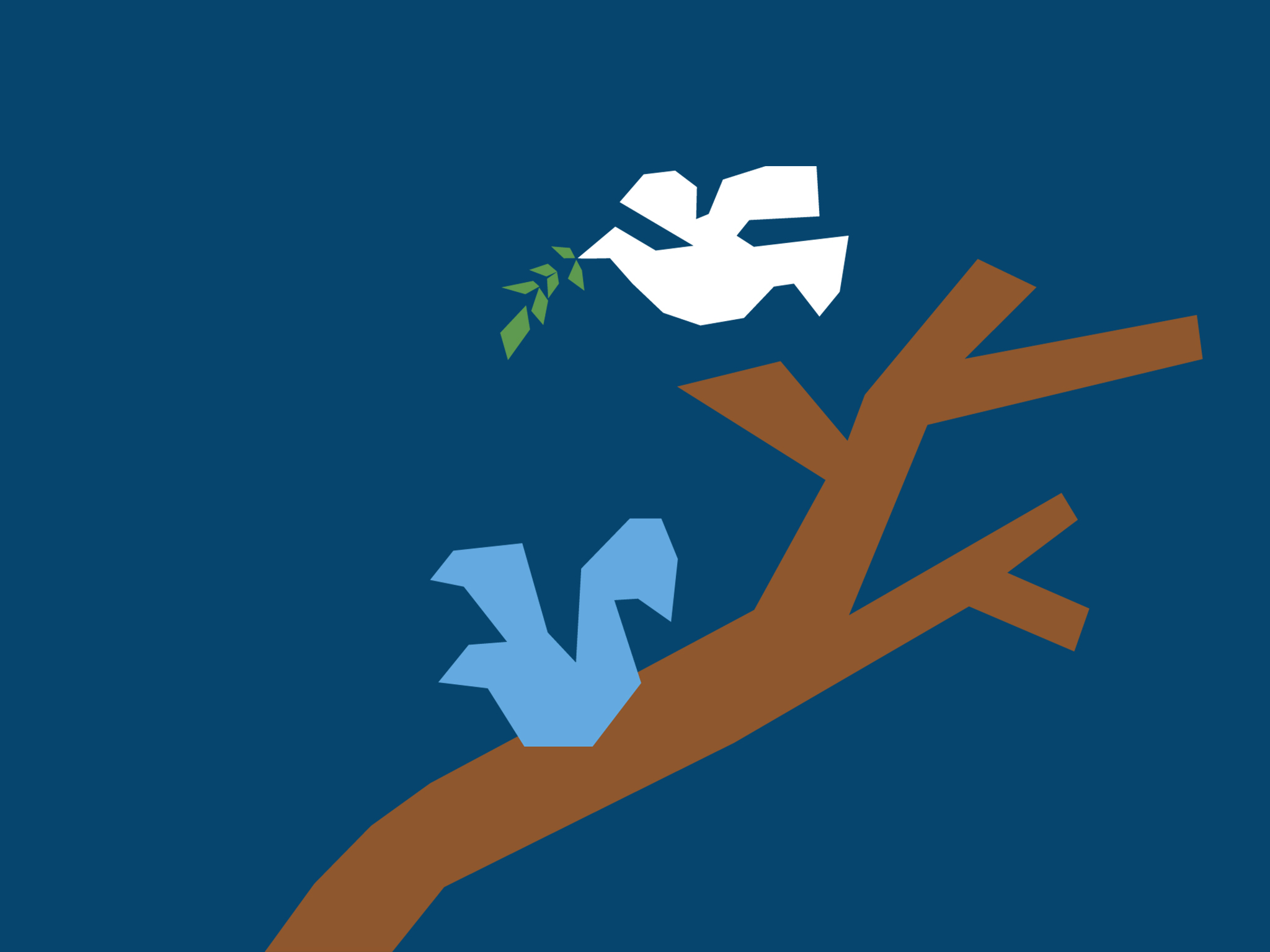 Women in Peacebuilding: Stories
Continuing the conversation on the importance of women's involvement in peace efforts, the Permanent Secretariat of the Community of Democracies conducted interviews with women leaders in peacebuilding and peacekeeping to present their stories to the public and highlight the many achievements of women in sustaining peace as well as challenges to their participation in these settings. Go to the Stories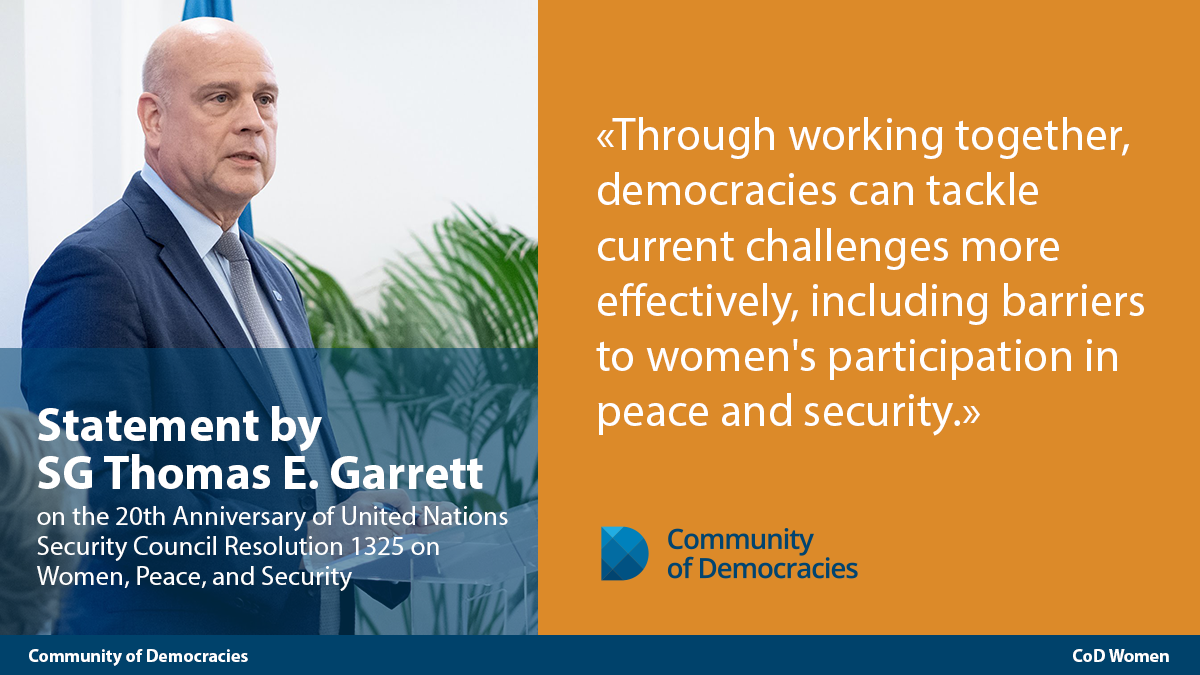 Marking the 20th Anniversary of UNSCR 1325
The "Engaging Women in Sustaining Peace: 20 years after UNSCR 1325" event gathered women leaders in peacekeeping and peacebuilding and explored interlinkages between strengthening of democracy and advancing women's participation in peace and security. Watch the event here.
In his Statement issued on this occasion, Secretary General Thomas Garrett underlined "Through working together, democracies can tackle current challenges more effectively, including barriers to women's participation in peace and security."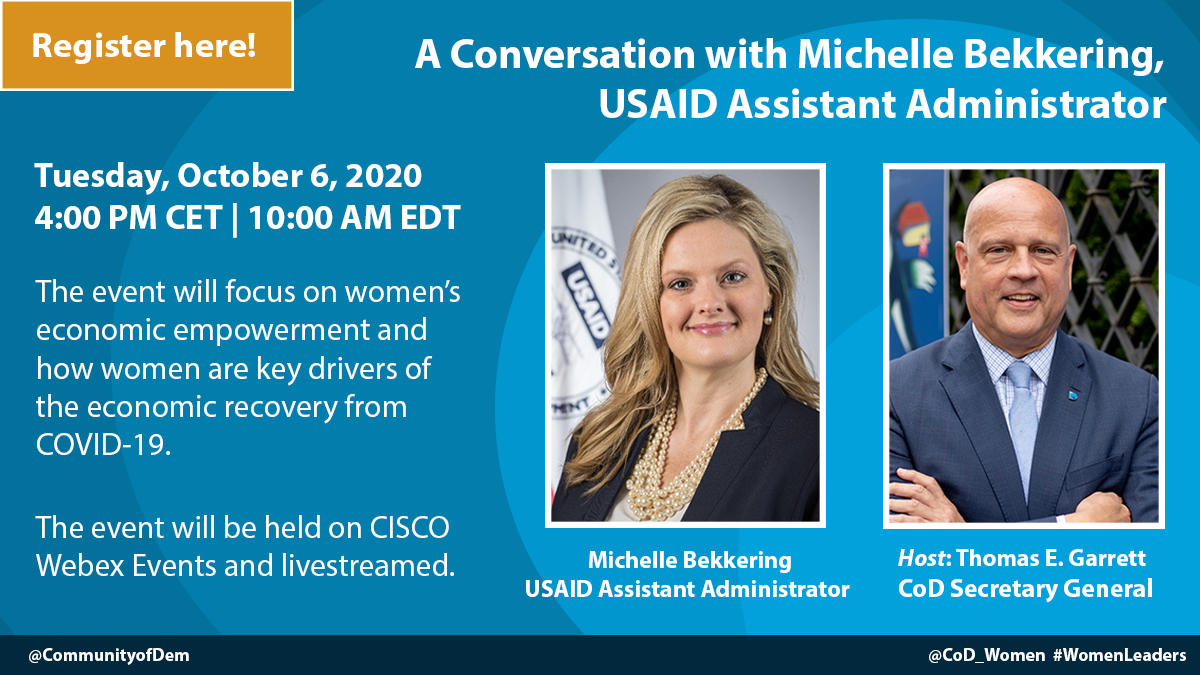 Conversation with USAID Michelle Bekkering on Women's Economic Empowerment
Hosted by Community of Democracies' Secretary General Thomas E. Garrett, the virtual event featuring Assistant Administrator Michelle Bekkering focused on women's economic empowerment and how women are key drivers of the economic recovery from COVID-19.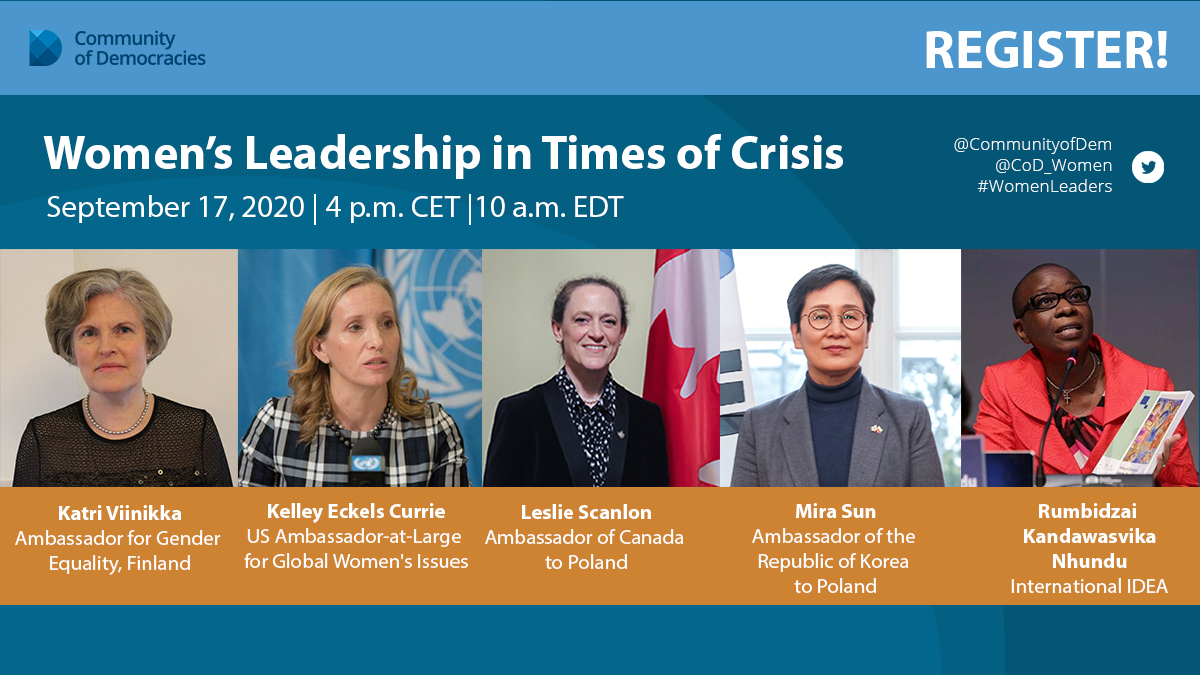 Women's Leadership in Times of Crisis
With participation of high-level female speakers, the event discussed the importance of women's political participation and involvement in decision-making during the COVID-19 pandemic and its recovery efforts.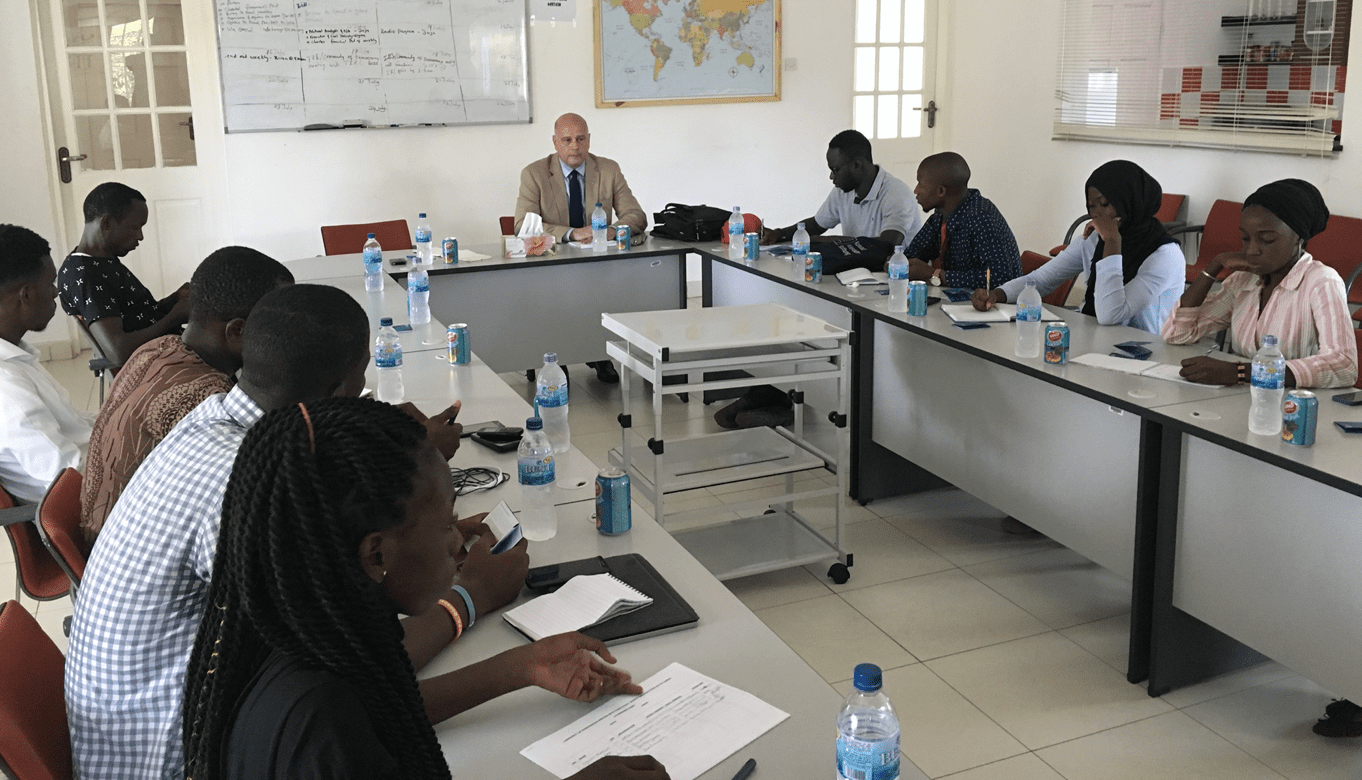 New  Project: Strengthening Civic and Political Participation of Women in The Gambia
Implemented by a project partner Westminster Foundation for Democracy and generously supported by CoD Member State the Republic of Korea, the project will aim to support participation of women in public life in The Gambia. Read more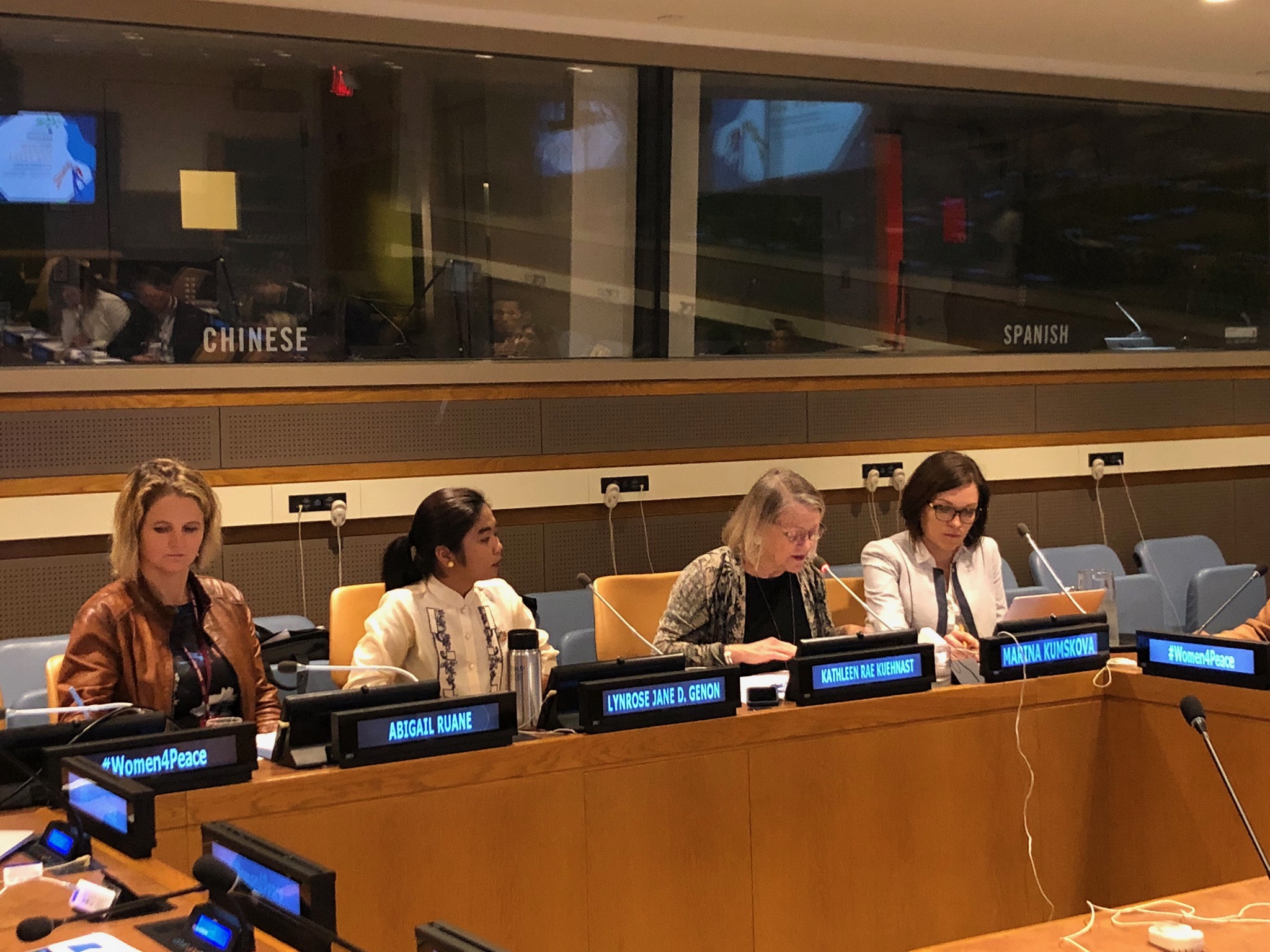 Engaging Women in Sustaining Peace project
Evidence shows that peacebuilding and reconciliation processes have higher rates of success, and more likely to last, when women are meaningfully involved. Echoing the seven commitments of the action plan for gender-responsive peacebuilding outlined by the UN Secretary General in 2010, the publication identifies best practices in women's participation in conflict resolution and peacebuilding from Africa, Asia, Europe and Latin America as well as challenges that women face in these post-conflict settings.
download publication