Youth participation in public life is an important element of sustainable democracies. For the Community of Democracies (CoD), youth engagement is one of the cross-cutting themes mainstreamed into all its activities.
The CoD works with youth from across the world to discuss country-specific as well as global democracy and human rights-related issues. Young people participate and contribute to a number of CoD activities, from thematic discussions and development of youth statements to major gatherings including the CoD Ministerial Conference, CoD Youth Forum, and the Youth Assembly for the Summit of Democracies.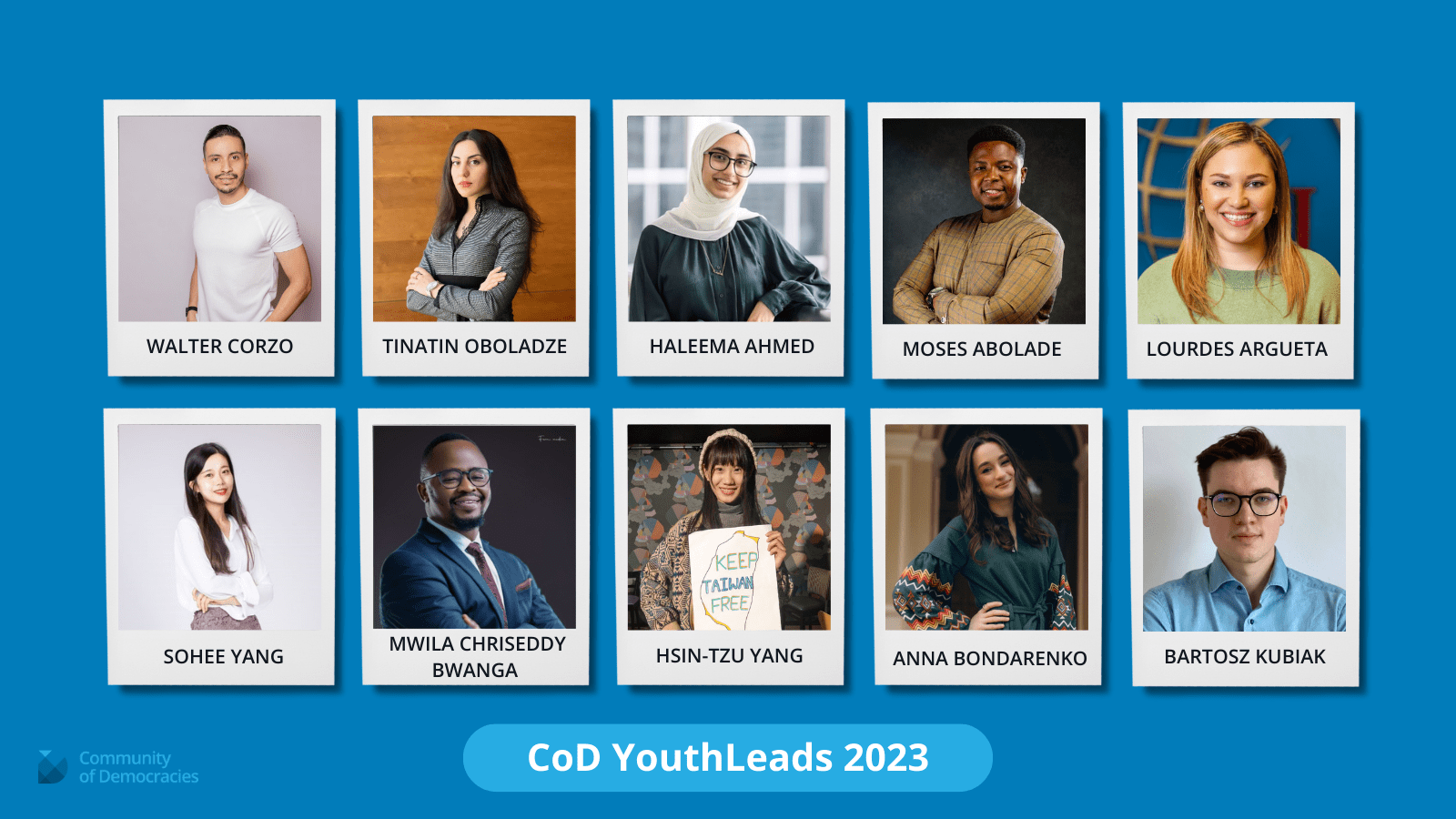 CoD YouthLeads
The CoD YouthLeads is an informal, voluntary group of young pro-democracy advocates advising the CoD on effective practices, strategies, and actions to enhance youth engagement in democracies worldwide. The CoD YouthLeads actively engage in CoD activities from thematic discussions to major CoD gatherings and provide action-oriented recommendations on democracy-related issues to the CoD Governing Council. The CoD YouthLeads joint activities are supported and coordinated by the Permanent Secretariat of the Community of Democracies.
Announcement of CoD YouthLeads 2023-2024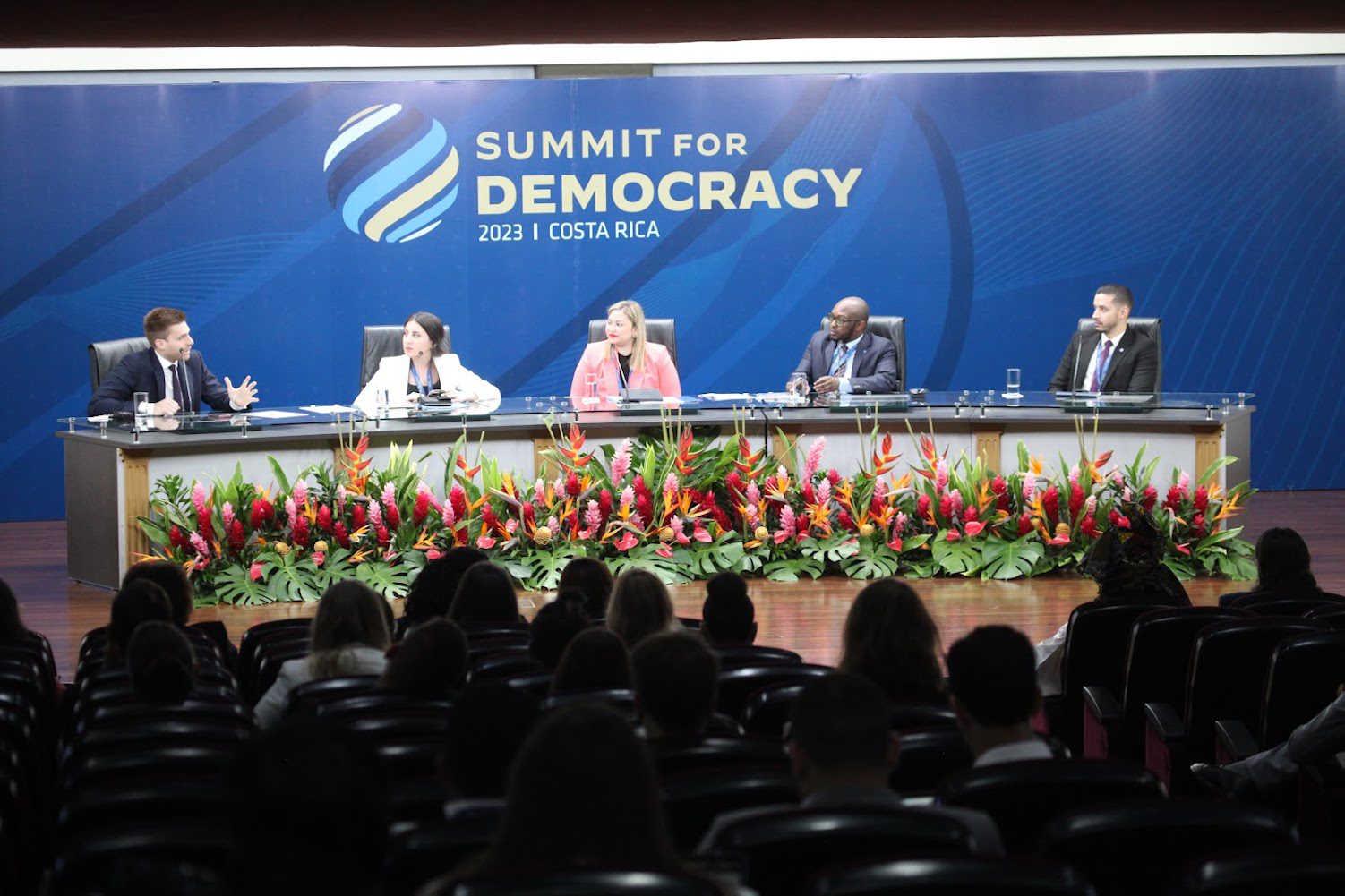 CoD Youth Activities at the 2023 Summit for Democracy
During the 2023 Summit for Democracy in San Jose, Costa Rica, the CoD held an event on "How to increase youth engagement and participation in democracies." The event gave voice to #CoDYouthLeads and other young democracy leaders who discussed practical ways to advance youth engagement in democracies and present the policy recommendations on youth participation, developed by CoD YouthLeads following the first edition of Summit of Democracies (2021). 
Also at the Summit for Democracy, Ambassador Linda Thomas-Greenfield, U.S. Representative to the United Nations, announced the creation of a global Youth Democracy Network, in collaboration with the Community of Democracies. The Network will strengthen intergenerational ties and increase peer-to-peer connections so that the next generation of leaders can work together to foster strong democracies and respect for human rights. Read more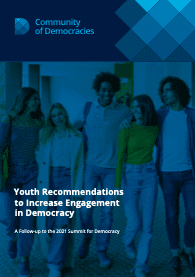 Youth Recommendations to Increase Engagement in Democracy
Developed by CoDYouthLeads as a follow-up to the U.S. Summit for Democracy,  the report lists practical steps on how to increase youth inclusion in democracy.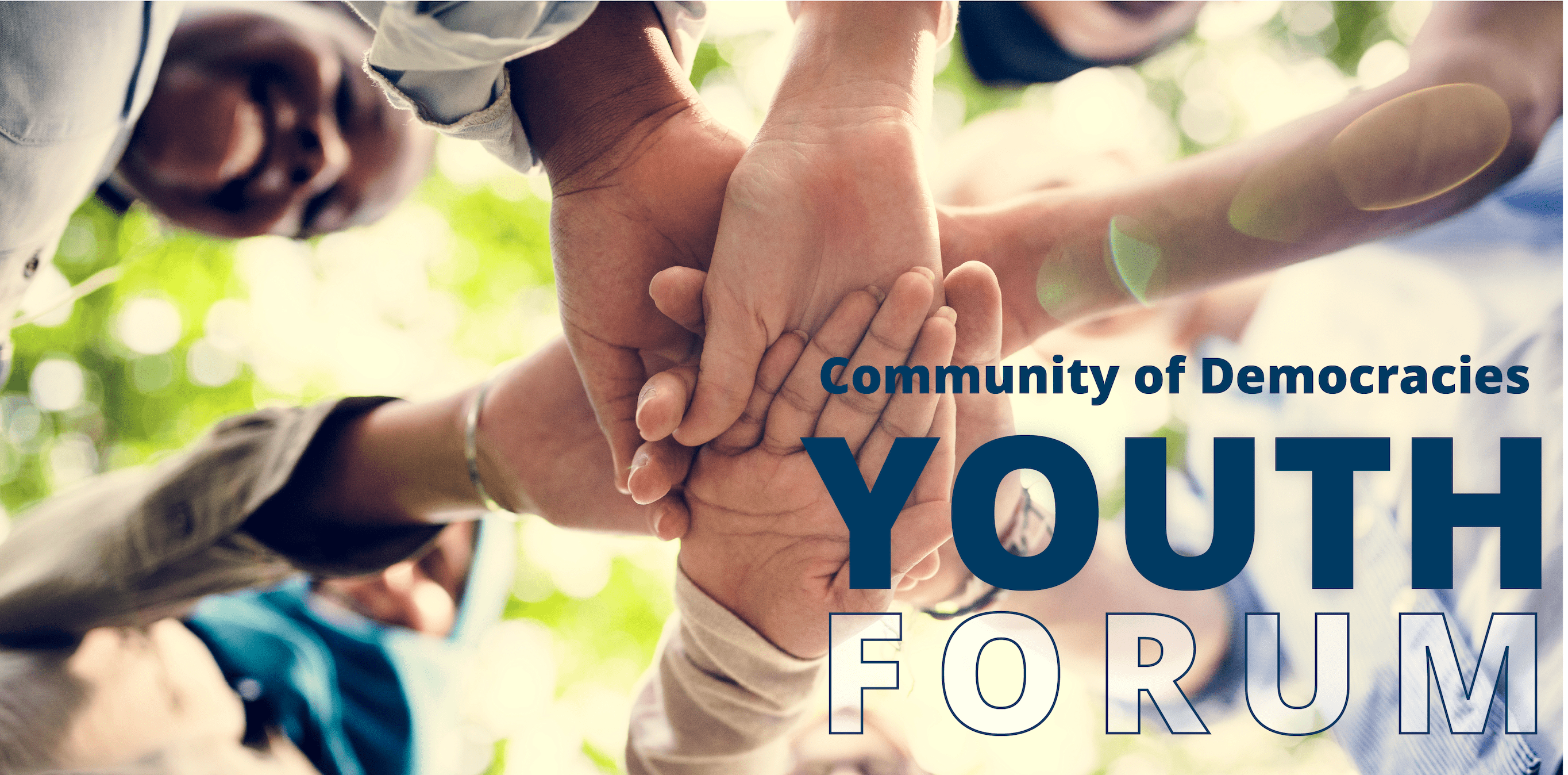 CoD Youth Forum
Organized annually since 2020, the CoD Youth Forum brings together youth leaders from across the world to share ideas, best practices and experiences on different aspects of youth participation in public life.
Most recently, the 2022 CoD Youth Forum, under the theme of Reversing the Democracy Disconnect was held in a virtual format as a side event in the margins of the 77th session of the United Nations General Assembly in New York.
The event featured leaders from each region of the world, with an inspiring keynote presentation by Congressman John Wright of El Salvador and a report presentation by a representative of Civicus, an NGO Member of the Civil Society Pillar.  Watch recording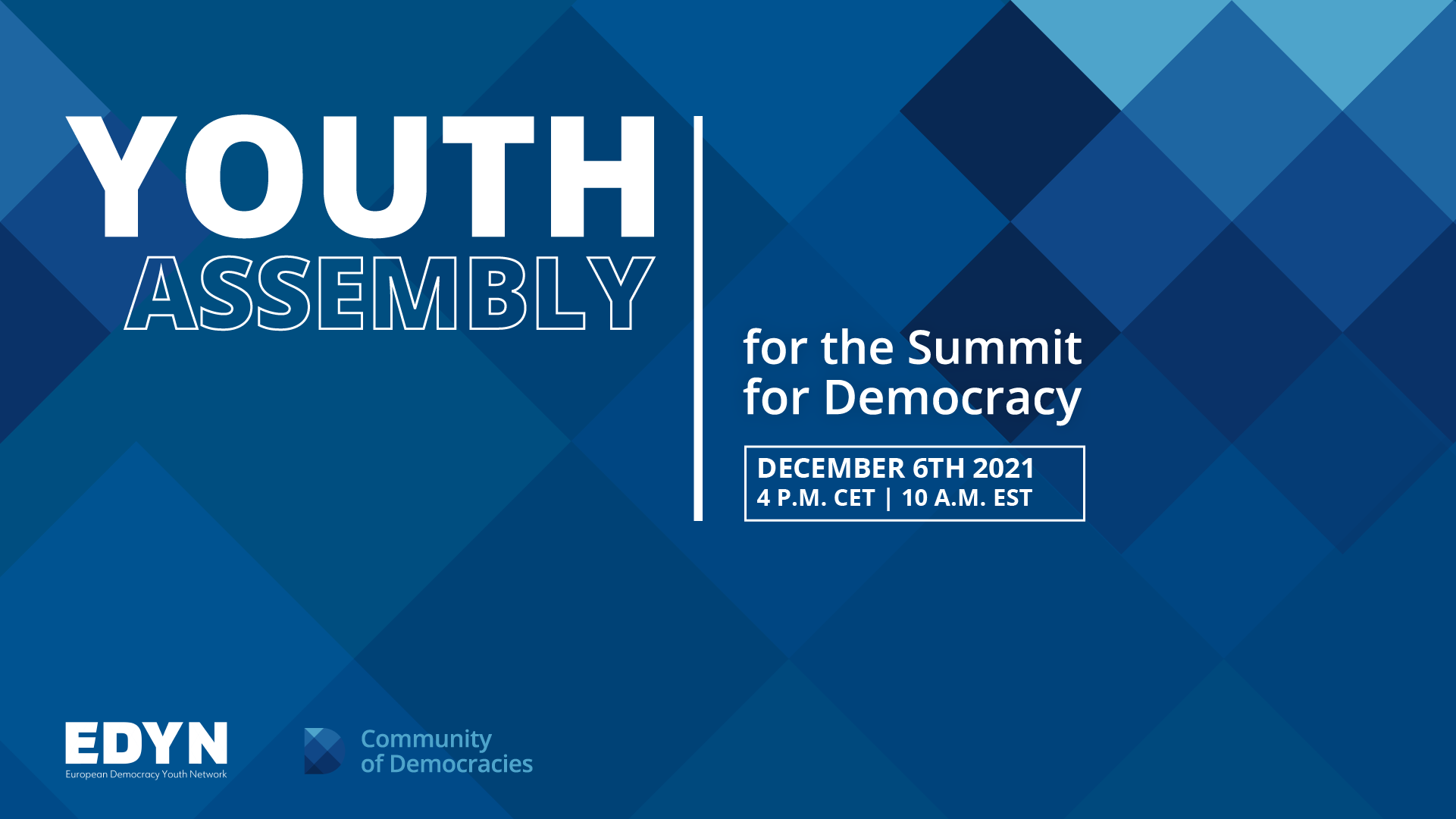 CoD Youth Assembly for the Summit for Democracy
Championed by the CoD YouthLeads, the virtual Youth Assembly for the Summit for Democracy brought together 18- to 35- year olds from across the world. During the event, youth participants focused on the three main areas of the Summit as well as voiced their democracy priorities.  Read more