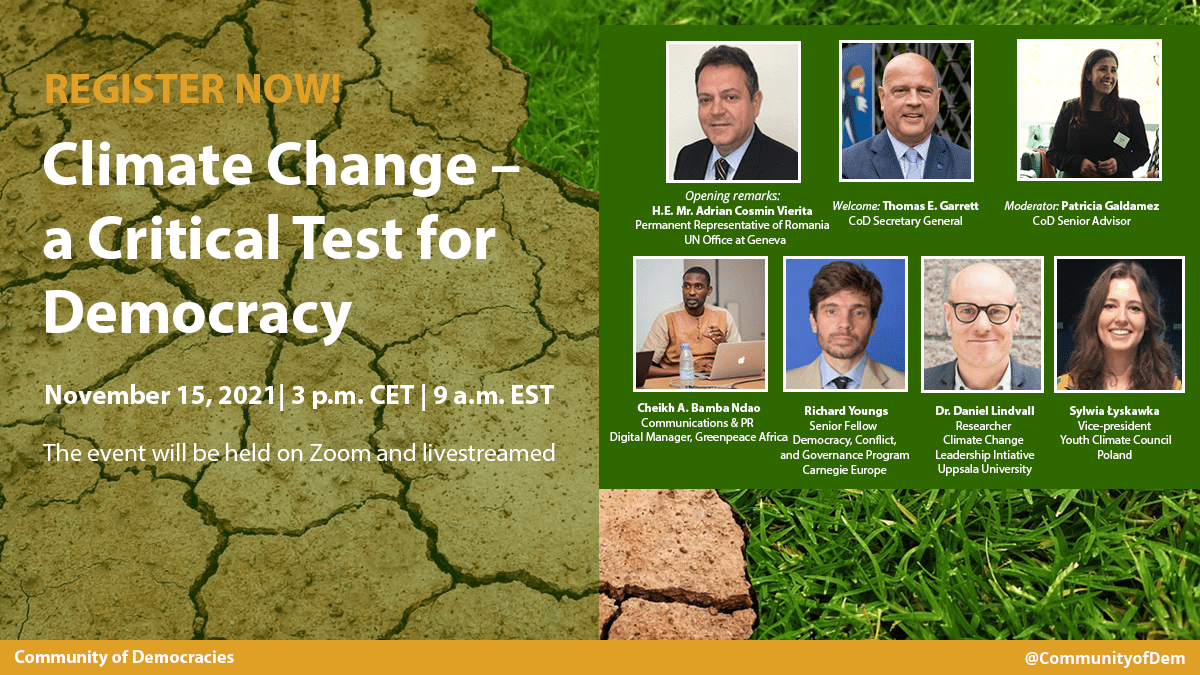 Climate Change- a Critical Test for Democracy
November 15, 2021
3 p.m. CET/ 9 a.m, EST
Climate change is a global crisis, having an impact not only on the natural environment of the planet but also on the societies as a whole. Its consequences affect millions of people around the world, particularly those living in poverty. Waves of migrations, increased hunger, and disease are only a few of the climate change-related challenges democracies need to address.
Climate change has, and will continue to have, important implications for human rights. The rights to life, food, housing, and water will be dramatically affected. Consequently, its impact on democracy will grow, as governments struggle to cope with the consequences and to persuade their people to accept the major social and economic transformations required. In such a setting, civil and political rights will be highly vulnerable.
In this context, the event will aim to discuss how democracies can address climate change and its consequences.  At the same time the event will provide a space to follow-up on the discussions and key recommendations  from the UN Climate Change Conference (COP26) in Glasgow.
This online event will particularly aim to:
Provide an overview on threats to democracy resulting from climate change; such as lack of political stability, social tension, economic downturn, the deterioration of the security environment, and migration;
Highlight tools that democracies can put in place to better and more effectively adresss climate change and its effects on society and accelerate actions towards the Paris Agreement;
Share best practices in addressing the climate crisis while ensuring democracy's resilience.