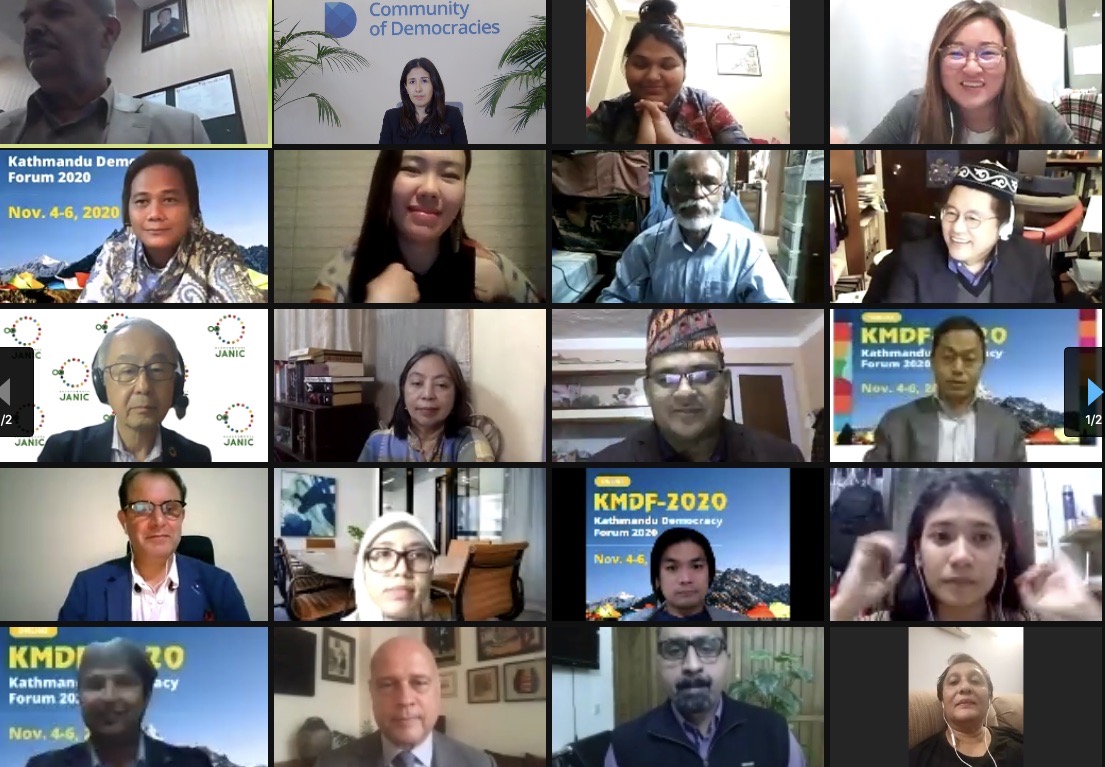 SECRETARY GENERAL's
CLOSING REMARKS
KATHMANDU DEMOCRACY FORUM 2020
(November 6, 2020)
Distinguished Participants, Friends and Colleagues,
Good Day
Let me begin by thanking all of you – speakers, moderators and participants. The valuable information that you have shared, regarding the SDGs and the impact of COVID-19 in democracy and human rights, has provided an important overview of challenges and possible solutions to ensure that post-pandemic we are able to build back better.
I especially endorse The Forum's attention to the critical monitoring role that civil society plays.
While the necessity of emergency legislation and restrictive measures for public safety is unquestionable, we should constantly and systematically monitor their effect on commitments related to human rights and fundamental freedoms. This should be done in a coordinated manner, together with civil society, international and regional organizations and other democracy stakeholders.
Trying to provide an overview and capture the overall discussions during these three days has been made easier by the excellent synthesis provided by Anselmo and recommendations offered in the Kathmandu Declaration on Democracy and COVID-19 in Asia and Beyond, just presented.
But allow me just to emphasize on a few points:
The comprehensive discussions involving the national and thematic reviews during the past days enable us to identify challenges and evaluate progress made on the 2030 UN Sustainable Development Agenda within the context of the COVID-19 pandemic.
They underline the need for a human rights-based and gender sensitive approach to the COVID-19 response and recovery efforts, that is also in line with the 2030 Agenda.
Furthermore they highlighted the importance of cross-sector collaboration and multi-stakeholder partnerships that bring together diverse expertise and resources to increase impact and ensure much needed progress of the SDGs in this Decade of Action.
Let me conclude by expressing my sincere thanks to all the organizers, the participants who contributed to the discussions, the government of Nepal, and the Republic of Korea, who continue to play an important part in regional and global efforts towards SDG 16 progress and year after year support the implementation of this important Democracy Forum in Asia.
I hope as we leave today, we have moved a step closer to helping achieve the SDGs.
The Community of Democracies will remain dedicated in helping to achieve the 2030 Agenda and I encourage all of you to remain committed as well, to the task of making this reality in which we leave no one behind.