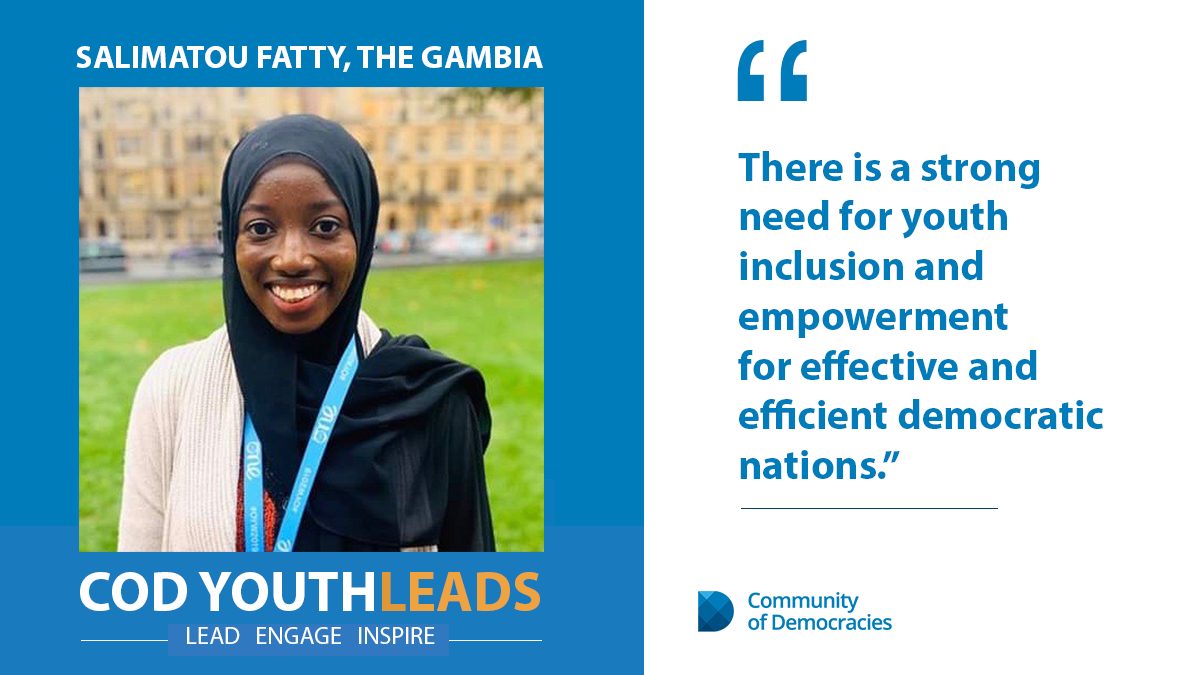 Salimatou is an award-winning human rights activist from The Gambia. In her personal life, she experienced challenges that inspired her to advocacy work to help the disadvantaged. Now, as a young female leader and dedicated advocate for human rights and gender equality, she is an inspiration to others.
"There is a strong need for youth inclusion and empowerment for effective and efficient democratic nations.''- Salimatou Fatty, The Gambia
I am an award-winning human rights activist and a final year law student at the University of The Gambia. I studied Gender and Development at Management Development Institute and interned with ActionAid International -The Gambia, an institution that promotes and advocates for women and girl's empowerment. In 2015, I founded a charity foundation called Salimatou Foundation for Education (SaFE) to advocate and promote human rights, particularly concerning access to quality education and the realization of gender equality. Equal access to education is a core human right enshrined in the Community's Warsaw Declaration, and should be available for all – regardless of gender, origin,  social or economic background.
I was just a child when the Warsaw Declaration was drafted in 2000. Sadly, my country, The Gambia, wasn't a part of its adoption by 106 countries.  Perhaps this was as a result of history, because at that time The Gambia was ruled by a military regime and suffered human rights violations. Democratic values such as freedom of speech were not respected. Today, I am a huge fan of the Warsaw Declaration principles, including freedom of opinion and expression: "The right of every person to freedom of opinion and of expression, including to exchange and receive ideas and information through any media, regardless of frontiers."
I have faced numerous challenges growing up as a child, raised by a single mom. These challenges included economic disadvantage, insufficient access to quality education, and many others. These experiences inspired me a lot to start my advocacy journey, which I started when I was growing, aiming to change people's lives for the better.  My advocacy has inspired and empowered thousands of people, and I am a firm believer in democracy.
To have a peaceful and democratic world, young people's participation in the democratization is crucial. There is a strong need for youth inclusion and empowerment for effective and efficient democratic nations.