Community of Democracies meets in San Salvador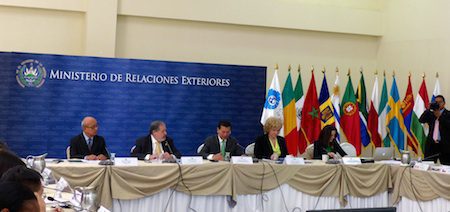 December 8, 2014
On December 3-5, the Community of Democracies held a series of meetings in San Salvador, the capital of the Community's Presidency, El Salvador. The series included periodical meetings of the Governing Council and the Executive Committee, as well as meetings with different stakeholders in preparation towards the upcoming 8th Ministerial Conference of the Community, to take place next July in the country.
The Governing Council of the Community of Democracies held its quarterly meeting on Friday, December 5. In the meeting, representatives of the Council's 26 Member States reviewed the current activities of the Community, as well as its strategic plans for the year of 2015, and also conducted a comparative discussion on democratic charters of different international organizations, moderated by the Director of the Diplomatic Academy of El Salvador, Mr. Victor Balle.

A high-level meeting was also held between Secretary General of the Community of Democracies, Ambassador Maria Leissner, Chief of Staff of the Permanent Secretariat, Magdalena Gawro?ska, Minister of Foreign Affairs of El Salvador, H.E. Hugo Martinez, and senior ministerial officials. Participants of the meeting discussed the Presidency's preparations to the 8th Ministerial Conference of the Community of Democracies, which will take place on July 22-24, 2015, in San Salvador.

The sessions continued with a set of meetings with organizers of the different fora that will form an integral part in next year's Ministerial Conference, including civil society, parliamentarians, the private sector, and representatives of the Presidency, to discuss preparations towards the Ministerial Conference.

Ministerial Conferences of the Community of Democracies traditionally include, in addition to the Ministerial Day, a day of fora – civil society, parliamentary, corporate and youth – and a day of dialogues consisting of thematic sessions with the participation of both high-level governmental representatives and non-governmental experts.