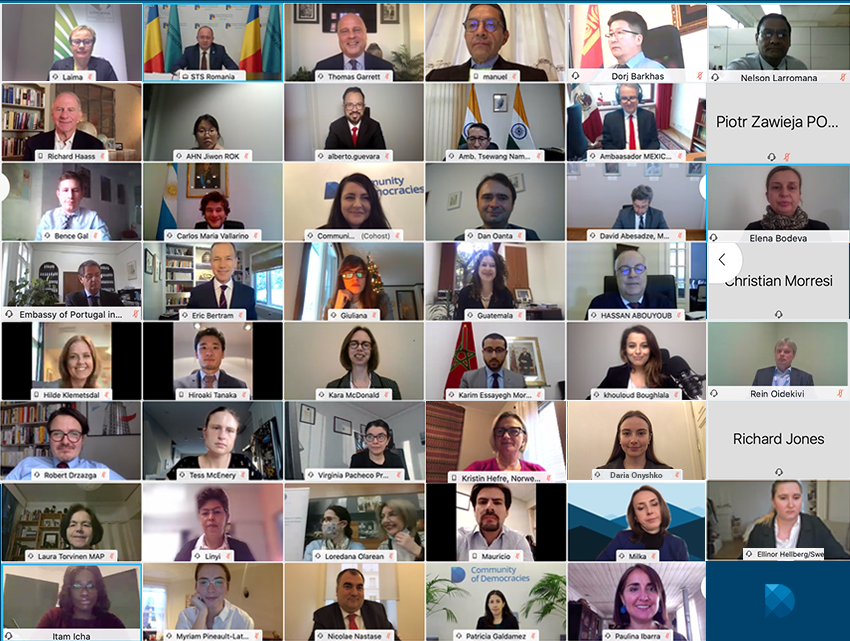 Community of Democracies' Member States to step up efforts to promote the use of digital technologies to support democratic governance
 Community of Democracies' Member States to step up efforts to promote the use of digital technologies to support democratic governance
In the Outcome Statement adopted at the 32nd CoD Governing Council meeting, Member States committed to stepping up efforts to foster multi-stakeholder cooperation to promote the use of digital technologies to support democratic governance. Acknowledging this period of unprecedented connectivity, Member States underlined digital technology's potential to make governments more transparent, accountable, and inclusive. They welcomed the recent establishment of the CoD Working Group on Democracy and Technology and reaffirmed commitment to counter the misuse of new technologies to undermine democratic institutions and erode trust in democratic principles.
Held on November 23-24, 2020, the virtual meeting of the Governing Council discussed CoD activities and multilateral cooperation in response to current challenges and opportunities to democracy, including the COVID-19 pandemic and increased digitalization.
Opening the meeting, His Excellency Foreign Minister Bogdan Aurescu, representing the CoD Presidency of Romania,  reaffirmed his country's commitment to promoting democratic principles and multilateralism and recalled the goal of the CoD Anniversary Bucharest Statement (June 2020) to consolidate trust in democracy.
SG Thomas E. Garrett welcome the Governing Council by outlining CoD activities in different areas, including youth empowerment, women's political engagement, SDGs, and countering malign foreign influence on democracy, The Secretary General also highlighted new tasks such as stating democracy's response to global pandemic through renewed adherence to the democratic principles of the Warsaw Declaration.
The meeting featured guest expert Dr. Richard Haass, President of the Council on Foreign Relations and author of the New York Times bestseller: "The World: A Brief Introduction." He spoke to the need to renew civic education, in order to educate the young generation of the values and benefits of democracy. He also underlined that multilateralism is vital in these days of global challenges such as climate change, COVID-19 pandemic, and nuclear proliferation.
The CoD Governing Council provides a platform for countries united on the democratic values of the Warsaw Declaration to share knowledge, experiences and advocate globally on issues of human rights, democracy and the rule of law.