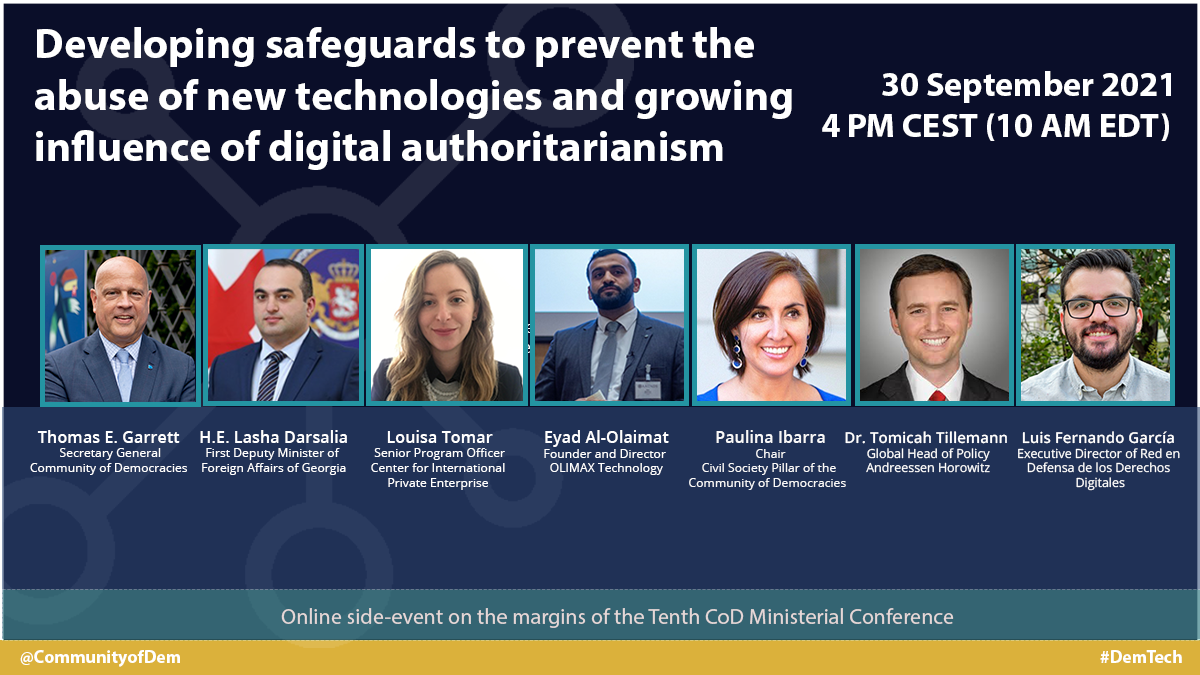 Developing safeguards to prevent the abuse of new technologies and growing influence of digital authoritarianism
CoD Working Group on Democracy and Technology
virtual side-event on the margins of the CoD 10th Ministerial Conference 
September 30, 2021; 16:00 pm CET/10:00 am EDT
Technology and innovation can have a positive effect on strengthening democracy and improving the effectiveness of institutions. Digital transformation touches all aspects of public life, having the capacity to improve efficiency, effectiveness, transparency and government accountability, increase civic participation and promote sustainability. At the same time, digital technologies can pose a risk to democracy and human rights in particular with regards to privacy, data protection, misinformation and undue surveillance.
The event will specifically discuss the growing influence of technologies that enable authoritarianism and the development of safeguards and multi-stakeholder models that can be put in place to prevent the abuse of new technologies. It will particularly aim to:
Discuss how to mitigate technologically enabled threats to democracy and human rights and to take appropriate, coordinated actions to combat and prevent that digital technologies are used to suppress, limit and violate human rights.
Enable a conversation concerning a role and potential of digital technologies for effective and accountable democratic governance as well as for an inclusive recovery from the COVID-19 pandemic and accelerated implementation of the UN 2030 Agenda for Sustainable Development with a multi-stakeholder approach.
Key outcomes of this online event will be a set of recommendations aimed at:
Coordinating actions and engagement in multilateral fora to mitigate technologically enabled threats to human rights and democracy;
Developing human rights and the rule of law standards for the digital age.