Myanmar Takes Major Step in Democratic Journey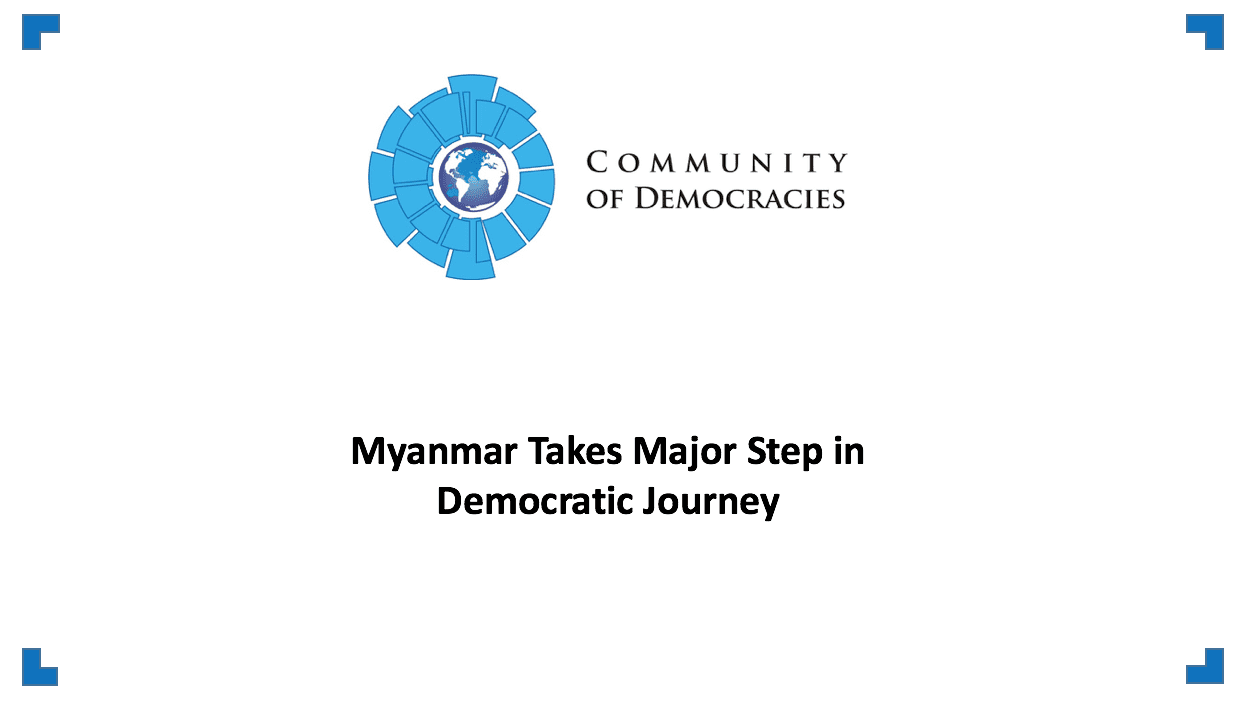 Warsaw, Poland
November 9, 2015
The Community of Democracies congratulates the people of Myanmar on the successful conclusion of their country's first free elections in a generation.

"The real winners in this election are the voters who turned out in record numbers to embrace the principles of democracy," said Secretary General Maria Leissner. "This is an important step in Myanmar's journey, and we look forward to continuing to work with those who wish to continue strengthening the democratic institutions and processes of their country."

Myanmar still has a lot of work to do in terms of its democratic development. A constitution that allows for a quarter of the parliamentary seats to be non-elected and appointed by the military and the non-inclusion of minority groups as voters and candidates are examples of issues that the newly elected parliament needs to deal with as the democratic process in Myanmar proceeds.

"This election is a major step forward," Leissner said. "It's a gift to future generations that demonstrates the strides Myanmar has already made toward democracy, peace and stability. We encourage the ruling and opposition parties to continue working in a spirit of national conciliation that befits this historical moment in their history."

The Community of Democracies, a global intergovernmental organization, is committed to supporting emerging democracies and transitioning states around the world.

The Community's Myanmar Constitutional Project, which aims to ensure a peaceful and inclusive democratic transition by providing different social groups and stakeholders with the proper legal and discursive tools to engage in the process, will continue bringing together actors and citizens who are mobilizing efforts for democracy, justice and reform.

In 2016, the Community is planning to expand this project by conducting, in close cooperation with the Myanmar Tribunal and Supreme Court, a set of workshops that will increase the capacity of local actors to participate positively in the process of constitutional reform.