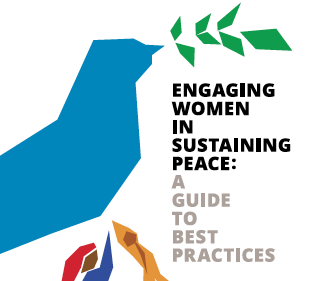 NEW PUBLICATION: Engaging Women in Sustaining Peace:
A Guide to Best Practices
The Community of Democracies is pleased to present its new publication: 'Engaging Women in Sustaining Peace: A Guide to Best Practices'.
Women's equal participation in peacebuilding and reconciliation processes is vital for robust and just democracy and the full involvement of women is prerequisite for achieving, maintaining and promoting sustainable peace.
This publication takes a global perspective, examining women's roles in sustaining peace in post-conflict countries in Asia, Eurasia, Latin America, and Africa. Each chapter identifies best practices for engaging women in sustainable peace and includes some challenges emerging from the lessons learned in each region.
The publication was launched at the CoD side event on: "Women for Peace: Recognizing Women's Role in Peacebuilding",  held on the margins of the 74th session of the United Nations General Assembly, on September 26th.
The publication was developed with the generous support from the Community's Governing Council Member State Republic of Korea, as part of its continuous support of the CoD initiatives promoting gender equality and advancing women's political participation.