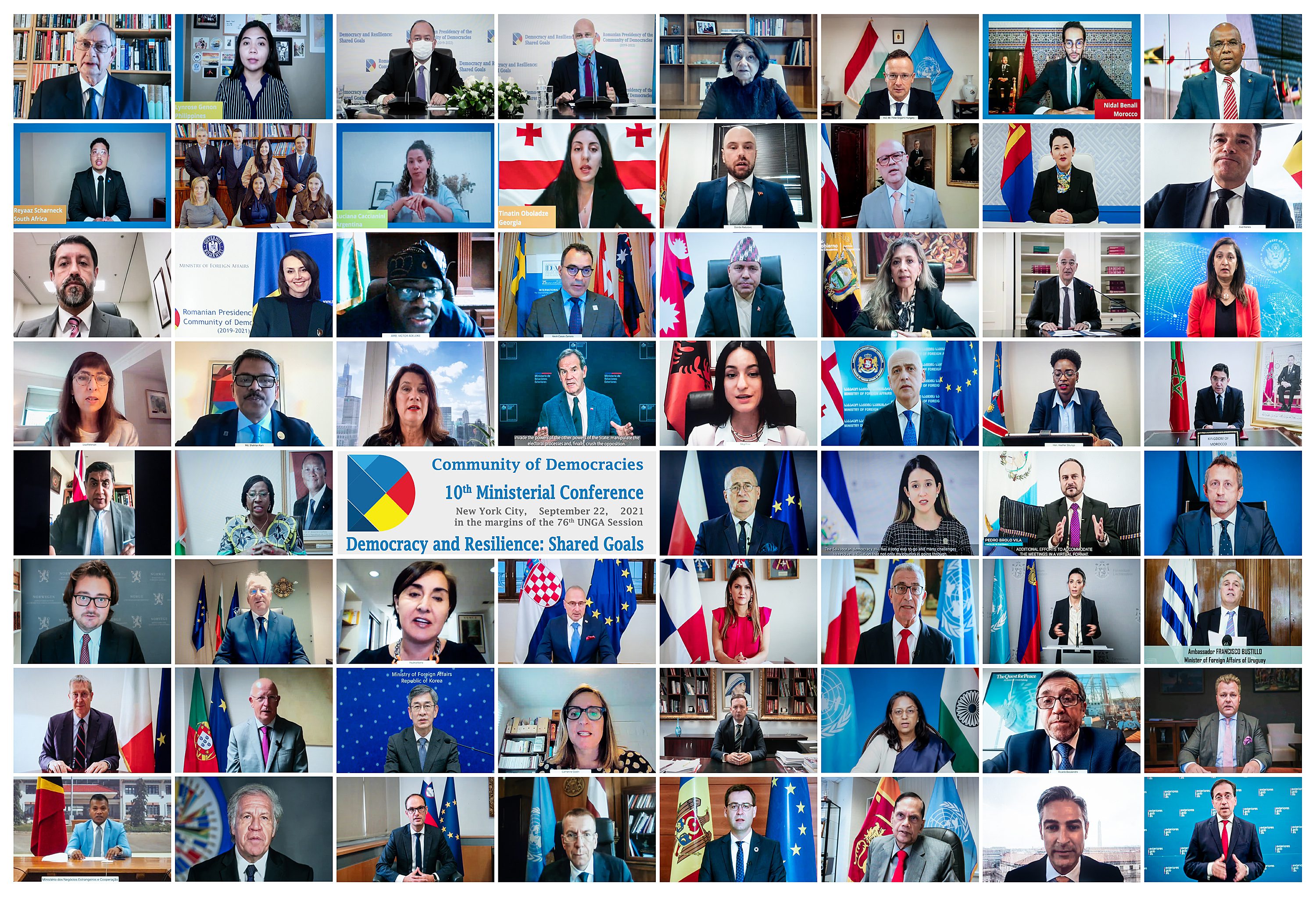 PRESS RELEASE
10th Ministerial Conference of the Community of Democracies
Democracy and Resilience Shared Goals
September 23, 2021
On September 22, 2021, foreign ministers and high-level officials from democratic states, civil society representatives, and youth gathered at the 10th Ministerial Conference of the Community of Democracies (CoD) to discuss Democracy and Resilience: Shared Goals. Hosted by the CoD Presidency of Romania and chaired by Romanian Foreign Minister H.E. Bogdan Aurescu, the event was organized during the High-Level Week of the 76th UN General Assembly in New York City and offered in a virtual format due to ongoing COVID-19 related restrictions.
In keynote remarks, high-level speakers highlighted that democratic solidarity and a strong multilateral system are vital for democratic resilience and addressing global challenges. The President of the 76th UN General Assembly, H.E. Abdullah Shahid underscored the critical role of efficient multilateralism in building strong, resilient democracies, based on respect for human rights. The UN Under-Secretary General for Political and Peacebuilding Affairs, H.E. Rosemary A. DiCarlo outlined three ways for democracies to adapt to current challenges: build more inclusive societies, enhance international solidarity, and focus on crisis and conflict prevention. The US Under Secretary of State for Civilian Security, Democracy and Human Rights, H.E. Uzra Zeya underlined the importance of democratic renewal and highlighted the crucial role of civil society working with governments and international bodies. The President and CEO of the National Endowment for Democracy, Damon Wilson, emphasized that current challenges to democracy can also be seen as opportunities to strengthen cooperation of like-minded democratic partners.
In his welcome remarks, focused on democratic resilience, CoD Secretary General Thomas E. Garrett highlighted the importance of states' adherence to the rule of law and human rights both in their home and foreign policies.  He stressed the importance of creating an enabling environment for a robust civil society and independent media, embracing the enormous potential of digital technologies to support good democratic governance and combat corruption, and ensuring gender equality, youth empowerment, and full inclusion in public life.
'Even in these times of hardship, the Community of Democracies will continue to support other democracies. To combat democratic backsliding, overcome the tragic results of the COVID-19 Pandemic, and ensure full inclusion, we must act together and prove that democracies are resilient,' said SG Garrett.
The Bucharest Ministerial Declaration of the Community of Democracies was adopted as an outcome of the event. 'The Ministerial Declaration underlines the CoD's determination to remain fully engaged in continuing to advance the common global efforts to consolidate resilient democracy all over the world, including by supporting the upcoming Summit for Democracy organized by the US Administration,' said Foreign Minister Aurescu.
Contact for media inquiries
Joanna Łozinska
Communications Manager
The Permanent Secretariat of the Community of Democracies
e-mail: media@community-democracies.org
cell: +48 722 333 062
Ministerial Conference Photos for Download