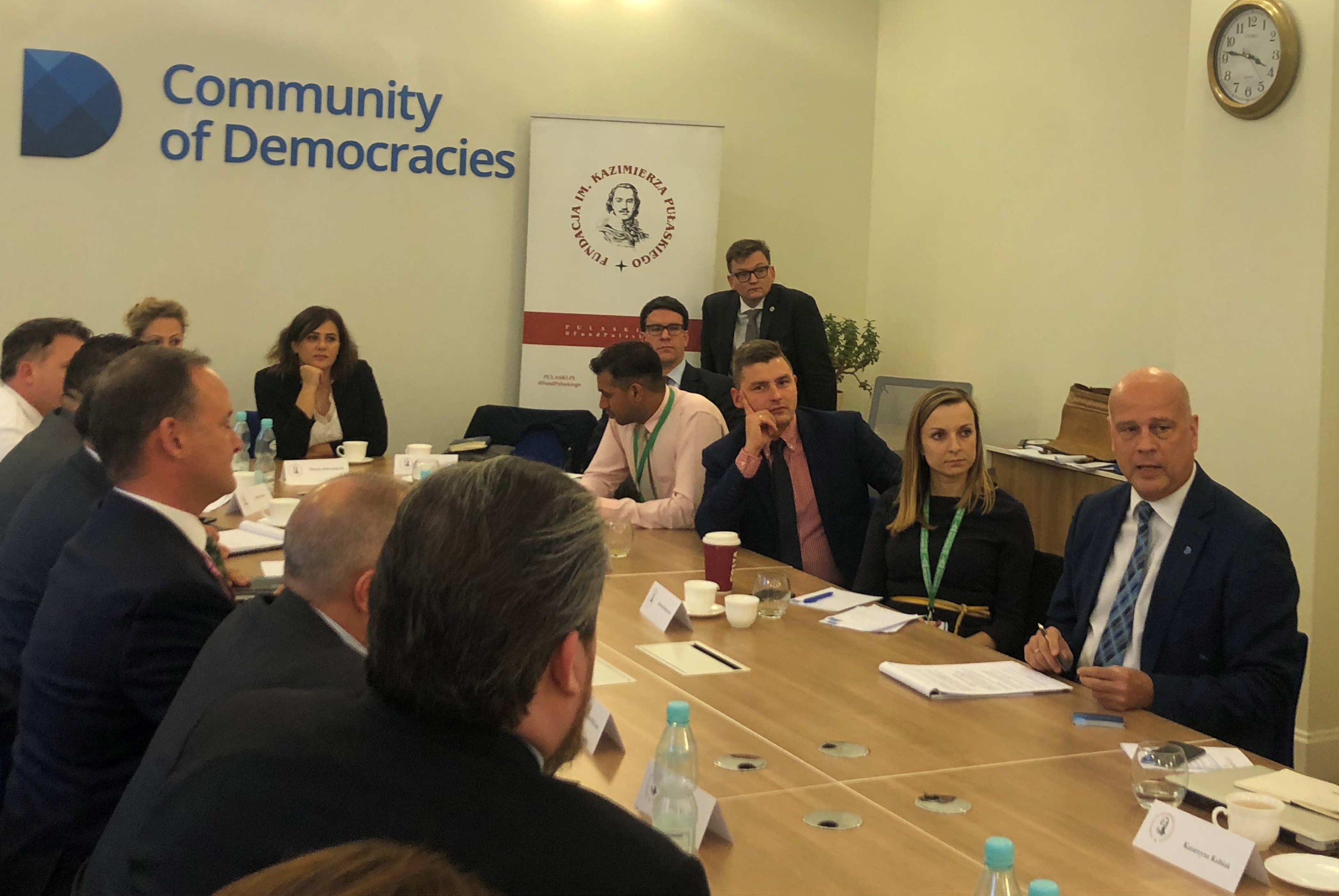 Readout
Events at the Permanent Secretariat of the Community of Democracies
October 22 – 26, 2018
October 22 and 23
New Security Leaders Program
The Permanent Secretariat of the Community of Democracies (PSCD) was host in its offices to the New Security Leaders (NSL) Program, held on the margins of the Warsaw Security Forum. The NSL event brought military, government, private sector and academic representatives from 16 countries, including Governing Council Member States Romania, Poland, Hungary, the United States, Canada, India and the United Kingdom, to Warsaw for dialogue on issues including transatlantic relations, cyberwarfare and deterrence and on the hybrid Cold War.
The Secretary General of the Community of Democracies (CoD) was featured in the program.  He led the group in discussion on the subject of the intersection of democracy and security.  CoD Executive Committee Member Romania hosted the NSL participants at a networking reception in its Embassy in Warsaw.
October 26
Anticipating Threats, Building Resilience and Fostering Open Dialogue through State-Civil Society Cooperation
The PSCD was host in its offices to an event on foreign disinformation and misinformation sponsored by the National Endowment for Democracy (U.S.), the Casimir Pulaski Foundation (Poland), the Centre for Propaganda and Disinformation Analysis (Poland) and the International Republican Institute (U.S.). The dual track (a transatlantic roundtable and a Polish State-CSO working group) event brought together civil society, journalists, academics and government officials from Poland, the United Kingdom, Sweden, the United States, Bosnia and Slovakia to discuss responses to disinformation and applying strategic communication as a key tool to fight disinformation.
In his welcoming remarks, the Secretary General noted the challenges disinformation and malign interference by external actors presented to democratic nations and said he looked forward to hearing best practices in addressing disinformation.