SAVE THE DATE: July 22-24, 8th Ministerial Conference of the Community of Democracies, San Salvador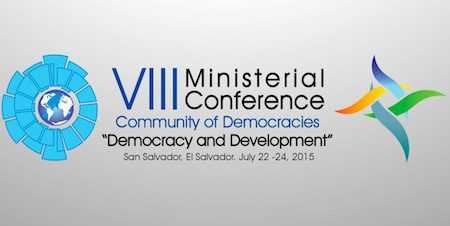 The Ministerial Conference will take place in San Salvador, capital of the current Presidency of the Community, following successful previous conferences held in Warsaw, Seoul, Santiago, Bamako, Lisbon, Vilnius and Ulaanbaatar. From July 22 through 24, governmental representatives from over 130 countries will attend the event, showing massive global support for the values and principles of the Community. See the full list of states participating at the conference.


The Ministerial Conference will also gather representatives of civil society, parliaments, the private sector, and youth for designated forums. These forums, taking place on the opening day of the Conference, will meet simultaneously to discuss the most urgent issues in their areas of expertise and make recommendations to the participating governments.

July 23 will hold thematic dialogue sessions. Representatives of governments, civil society, parliaments, the private sector, and youth will collectively discuss different topics relating to democracy that have been in the headlines during the last two years.

The ministerial meeting of the conference, occurring on the closing day, is characterized by the participation of high-level government representatives. Ministers will address participants of the Conference and sign the Ministerial Declaration, the document that traditionally closes the event and summarizes actions that the Participating States agree to undertake.

The leading theme for El Salvador's Presidency is "Democracy and Development." The program declaration of the Salvadoran Presidency, presented in 2013, states that "Democracy and social development complement each other – democracy cannot be established without economic and social development, and no economic strategy can prosper without democratic legitimacy." The Ministerial Conference in San Salvador will thus address issues in accordance with this topic, and use the topic of development as a main reference point for discussion. Participants will closely examine a variety of relevant questions, including inclusion and social development, youth and citizenship, participatory democracy, sustainable development, and the struggle against poverty.

A second central theme for the conference is the connection between democracy and the culture of peace. Drawing from El Salvador's experience as a country that rose from a bloody civil war to a regional model of democracy, participants will discuss ways in which democracy and peace correlate and strengthen each other. The theme will also invite participants to consider possible future actions that will better ensure a peaceful transition to democracy through dialogue in conflict-ridden areas.
The Community of Democracies is now fully engaged in preparations for the Ministerial Conference. Important information about the conference will be updated on this page, but can also be found on the following platforms:
A registration page with relevant information and updates will also be made available for participants of the Conference
To participate in the discussion before, during, and after the conference, follow the Conference's hashtag on social media, #8MinisterialCD.