Secretary General Maria Leissner participated at the Policy Dialogue Day 2017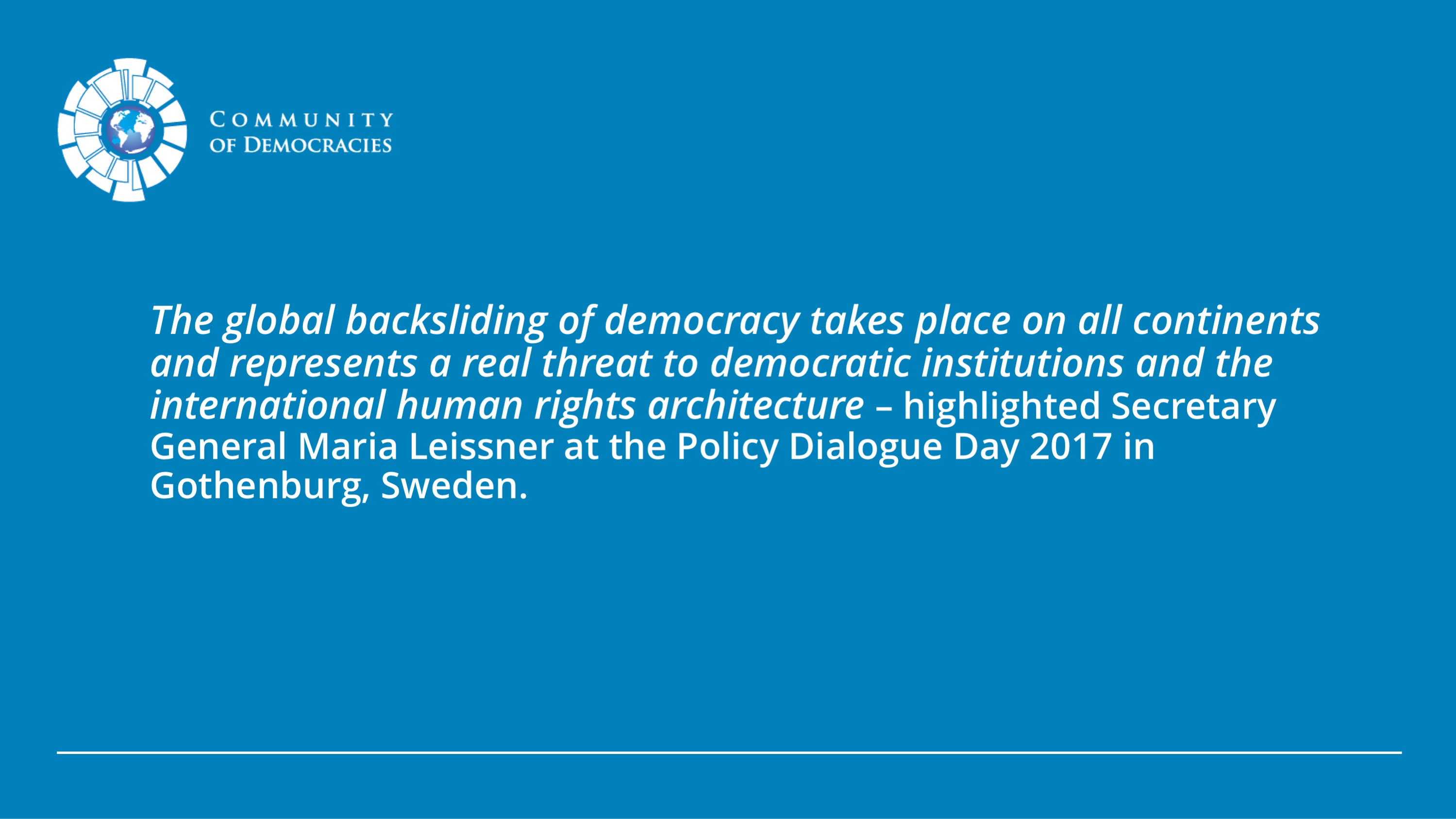 Secretary General Maria Leissner participated at the Policy Dialogue Day 2017 held in Gothenburg, Sweden on May 10th, 2017.
Below are some highlights from the SG's speech:
The global backsliding of democracy is taking place on all continents and represents a real threat to democratic institutions as well as established democracies, and to the international human rights architecture.
However, that is not the whole picture. There are ongoing efforts worldwide to renew democracy.
– Political reforms are being introduced in all parts of the world to increase popular participation and open up decision making, such as citizens initiatives, open parliamentary committees, etc.
– Civil society initiatives, providing not only service delivery but also checks and balances to power, improved governance and input to public decision making, are teeming. Social movements have successfully demanded accountability and have inspired a democratic renewal in many countries all over the world.
– A steady stream of technological innovations for e-democracy are leading to an increased quality of democracy and improved participation.
Some important components to consider for revitalizing democracy include:
– Win young people for democracy through youth parliaments, democracy education and consider lowering voting ages in local elections.
– Effective elections, increased out-reach with safe absentee voting, overseas voting and ensuring women's right to an independent vote.
– Increase and improve local democracy.
– Political reforms for increased citizen participation such as citizen initiatives, open parliaments and parliamentary committees.
– Strengthen the parliamentary components in regional and global governance structures.
The Community of Democracies will need to continue and deepen its focus on sharing best practices between governments and other officeholders of democratic institutions in our participating states, in order to not only meet the backsliding of democracy but also bring democratic governance to the next level.