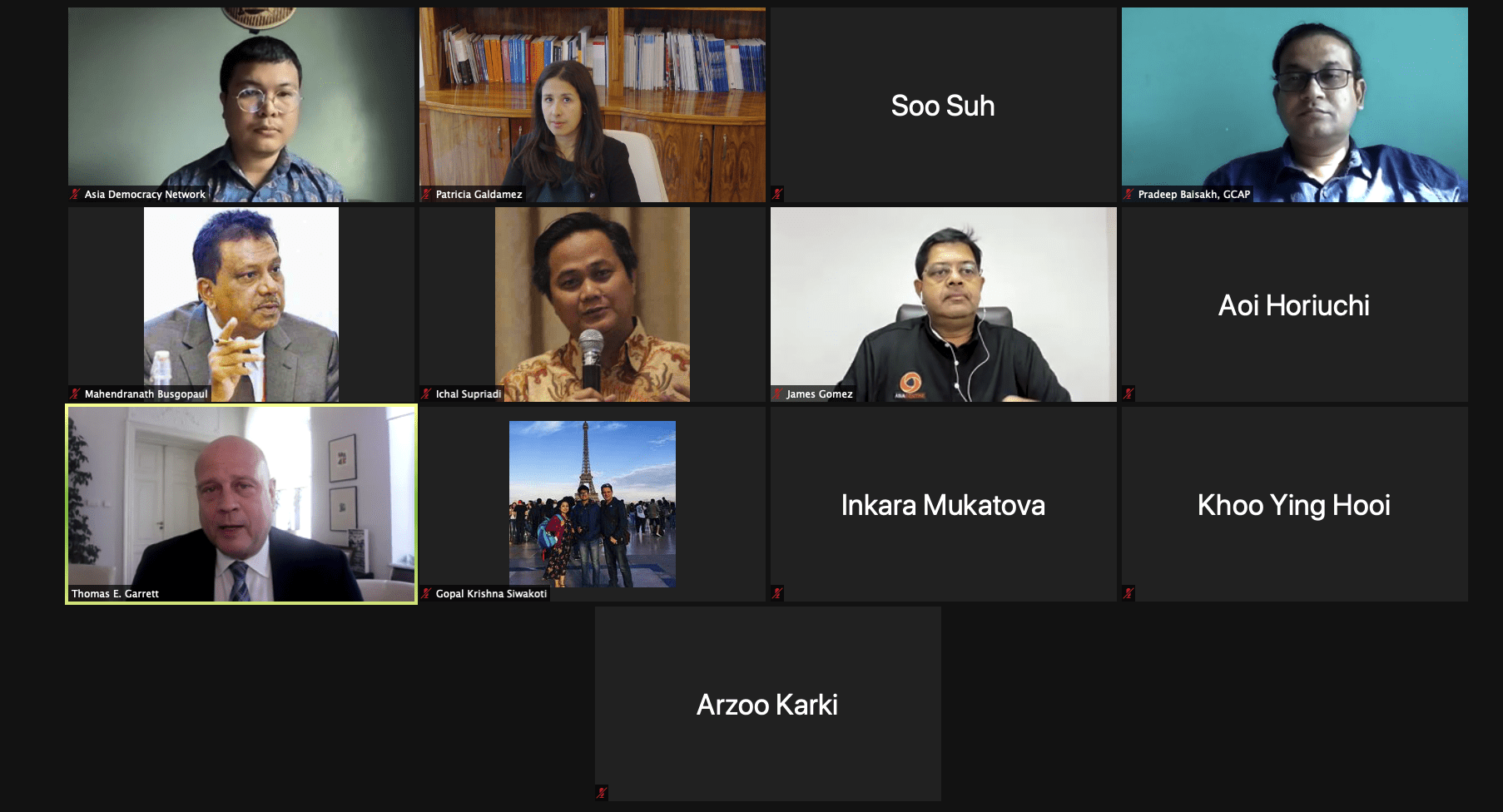 Asia Africa Democracy Forum
26-28 October, 2021 
Opening Remarks by SG Thomas E. Garrett 
Distinguished Speakers, Participants, Friends
Good morning, good afternoon, good evening, across the many time zones gathered here today.
The Community of Democracies and I are happy to open the 2021 ASIA – AFRICA DEMOCRACY FORUM: Defending and Promoting Democracy and Civic Space with the Sustainable Development Goals.
Since 2018, the Permanent Secretariat of the Community of Democracies, the Asia Democracy Network, Asia Development Alliance, and the Ministry of Foreign Affairs of the Republic of Korea have partnered annually to implement a democracy forum in Asia aimed at promoting the implementation of Goal 16 of the UN Sustainable Development Agenda.
In 2018, we gathered in Busan, Republic of Korea, in 2019 in Ulaanbaatar, Mongolia. Last year due to the Covid-19 pandemic we carried out the Kathmandu Democracy Forum online. This year we are also meeting online, but we are bringing together two regions: Asia and Africa, providing a space for inter-regional dialogue, knowledge sharing and cooperation along the implementation of the SDGs.
The current global context is very much affected by the Covid -19 pandemic and its effects on many areas of society including the economy, education and poverty reduction, as well as the climate crisis with its effects on food security, conflict and migration.
It is no means an exaggeration to say Covid-19 poses a critical test to the worlds democracies and to the achievement of the Sustainable Development Goals by 2030.
During the past few months, civil society organizations in Asia and Africa have been actively developing reports on the state of implementation of the SDGs through the Voluntary National Review reports presented by countries,  looking at trends of democracy and civic space in both regions, civic engagement in regional and global mechanisms and processes, and conducting comparative analysis on the SDGs vis a vis response and recovery from the Covid-19 pandemic.
In the next three days we will have the opportunity to hear from civil society organizations who will present main findings from their reports and discuss how they are addressing the various challenges, threats to democracy and opportunities.
I would like to give special thanks to our partner Asia Democracy Network for putting in place this important virtual forum and to the Ministry of Foreign Affairs of the Republic of Korea for the continued support which makes this virtual inter-regional Democracy Forum possible.
I want to also extend my gratitude to you all, for your participation and continued efforts towards supporting the implementation of the UN 2030 Sustainable Development Agenda and strengthening democracy's resilience in this critical time.