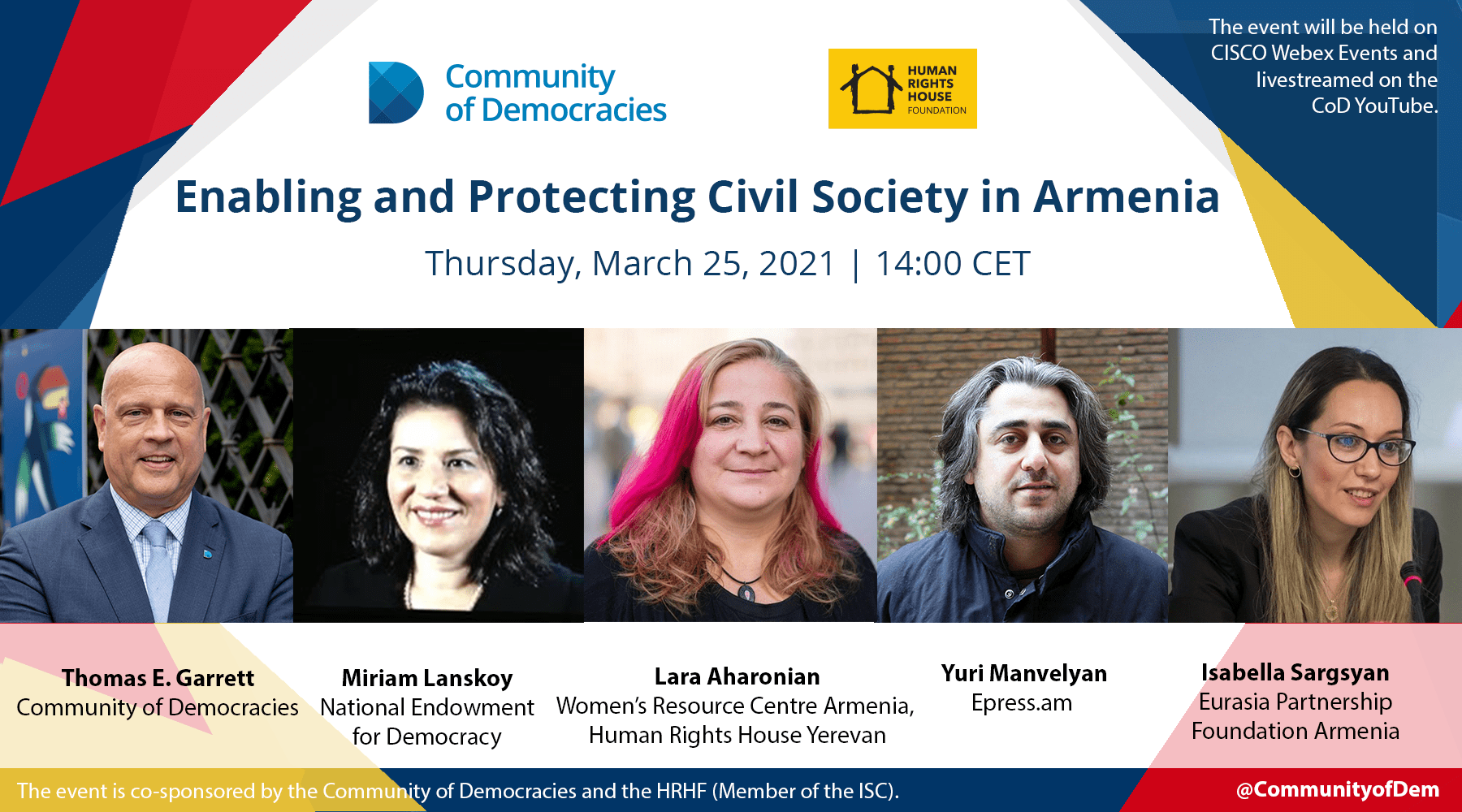 Upcoming Event
Enabling and Protecting Civil Society in Armenia
Date: 25 March 2021, 2 p.m. CET
Duration: 60 min.
Platform: PSCD Cisco Webex
Background 
The Community of Democracies (CoD) recognizes the essential role that civil society plays in democratic societies. An active, pluralistic, independent and vibrant civil society is a pillar of a strong and resilient democracy.
Before 2018, Armenia experienced a steady shrinking of civic space and a weakening of fundamental freedoms. Numerous tools were used by the government and its supporters to promote a negative public perception of civic protest groups and to restrict NGO activity. Following the Velvet Revolution, the Government of Armenia has embarked on the implementation of a comprehensive and ambitious reform program, aimed at strengthening democratic institutions and civil society, ushering in a new dynamic between the State and civil society. The State sought the support of civil society, which welcomed collaboration where priorities were in sync while still exercising its critical role of holding the government accountable to the citizenry. Yet, the Nagorno-Karabakh conflict of 2020 dramatically changed Armenia's democracy-security situation. Armenian's ambitious reforms were frozen and civil liberties were severely restricted, including media freedom and freedom of expression, a concerning deterioration of the democracy that people had struggled to build.
The Secretary General of the Community of Democracies visited Armenia in February 2019. A year later, a High-level Delegation to Armenia was organized. It was comprised of government representatives from Lithuania, Poland and Romania and two members of the International Steering Committee (ISC) of the Civil Society Pillar. The main task of the High-level Delegation was to receive first-hand accounts of progress and challenges confronting Armenian authorities and to hear from civil society, in order for the Governing Council of the Community of Democracies to assess political will to advance reform and to consider how it could help support consolidation of democratic institutions, norms and practices. One of the main subjects of the visit was examination of civil society's role in the new political landscape.
Objective
The event will be an opportunity for representatives of Armenian civil society and the Civil Society Pillar of the CoD to discuss the evolving situation in the country with particular focus on challenges to democracy and civic space in the aftermath of the 2020 Nagorno-Karabakh conflict. At the same time, invited participants will have the opportunity to learn more about the current situation of NGOs in Armenia.