Upcoming Event: Launch of the Final Report on Women's Political Participation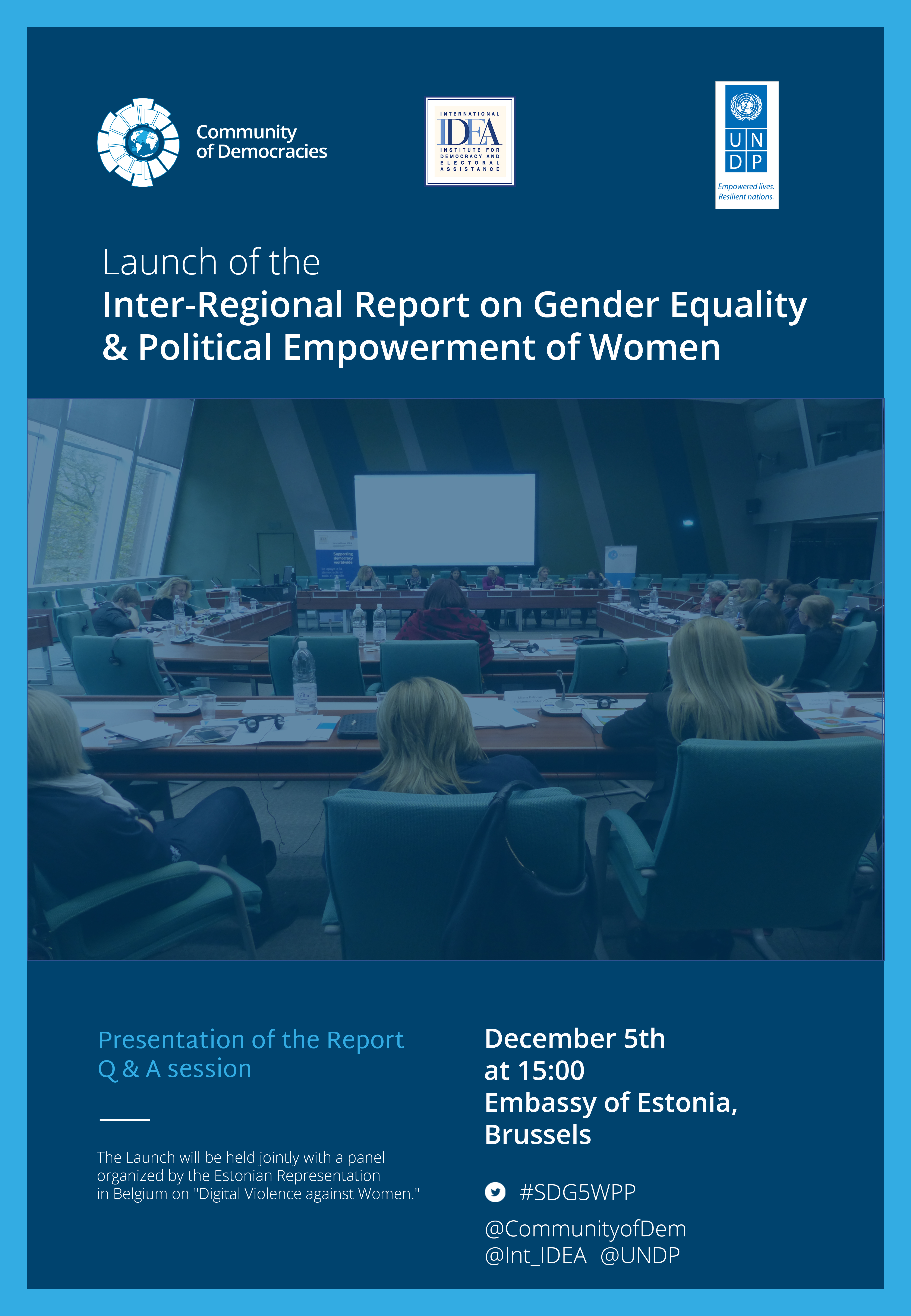 Community of Democracies, International IDEA, and the United Nations Development Programme (UNDP), will launch the Inter-Regional Report on Gender Equality and Political Empowerment of Women on 5 December 2017, in Brussels, Belgium.
The launch will take place at 15:00 at the Embassy of Estonia in Brussels (address: Rue Guimard 11/13, 1040)
It will be held jointly with a panel organized by the Estonian Representation in Belgium on "Digital Violence against Women."
Opening remarks will be delivered by a representative from the European Commission.
Report will be presented by Luis CONSUEGRA, International IDEA.
The panel and Q&A session will be moderated by the Secretary-General of the Community of Democracies, H.E. Thomas Garrett.
Closing remarks will be delivered by a representative of the United Nations Development Programme (UNDP).
To register please email EEPRES.CFSP.permrep@mfa.ee by Friday, 1 December 2017, 17:00.
Gender Equality and the Political Empowerment of Women are key elements for the consolidation of sustainable democracies worldwide, and global and regional organizations play a key role in the development of legal and policy frameworks, as well as in the design of effective action plans that incorporate inputs from key stakeholders, to better support their membership in the advancement of the gender-equality agenda at the global, regional, national and global levels.
This publication has the aim of gathering and analyzing the main instruments that are currently in place at the global and regional levels, highlighting the challenges, opportunities and successes that each organization has encounter in the implementation within their respective regions. This report also offers policy recommendations based on the overall analysis at the institutional level, but also recommendations that resulted from a multidimensional regional consultation process that gathered governments, civil society organizations, specialized agencies, experts and citizens.
The reports from five regional consultations on Women's Political Participation are available here.