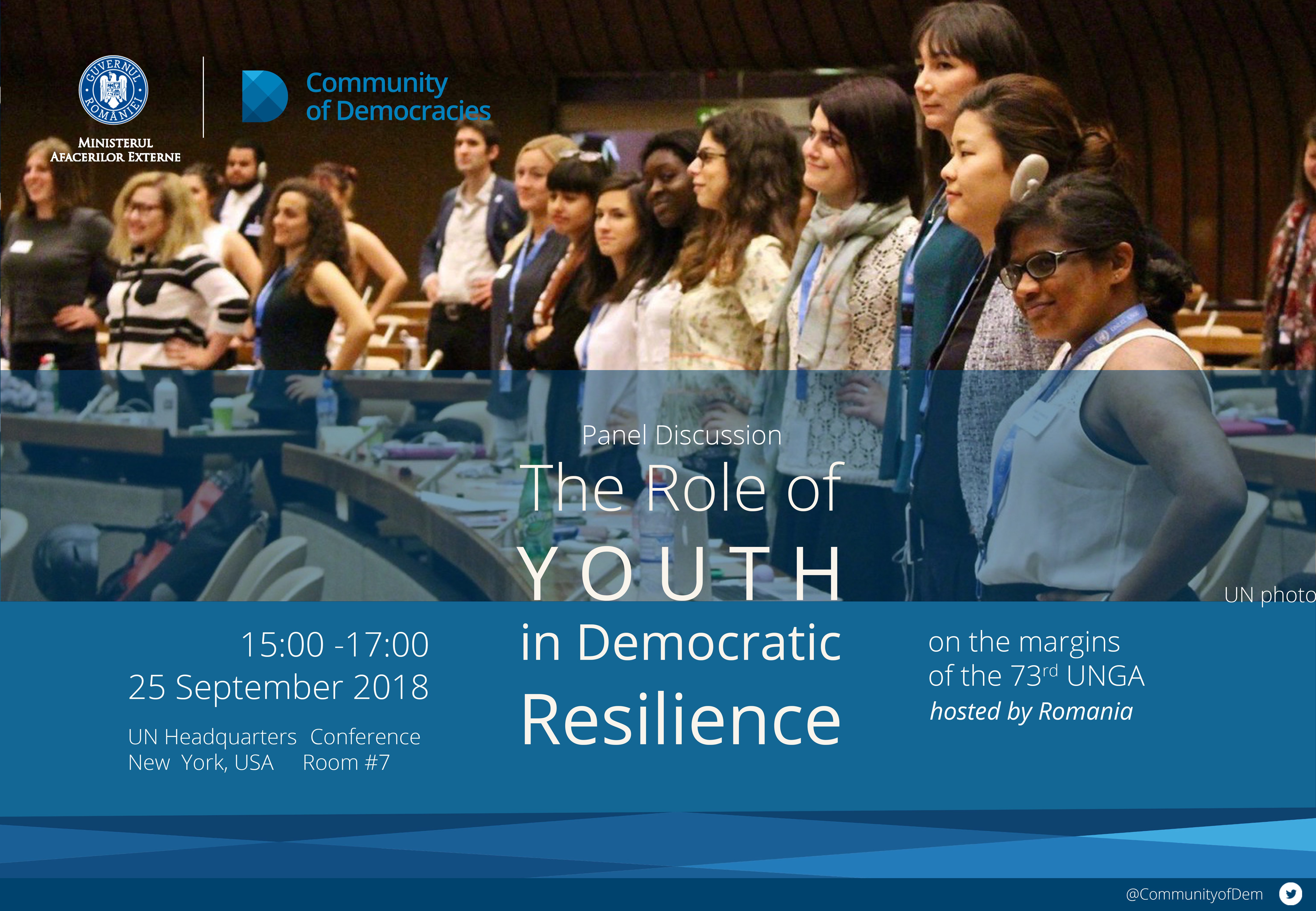 The Community of Democracies is pleased to announce an upcoming side event on  "The Role of Youth in Democratic Resilience", to be held on September 25th at the 73rd  UNGA Session  in New York.
The side event is organized by the Permanent Secretariat of the Community of Democracies and hosted by Romania- Member State of the Community's Governing Council.
The panel discussion will serve as an opportunity to foster a dialogue on the current challenges that confront the political engagement of youth, and how to include youth into decision-making processes for ensuring the resilience of democracies.
Welcome remarks
H. E. Mr. Teodor Meleşcanu, Minister of Foreign Affairs of Romania
Mr. James Kariuki, Director of Multilateral Policy Directorate of the Foreign and Commonwealth Office of the United Kingdom
Opening remarks
Thomas E. Garrett, Secretary General of the Community of Democracies
Speakers
John T. Wright, the President and Founder of "Nuestro Tiempo" (Political Party), Former Member of Parliament of El Salvador
Rajaa Altalli, Co-Founder and Co-Director of the Center for Civil Society and Democracy (CCSD), Syria
Valentin Florea, Secretary-General of United Nations Youth Association of Romania (BISMUN)
The session will be moderated by SG Thomas E. Garrett.
The issues addressed at the event will include: 
The role of youth in protecting democratic system and democratic resilience;
Ways to better engage with youth activists, leaders and organizations to improve the perception of the benefits of democratic systems;
Good practices on how to enhance and promote the participation of youth in decision-making at the national, regional and international level.
Reducing barriers to youth engagement, including poverty, unemployment, and lack of access to education, with a view to achieve the 2030 Sustainable Development Agenda.
The event will be held on September 25th, 2018, from 15:00-17:00