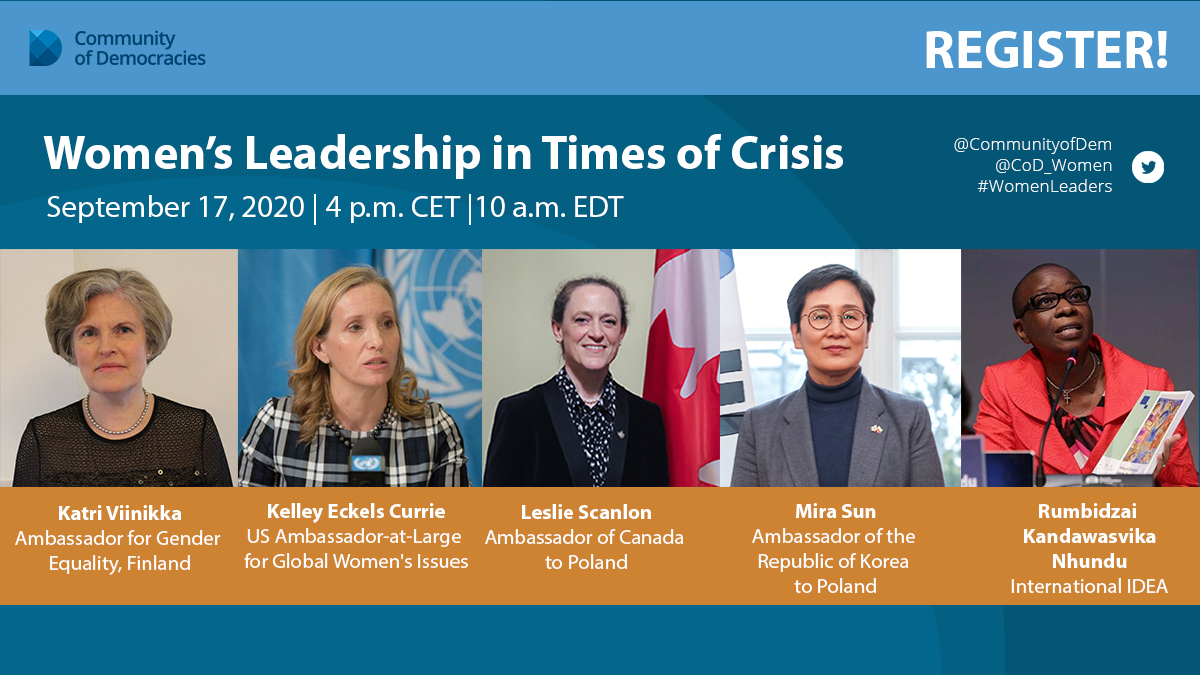 Webinar on Women's Leadership in Times of Crisis
September 17, 2020 at 4:00 PM CET
The event is organized by the Permanent Secretariat of the Community of Democracies in cooperation with the Community of Democracies Working Group on Women and Democracy. It  will discuss the importance of women's political participation and involvement in decision-making during the COVID-19 pandemic and its recovery efforts.
The event will start with a short overview on the global impact of COVID-19 on democracy and gender equality by International IDEA. Following the presentation, the panel will serve as an opportunity for women leaders to discuss their strategies, concerns and experiences of leading in the pandemic, highlighting the critical roles of women at the front lines of the crisis.
The event will also explore the pandemic's immediate impact on women's political participation and practices of governments, parliaments and local officials in the facilitation of women's equal representation and participation in decision-making.
Tentative Program
Event host: Community of Democracies Secretary General Thomas E. Garrett
Welcoming Remarks by the SG Thomas E. Garrett
Opening Remarks by a WGWD representative introducing a statement on the twenty-fifth anniversary of the Fourth World Conference on Women and adoption of the Beijing Declaration and Platform for Action (TBC)
Overview on the impact of COVID-19 impact on democracy and gender equality by Rumbidzai Kandawasvika-Nhundu, Head of Political Participation and Representation Programme Global Programme, International IDEA
Speakers interventions:
Katri Viinikka, Ambassador for Gender Equality, Finland;
Kelley Eckels Currie, Ambassador-at-Large of the United States for Global Women's Issues'
Leslie Scanlon, Ambassador of Canada to Poland;
Mira Sun, Ambassador of the Republic of Korea to Poland;