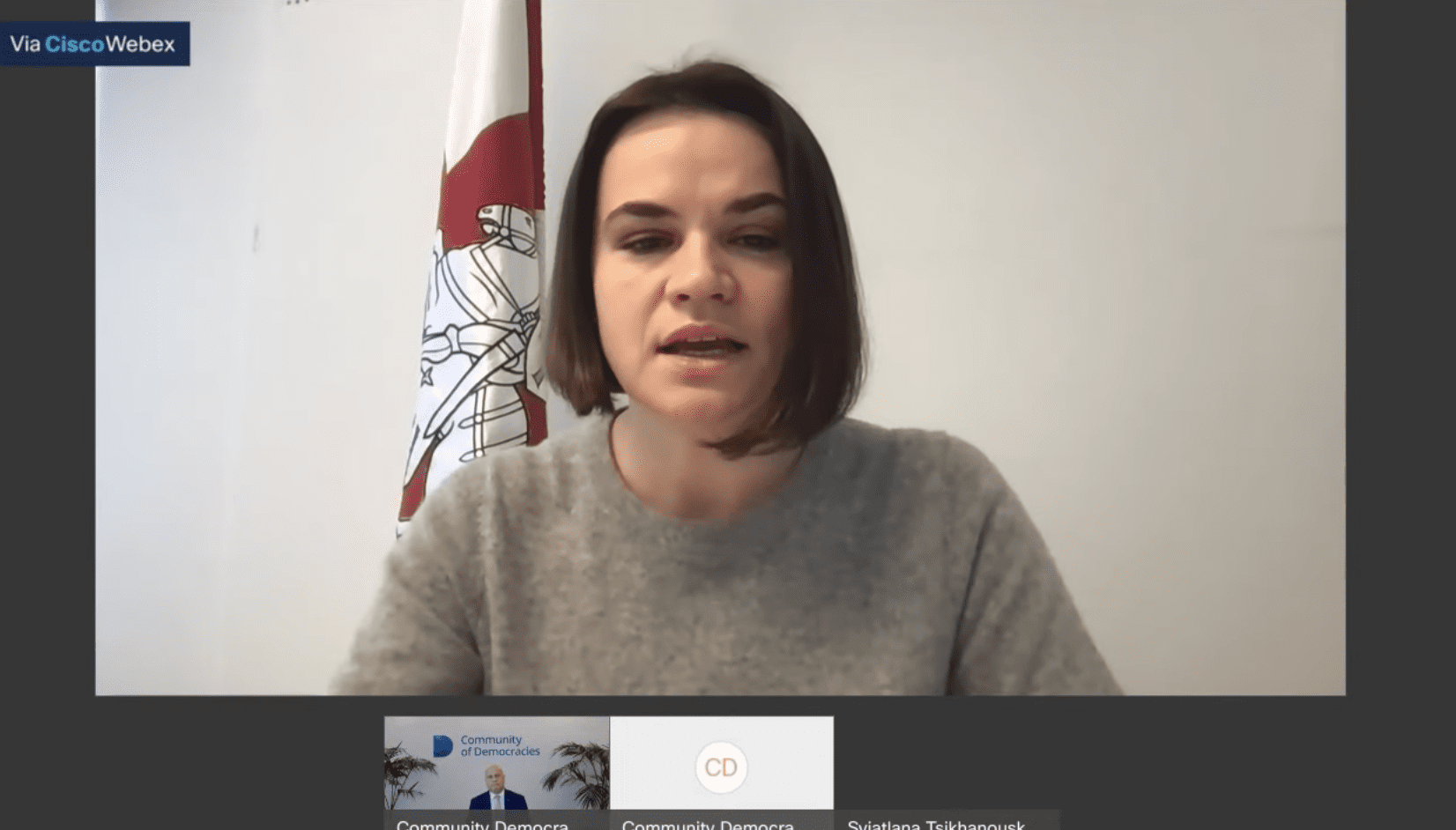 Addressing the situation in Belarus
Summary of recent CoD activities
For more than six months, Belarusians have been protesting peacefully against their country's authoritarian rule which came to a head with 2020's highly fraudulent presidential elections. Many CoD Member States engaged over concerns about the conduct of elections, violence against protesters, or detention of opposition leaders. To support the Belarusians' aspirations for freedom and democracy, the Community of Democracies recently hosted two events in solidarity with Belarus.
In a discussion held on February 9, 2021, the Secretary General of the Community of Democracies, Thomas E. Garrett, spoke to the leader of democratic Belarus, Sviatlana Tsikhanouskaya, and her Senior Advisor, Franak Viacorka, on the current situation in Belarus and the way forward.
'We have a vision for New Belarus, which will be based on the rule of law, with free and fair elections, independent courts, and media freedom. We are about to open a new chapter in our history'- said Tsikhanouskaya in her speech. 
Read the event's summary or watch the event here.
The protests in Belarus are driven by the young generation. The CoD event on February 4, 2021, discussed Youth for Democratic Change, with  presentations by young Belarusian democracy activists,Vika Andrukovič and Daniła Łaŭretski.  'Our nation has never been as united as now'– highlighted Vika Andrukovič in her speech. Daniła Łaŭretski outlined the historical context of Belarusians' fight for freedom and independence and spoke to significant role of young people in driving democracy movement in Belarus.  The discussion also featured interventions from CoD Youth Leads from Haiti, Portugal, Romania, and South Africa who addressed the presentations and also shared experiences from their countries on youth activism and political participation. 
'I find youth truly courageous and inspiring – youth who are part of this Belarusian democracy movement and who are actively fighting for the right course of action'– Ioana Dospinescu, Romania
'My hope is for the Warsaw Declaration is to be at the centre of the democratizaton in Belarus'– Reyaaz Scharneck, South Africa
'I want to show my support and the support of Portuguese young people for free democratic Belarus; thank you for your courage and dedication to the cause and the values of democracy'- Rita Saias, Portugal
'Get involved, participate, you are the future of democracy'- Wilbert St Fort, Haiti