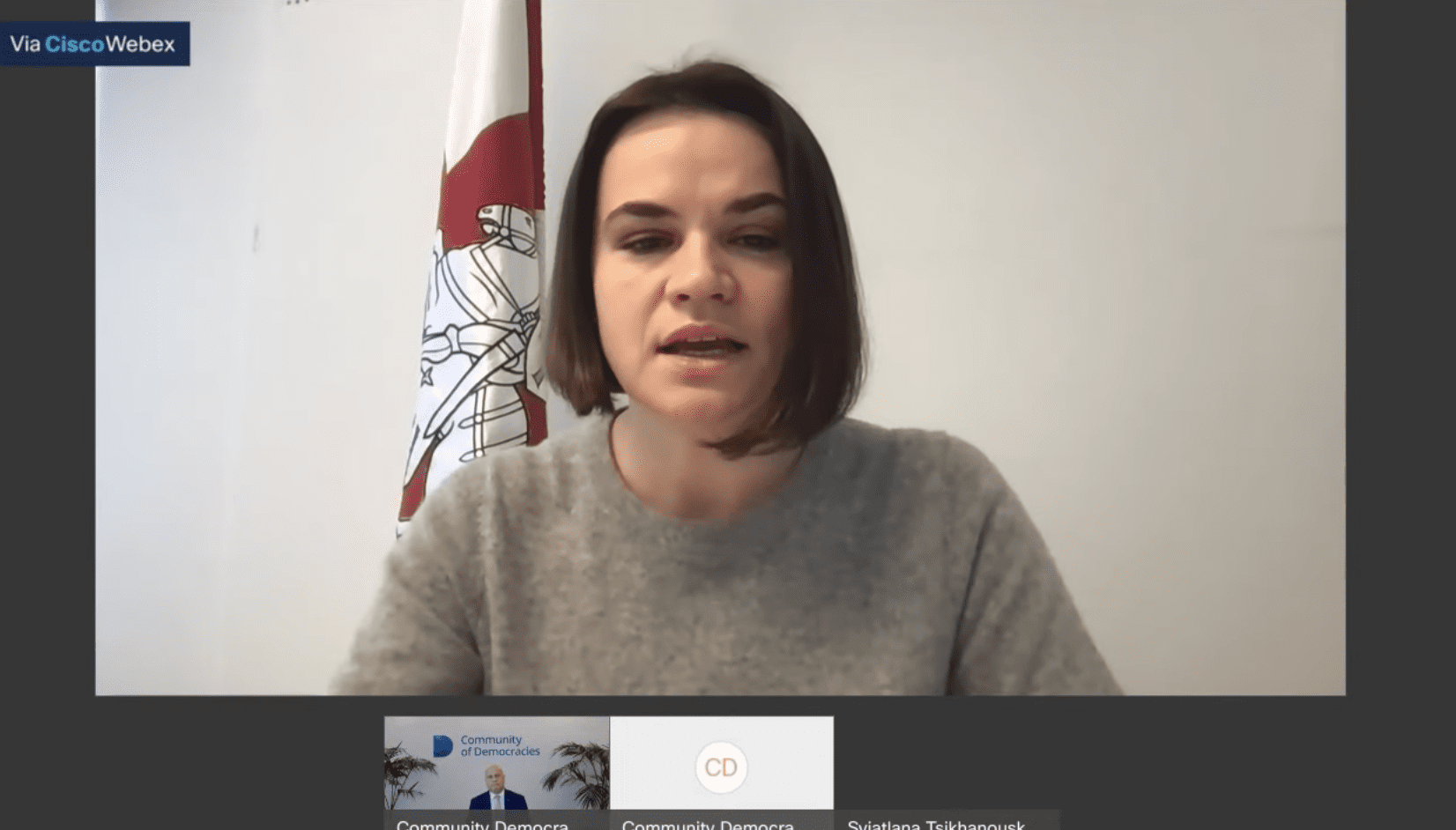 Six Months of Protests: Update from Belarus
Summary of CoD Event with Sviatlana Tsikhanouskaya and Franak Viacorka
For more than six months, Belarusians have been protesting peacefully against their country's authoritarian rule which came to a head with 2020's highly fraudulent presidential elections. To support their aspirations for freedom and democracy, the Community of Democracies recently hosted two events in solidarity with Belarus.
In a discussion held on February 9, 2020, the Secretary General of the Community of Democracies, Thomas E. Garrett, spoke to the leader of democratic Belarus, Sviatlana Tsikhanouskaya, and her Senior Advisor, Franak Viacorka, on the current situation in Belarus and the way forward.
'Belarusians have demonstrated courage, strong will, and dedication. No words can fully describe what they have experienced in these six months,' highlighted Sviatlana Tsikhanouskaya in her keynote speech at the event. Speaking to Belarus's future, she said 'We have a vision for a new Belarus. The new Belarus will be based on the rule of law, with free elections, independent courts, and media freedom.  We are about to open a new chapter in our history.'
Following her speech, Franak Viacorka provided a brief outline of some practical support mechanisms to the people of Belarus.
He pointed to young people as the primary driving force behind the protests, saying youth served as an inspiration for others to join the protest, spread the word, and raise awareness through social media. But in doing so, as he underlined, youth also became one of the regime's primary targets, facing repercussions such as students being expelled from universities. Many had to flee the country.  It is essential to offer them help, he said, but not necessarily through scholarships abroad but through the opportunity to study online at international universities while staying in their own country so they can continue contributing to driving change.
Speaking on media freedom, Viacorka highlighted the risks faced by Belarusian independent journalists. He said the international community could help media workers by raising awareness of the situation and providing technical assistance to operate despite strict restrictions on media freedom.  These may include technological solutions such as providing satellite connections or platforms that allow for creating and uploading social media content even when access to the internet or certain websites is blocked. 'Journalism is not a crime,' Viacorka said.
Discussing international help, he underlined that while Belarusians are already taking action themselves, international solidarity and support is of enormous importance. Among some practical ways of assistance he named raising awareness and hosting discussions on Belarus; working for the isolation of the regime and imposing sanctions on Lukashenko and his cronies; ensuring the lack of resources to support the regime; offering support and assistance to vulnerable Belarusian groups, including journalists, students, and human rights activists; not allowing impunity in Belarus.  He highlighted the solidarity and support already provided by many countries, including CoD Member States Lithuania, Poland, and Sweden, noting Sweden's active role in supporting human rights and women's rights.
Viacorka commented on the fraudulent presidential elections: 'We already won the elections. Sviatlana Tsikhanouskaya is the elected leader. We don't need to prove it. But we need to prove that our elections were stolen'.
'Freedom is not given. It is worth fighting for. Our future is at stake,' said Tsikhanouskaya.