#CoDYouthLeads: Jagdish's story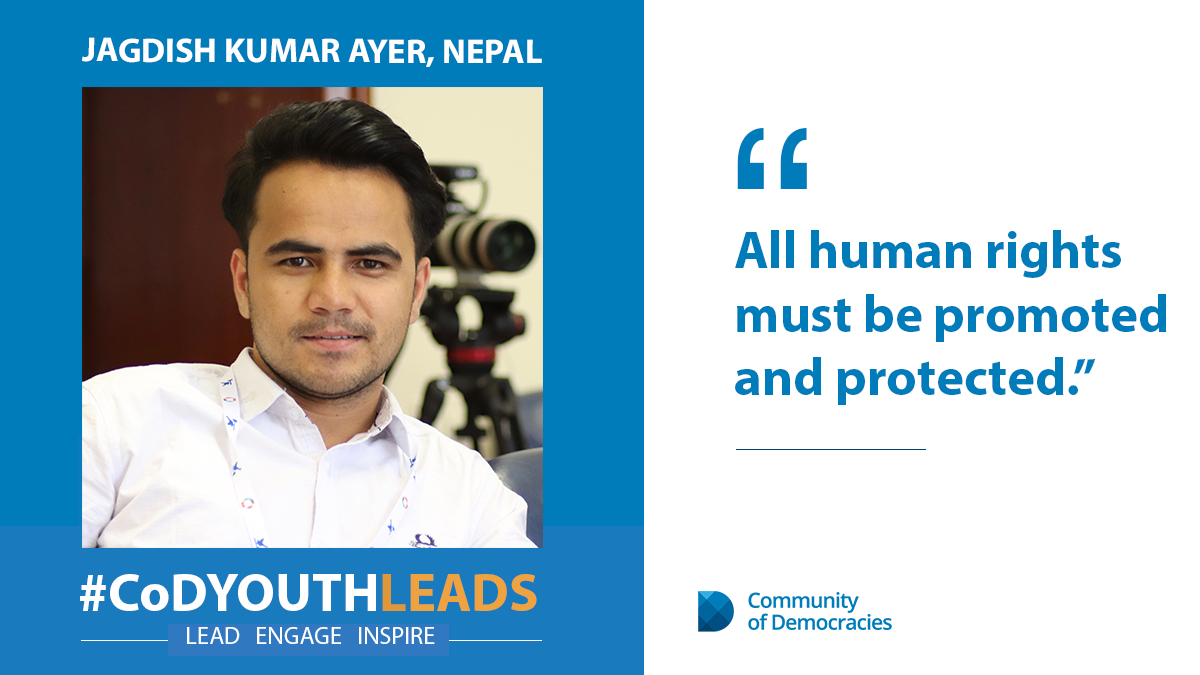 Jagdish is the president of the most prominent youth organization in Nepal. Growing up during a violent armed conflict, kidnapped by armed rebels, he knows very personally that the path of war is wrong. In his story, he tells us about his work to build good governance and how crucial it is to ensure that all human rights are promoted and protected.
 "ALL human rights must be promoted and protected"- Jagdish Kumar Ayer, Nepal
My story reflects the ongoing relevance of the Warsaw Declaration, especially Principle 19: That all human rights- civil, cultural, economic, political, and social- be promoted and protected as set out in the Universal Declaration of Human Rights and other relevant human rights instruments.
I was 14 years of age when the Maoist armed rebels kidnapped my friends and me from our school in 2005. The students from grades 8, 9, and 10 were taken. We had to walk for many hours into the jungle. The army's helicopter was moving above us; we were terrified.
The Maoists held us for three days and tried to influence us to join them as fighters. Four of my friends joined the armed group, and the rest freed.  Such excursions to our school continued as they returned to influence us towards their philosophy. They did this very frequently and disturbed our studies. This conflict, between the Maoists and the then-government, was violent, with many killed on both sides of the civil war. Even at this young age, I knew the path of war was wrong.
I came to the capital of Kathmandu immediately after school from the far-western rural village of Dadeldhura. I began getting involved in activism in various youth movements, especially those creating awareness on peace, human rights, and justice. I also engaged in youth empowerment and capacity building activities.
The decade-long armed conflict ended in 2006. Nepal went into the peace process the year after, abolishing the monarchy. The Maoists were included in mainstream politics and won the election by a landslide. We now have a federal democratic country.
But I know first-hand what the people had to go through to get it.
In 2015, I led a volunteer movement during the earthquake in Nepal. Currently, I'm leading the most prominent youth organization network in Nepal called AYON (Association of Youth Organization Nepal) as the president. We have been working on various youth-led movement for youth-led policy advocacy to build good governance, transparency, accountability, voter-education, civic-awareness, and inclusive participation.
It is essential that we, as a nation, learn from our past mistakes. The inequality, injustice, and erosion of trust that fuelled the Maoist conflict should be addressed so that the society does not move towards conflict once again. Solving these problems will be done through inclusive democracy that ensures the rights of the people and will be done by building accountability and shared responsibility in both the government and its people.