#CoDYouthLeads: Monika's story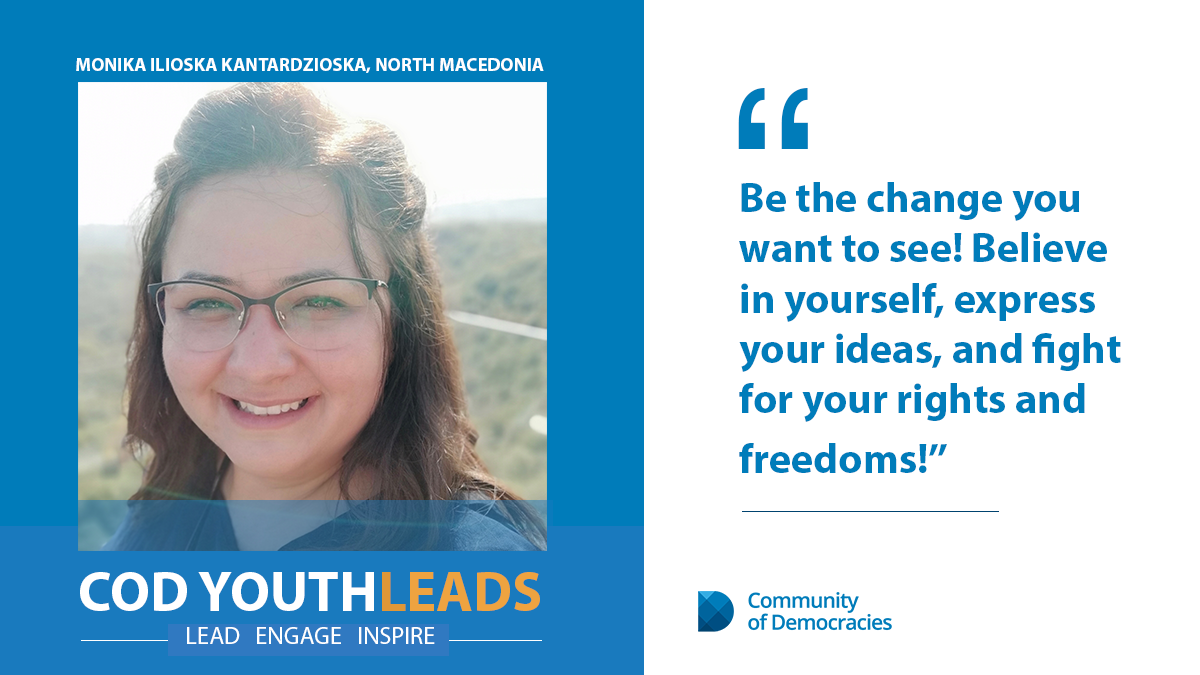 Helping youth understand and exercise their civic rights is a long-term goal for Monika. Working at  SEGA, a coalition of North Macedonia's youth organizations, she advocates for greater inclusion of young people in public life and seeks to raise their awareness of democratic values.  Monika encourages youth not to be afraid to express their opinions but to fight for their rights and freedoms.
 " Be the change you want to see! Believe in yourself, express your ideas, and fight for your rights and freedoms!"- Monika Ilioska Kantardjioska, North Macedonia.
I discovered the power of civic education and youth activism around the same time the Warsaw Declaration was adopted. Unfolding the human rights to their essence of equality, non-discrimination and fairness, I found myself and my personal long-term goal: to help youth know and employ their rights, their freedoms, and the values of democracy.
It is crucial to raise awareness among young people of their civic rights. The Warsaw Declaration provides a clear guide through 19 core principles that have a real impact on our daily lives and the lives of young people.   This impact ranges from participating in free and fair elections, through equal access to education, equal access to take part in the conduct of public affairs, the right of every person to express their freedom of opinion, and to freedom of peaceful assembly and association.
As a student, I volunteered in different civil society organizations, only to find my career path in building better democratic communities that engage and respect young people. Being part of the team these past 11 years of SEGA,  a coalition of youth organizations, I have been able to advocate for the voice of youth to be heard: by the education system, by municipal and national decision-makers. Empowering young people to actively participate in decision-making with them as the drivers of change is my inspiration.
Working with youth organizations and youth activists in the development and implementation of youth policies at the local and national levels, I feel that I am part of the  solution. If we all take one step forward to democracy, we will be closer to enjoying its fruits.  Youth will influence the changes and the development of my country by their active participation.
My message to young people is: Be the change you want to see! Believe in yourself, express your ideas, and fight for your rights and freedoms!