#CoDYouthLeads: Samuel's story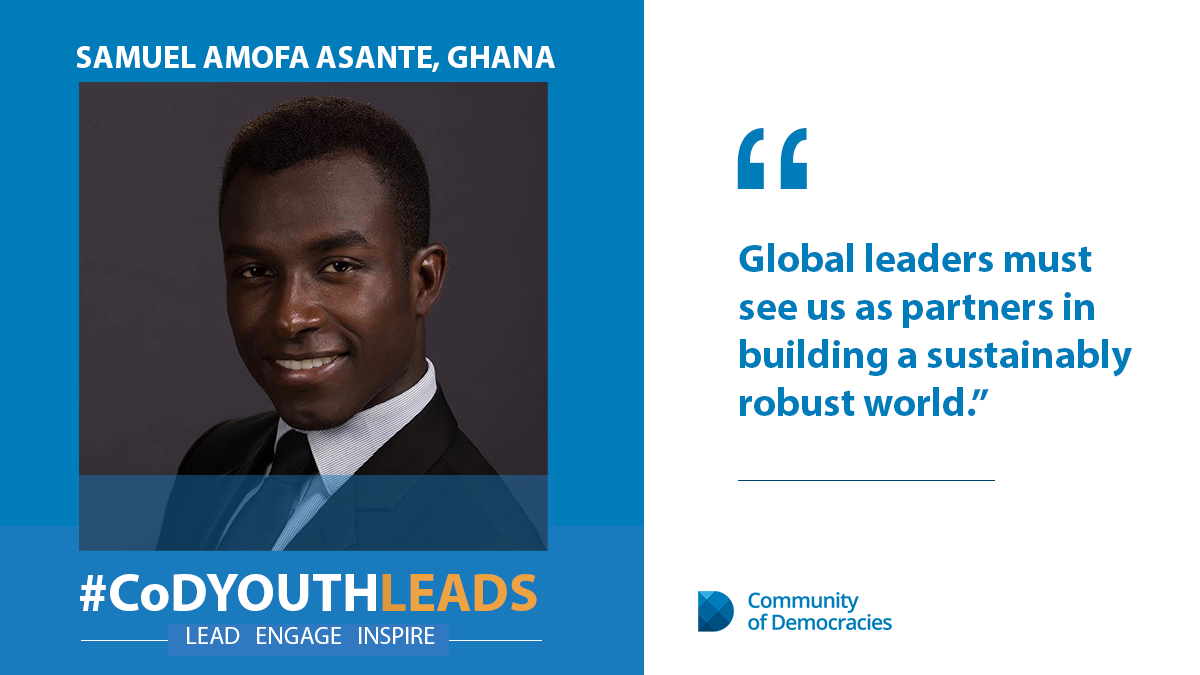 Service as a staff member in the Ghanaian Parliament taught Sam to seize opportunities to be heard and to draw attention to some of the most pressing needs of the youth. In his story, he encourages young people to keep using the democratic platforms available to make the needed change for a better world.
"Global leaders must see us as partners in building a sustainably robust world" – Samuel Amofa Asante, Ghana. 
The ability to be heard and understood by not only political figures but by other stakeholders in the society is probably one of the most essential hopes most youth desire in our battle in making the world a better place for all. I had such a rare opportunity of being heard and understood when I undertook my National Service as an Executive and Research Assistant to a Member of the Ghanaian Parliament. I drew attention of the MP to pressing needs of the youth in his constituency, such as the creation of jobs and access to sexual health resources, among many others. But the critical takeaway from this experience was realizing the importance of being able to make an informed choice of who represents me in policymaking.  Not only who represents me, but that, in a democracy, we possess the ability to change our representatives through regular parliamentary and presidential elections – a vital component of a democratic system.
I've seen first-hand the importance of having a well-informed electorate in the implementation of democratic principles.  In response, I've set for myself the task of using my social media and academic writings to speak on pressing issues such as global warming, international security, democratic voting, and the policies that promote sustainable developments.
The democratic principles enshrined in the Warsaw Declaration ensure that space is created for youth engagement in democracy's dialogue locally, regionally, and internationally. The Warsaw Declaration clearly states everyone's right to voice their opinions, to take part in the conduct of public affairs, establish or join their own political parties, civic groups, or other associations.
Youth are custodians of today's progressive knowledge and of the vision of the future to come. Global leaders must see us as partners in building a sustainably robust world. We should be having discussions on pressing policy issues as partners rather than being relegated to the backdrop as irrelevant.
To all the youth out there, this is what I say to us, "Let's continue to be vocal and active about the sustainable world we want. Let's keep using the democratic platforms available to make the needed change for a better world, without any remorse!"