#CoDYouthLeads: Tinatin's story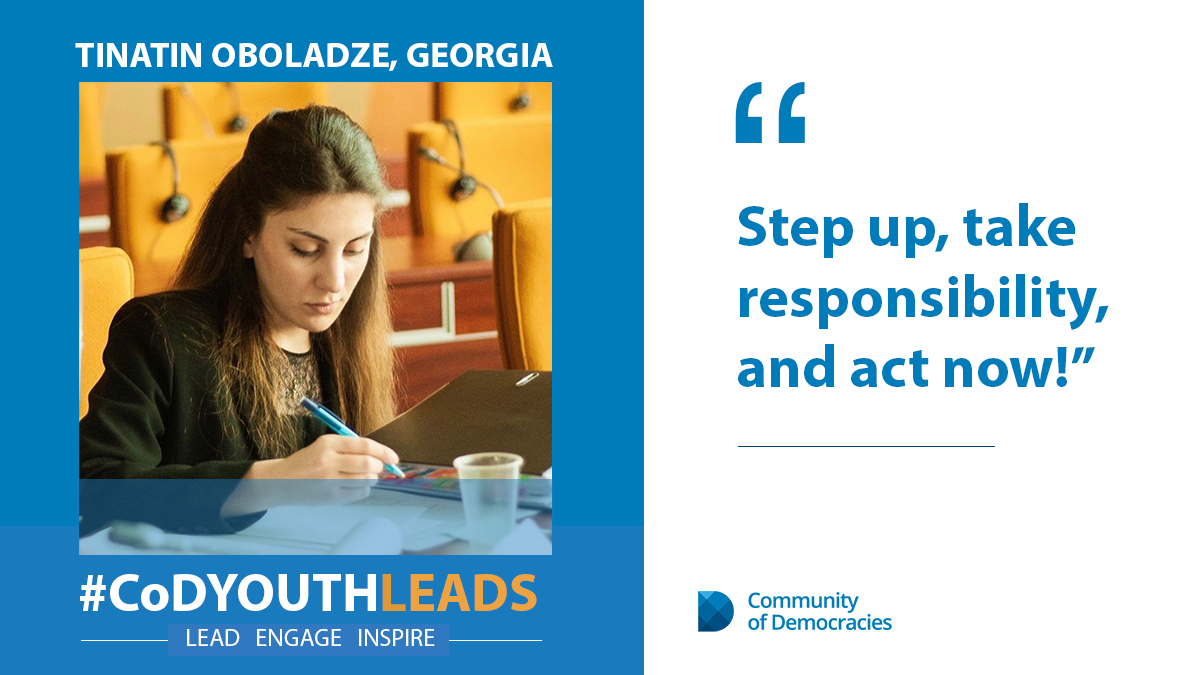 Tinatin's story showcases the impact of a youth-led effort in bringing about constitutional change in Georgia. In her story, she also highlights how digital space provides innovative participation opportunities for dialogue, and encourages young people to step up, take responsibility, and act now.
 "Step up, take responsibility, and act now!"- Tinatin Oboladze, Georgia.
In my story, through courage, inspiration, and determination, young people won constitutional change.
 Democracy starts with the participation of people in public life, and I decided to become an actual contributor. My motto has always been to have an impact on the broader society and to see results in every path I pursued. Along with my studies in law, I started activism as a leader of a non-profit organization in Georgia when I was still a sophomore.
In 2017, during the constitutional amendment process in Georgia, I took the lead to become an advocate for youth rights to sports and a healthy lifestyle. Our youth-led organization proposed to draft the constitutional article, which would provide legal guarantees for youth in Georgia. After a series of debates and involvement of different actors, the interests of youth have become embodied in the Constitution of Georgia.
My experience inspired me to continue my activism, and in 2019, I was the chief representative of our organization to support the proportional electoral system in Georgia.  With others, I conducted large-scale raising-awareness workshops for students and youth, which were attended by deputies of the Georgian Parliament from both the ruling party and opposition. These experiences taught me that when you  participate, you become a platform for others as well.
This month, we celebrate the 20th anniversary of the adoption of the Warsaw Declaration and the founding of the Community of Democracies.  We acknowledge the idea that democracy does not always move only from triumph to triumph but faces change and new challenges. Democracies are diverse and the world's countries are not on the same place in their democratic path. Promoting the democratic values enshrined in the Warsaw Declaration motivates us to become more proactive, to learn from best practices, and set new standards following respect for the human rights of all persons and the norms of international law.
Action is needed, especially now, when democracies face crisis due to the global pandemic. Digital space provides innovative participation opportunities for dialogue, accountability, and transparency in decision-making, including in conflict-affected contexts.  Democratic governments should ensure access to online platforms for youth participation and protect freedom of expression, core democratic rights enshrined in the Warsaw Declaration. I believe that young people have a pivotal role in strengthening democratic values. The participation of youth from every available platform has never been as meaningful as now.
Step up, take responsibility, and act now!