#CoDYouthLeads: Walter's story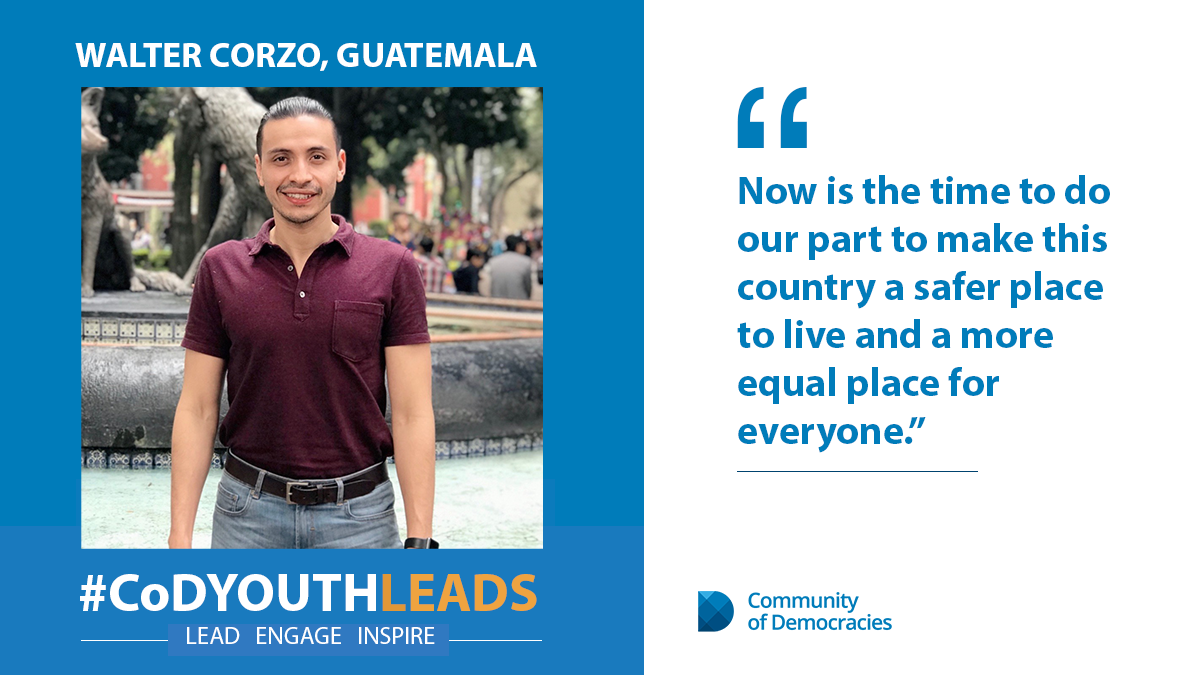 Growing up in a country marked by violence was one reason Walter decided to serve as an advocate for citizen safety and democratic values. In his story, he tells us how challenging experiences in his youth shaped his drive to promote inclusion in public life for young people.
 "Now is the time to do our part to make this country a safer place to live and a more equal place for everyone"-  Walter Corzo, Guatemala.
Like many other families in Guatemala and Latin America, mine was marked by violence. When my mom was only a girl, she lost her father when he was killed in front of family. This same tragedy still happens and there are thousands of people with stories of families changed forever after a loved one's murder.  For me, this has been my primary motivation: working to promote initiatives that encourage youth, and especially decision-makers, to use their platforms and power to change the future of generations to come for the better.
I have been in public life for almost a decade, working for NGOs which specialized in violence prevention, citizen safety, and promoting democratic values.  Through these NGOs, I've had the opportunity to work with Congress and executive officials.  Most importantly, I've been able to support vulnerable youth, their parents, and local authorities in those communities that are hit by violence every day.
I've learned that to change those factors which cause a country to be violent towards children, youth, and women, we must talk about democracy and its principles.   That vital discussion will be the only guarantee of our freedom to choose and live our own destiny.
The Community of Democracies recognizes the diversity of democracy as it exists around the world.  Yet as the Warsaw Declaration states, in any system which calls itself a democracy, there must be the right for all to equal protection of the law, without any discrimination as to age, race, color, sex, religion, social origin, or other status.
I thank our previous generations for the sacrifices they made to make our democracy possible.  Those who came before us gave my generation the fundamental freedoms to continue building the institutions and policies, our communities urgently need. I acknowledge that now it is time to do our part to make this country a safer place to live in and more equal to everyone.