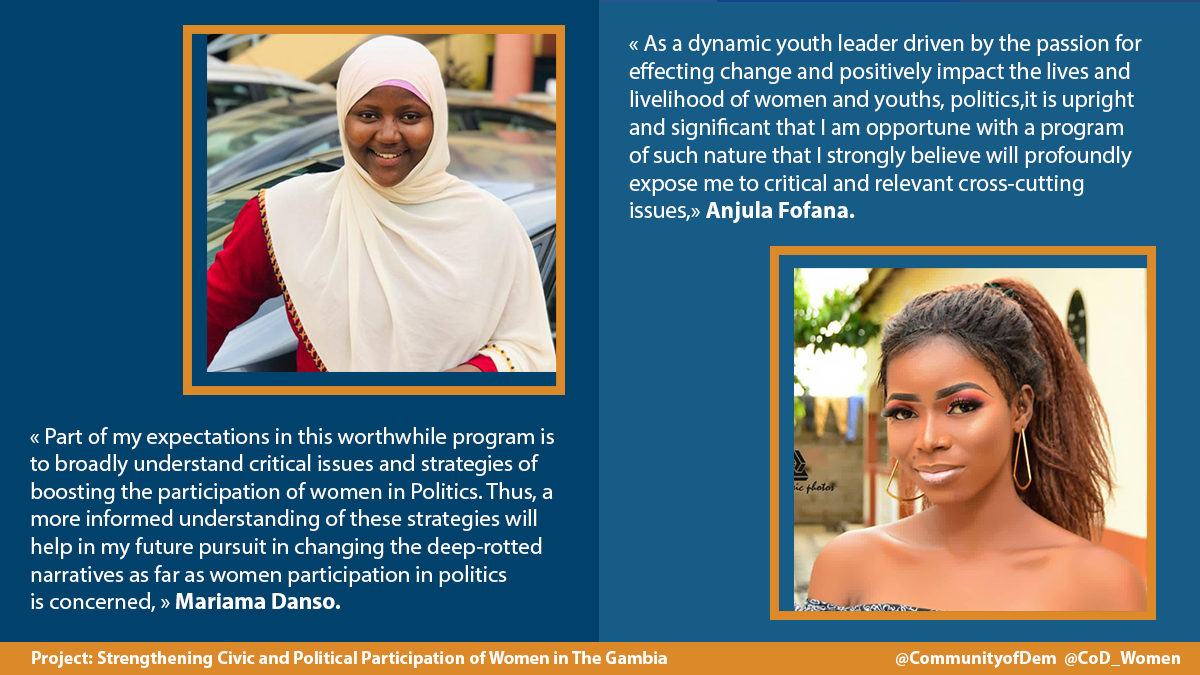 Project: Strengthening Civic and Political Participation of Women in The Gambia
On November 16-18, 2020, the Permanent Secretariat of the Community of Democracies, together with project implementing partner Westminster Foundation for Democracy, will carry out the first online workshop of the recently launched project on Strengthening Civic and Political Participation of Women in The Gambia. 
This project seeks to advance the position of women in political parties, in civil society organisations and in their communities, and supports their efforts to potentially run for elections in The Gambia.
Some of the participants shared their expectations of the project:
 ' This program will also enable me to understand politics with a broader perspective and context, which will subsequently exponentiate my level of political orientation in redefining the role of women in politics and national development wholly'-  Anjula Fofana.
' Part of my expectations in this worthwhile program is to broadly understand critical issues and strategies of boosting the participation of women in Politics. Thus, a more informed understanding of these strategies will help in my future pursuit in changing the deep-rotted narratives as far as women participation in politics is concerned'- Mariama Danso.
As the main topics, the two online workshops will cover: Leadership and Communications. The Leadership training will include strengthening leadership skills and personal confidence, mobilizing resources and capacity building. The Communications training will include public speaking, message development, communication and advocacy strategy.
The project will use different types of learning methods, including online training, individual and group tasks, and one-on-one coaching sessions.
The CoD Secretary General Thomas E. Garrett will deliver closing remarks at the event.
The initiative is supported by the Republic of Korea.