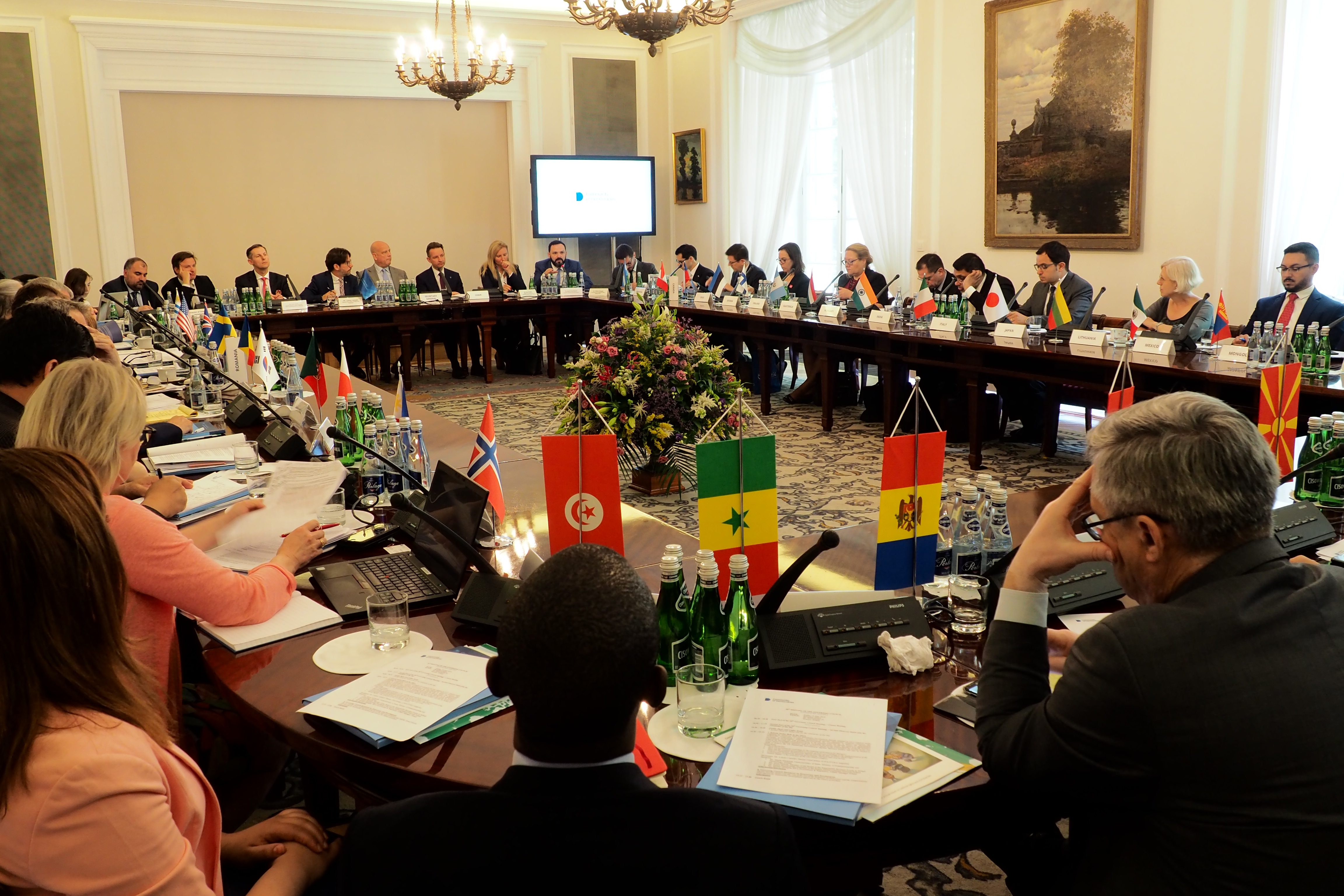 30th meeting of the Community's Governing Council
June 14th, 2019
Warsaw
On June 14th, 2019, Member States of the Community's Governing Council, representatives of civil society, invited Observer States and the private sector gathered in Warsaw for the 30th meeting of the Community's Governing Council, hosted by Poland – current Chair of the Community's Executive Committee.
Welcome remarks were provided by H.E. Mr. Konrad Szymański, Secretary of State for European Affairs at the Polish MFA, Mr. Jerzy Baurski, Director of the Department of United Nations and Human Rights at the Polish MFA and the CoD Secretary General Thomas E. Garrett.
'Thank you to Poland for its generous hospitality and strong, supportive leadership provided to the Community of Democracies' – said SG Thomas E. Garrett
In addition to discussions on internal issues and current activities of the CoD, the meeting  featured two discussion panels:
Private Sector Role in the SDGs– the panel discussed the contributions that the private sector can make to achieve the  UN 2030 Sustainable Development Agenda.
Youth Participation in Public Life– the session provided an opportunity to address youth participation in public life, both online and offline.
Member States welcomed interventions  by the invited Observer States to the 30th Governing Council: Armenia, Georgia,  Ghana,  North Macedonia and Peru on democratic resilience.
Ms. Monika LeRoy represented Secretary General Almagro of the Organization of American States at the Governing Council meeting.  In delivering his message to the 30th Governing Council, she noted in her review of Latin American democracy that "For too long, economic dependency, regional historical and personal relationships, combined with a misinterpretation of the principle of non-intervention, prompted many states to look the other way. They chose inaction, labeling it neutrality.  The harsh reality is that inaction is action- in Venezuela it was action in defense of a developing dictatorship.  Silence served as complicity, empowering the Maduro regime to create one of the worst political, economic and humanitarian crises experienced in the Western Hemisphere."
For pictures and quotes from the event, follow us on Twitter @communityofdem.