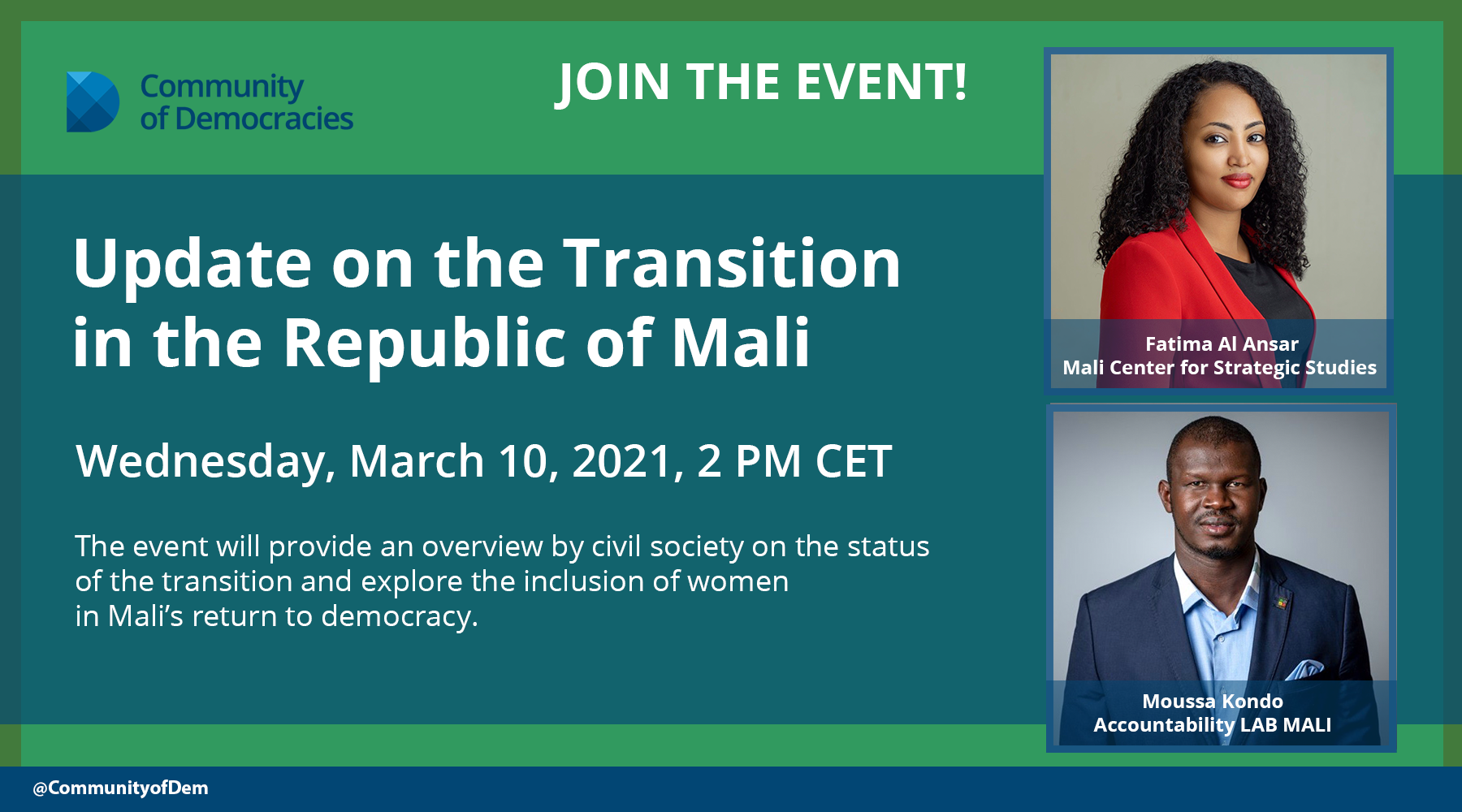 Update on the Transition in the Republic of Mali
Community of Democracies Virtual Event
1400 CET, 10 March 2021
CISCO Webex Events
Overview
The August 2020 military coup in the Republic of Mali terminated the democratically elected government. In his September 25, 2020 installation ceremony, Interim President Ndaw pledged to honor a transition back to a democratically elected government within 18 months.  On October 5, 2020, a transitional government was formed, bringing together high-ranking military officials as well as a coalition of opposition parties and civil society groups. The cabinet includes women, representatives of civil society, and for the first time, four representatives of the signatory movements to the Agreement on Peace and Reconciliation.
This was followed, on 3 December, by the appointment of the 121 members of the National Transitional Council (NTC), serving as a transitional parliament.   In January 2021, nine Malian women were named to the Peace Agreement Monitoring Committee in Mali, a move praised by the Secretary General of the Community of Democracies, who noted the importance of integration of women's perspectives with all areas of the Agreement Monitoring Committee work, such as a Disarmament, Demobilization, and Reintegration program, decentralization measures, and community policing.
CoD Virtual Event: Update on the Democratic Transition in Mali
Interim authorities face numerous and challenging priorities: holding free and credible elections within 14 months; combating impunity (including for corruption and human rights violations); fair governing for all territory, especially through providing basic services in the North of Mali, as stated in the Algiers Agreement all while respecting human rights through the transitional period.
To inform the Governing Council Member States and interested public on the transition as seen from the ground in Mali, the Permanent Secretariat of the Community of Democracies will host a 45-minute briefing conducted by representatives of Malian civil society.
Tentative Agenda (45 minutes)
Introductory remarks by CoD Secretary General Thomas E. Garrett
Overview of civil society on the status of the transition by Moussa Kondo
Inclusion of women in the return to democracy by Fatima al Ansar
Questions and comments
Conclusion by the Secretary General