Building bridges around the world: Regional consultations with civil society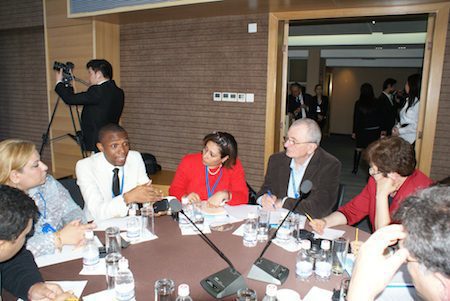 April 16, 2014
A growing number of initiatives of the Community of Democracies has focused on protecting and enabling civil society. These projects are driven by an understanding of the fundamental role that civil society plays in democracies. As part of this trend, the Community of Democracies launches a new undertaking that centers on a dialogue with civil society: Regional consultations.
Between April 2014 and November 2014, the Community will host multiple regional consultations with civil society. These discussions will address the ways in which the international community, and the Community of Democracies in particular, can continue to improve its technological, financial, logistical and representational support to civil society, and how the Community of Democracies can better facilitate broad engagement within its civil society pillar.

Consultations will be held in various countries and regions of the world. They are currently planned for Mali, Botswana, Indonesia, Mexico, South Korea, Estonia, Morocco and Turkey. Civil society representatives from the regions will participate in the consultations and help the Community to increase its dialogue with NGOs, while also creating regional networks of civil society organizations. The first round of consultations will take place on April 24-25 in Bamako, Mali.

In addition to the regional consultations, the Community, in cooperation with the U.S. Department of State, will organize capacity-building workshops called TechCamps. TechCamps provide civil society representatives with technological training and access to technological tools and expertise, focusing on issues such as democratic governance, interactions between government and civil society, and government transparency. For the first time, TechCamp and the Community of Democracies will together introduce new technologies and strategy to strengthen and empower civil society organizations.