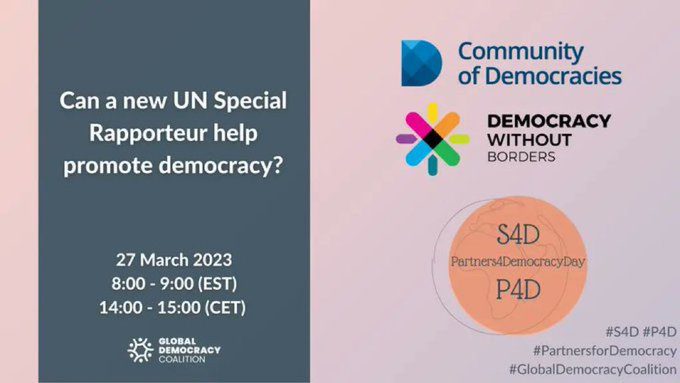 Can a new UN Special Rapporteur help promote democracy?
Online event by the Community of Democracies and Democracy Without Borders
March 27, 2023 
The UN's Special Rapporteurs or Independent Experts are individuals who act independently of governments to investigate specific human rights or the situation in particular countries. They are appointed by the Geneva-based Human Rights Council, the UN's main body charged with promoting and protecting human rights around the world.
In the context of a worrying trend of democratic decline in all world regions, pro-democracy groups and experts are considering the need of a UN rapporteur who investigates the situation of democracy. Many believe that such a UN-mandated Special Rapporteur on Democracy can help strengthen and protect democratic rights and institutions, revitalize democracy and promote improvements.
Following previous consultations and a research report, this online event, co-hosted by the Community of Democracies and Democracy Without Borders on the occasion of Partners of Democracy Day, is devoted to presenting and discussing the proposal.
Speakers include Maartje Mensink, program associate at Democracy Without Borders, Miloslawa Zagloba, legal counsel at the Community of Democracies and Gulnara Shahinian, former UN Rapporteur on Contemporary Forms of Slavery.