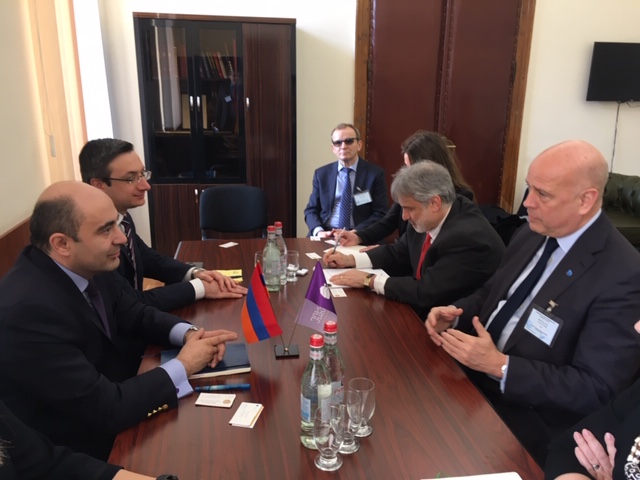 CoD High-Level Delegation to Armenia
Under its Strategic Plan Objective 1, which encourages Governing Council Members to promote adherence to the Warsaw Declaration principles in countries within and outside the Community, on February 27 to 29 2020, the Community of Democracies (CoD) conducted a High-level Delegation to Armenia. The main task of the Delegation was to receive first-hand accounts of democracy-related progress and challenges faced by Armenian authorities and to hear from civil society, to assist the Governing Council to articulate support and engagement required for a consolidation of democratic institutions and practices. The Delegation was led by the Secretary General Thomas E. Garrett and comprised of representatives of the Permanent Secretariat, three Member States of the CoD Governing Council (Lithuania, Poland and Romania) and representatives of the CoD Civil Society Pillar.
Members of the Delegation met with H.E. Zohrab Mnatsakanyan –  Foreign Minister of the Republic of Armenia,  Ms. Kristinne Grigoryan – Deputy Minister of Justice, Mr. Arman Tatoyan – Human Rights Defender of Armenia, Ms. Haykuhi Harutyunyan – Chair of the Corruption Prevention Commission. In the National Assembly of the Republic of Armenia, the Delegation met with representatives of two political parties  seated in January 2019 in the 132-member legislative body. Finally, the Delegation held meetings with Armenia's civil society, including a roundtable organized by the Human Rights House Foundation.