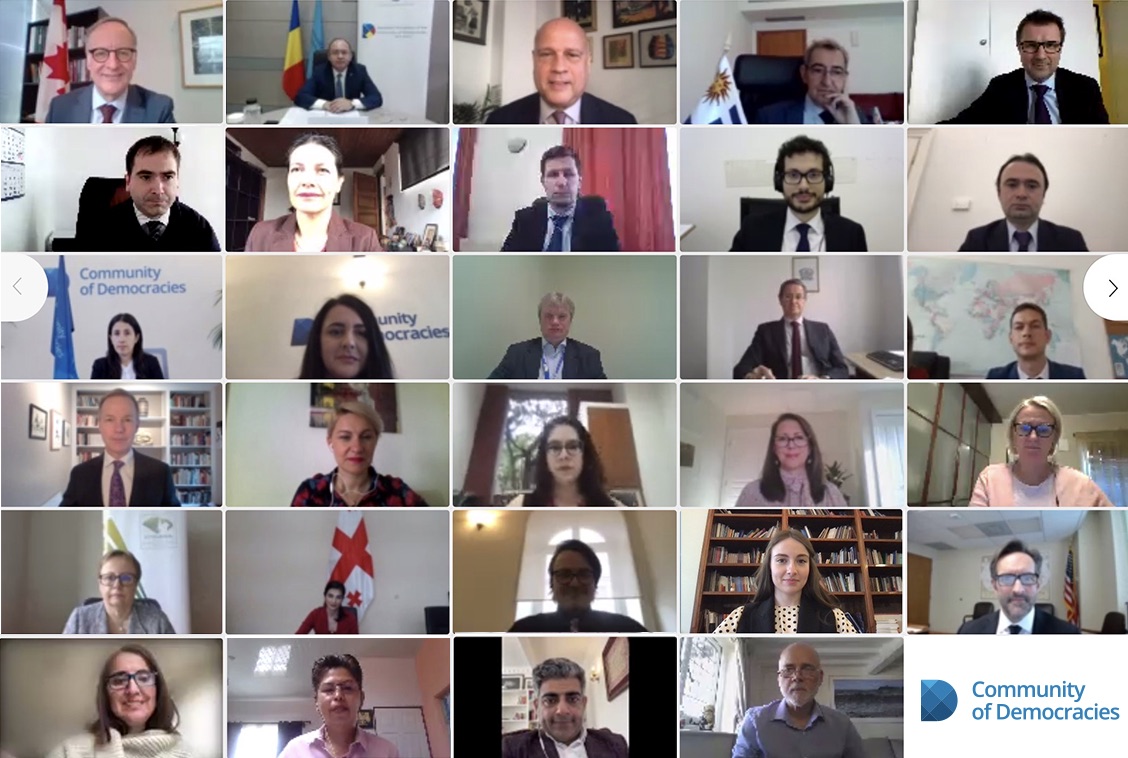 Community of Democracies 33rd Session of the Governing Council
April 20-21, 2021
Full, equal and meaningful participation and representation of all women and girls is crucial for democracy underlined Community of Democracies Member States in the Outcome Statement adopted at the 33rd Governing Council Session  
On April 20-21, 2021, Member States of the Community of Democracies (CoD) Governing Council convened for a two-day virtual meeting chaired by CoD Presidency Romania. With welcome remarks by Foreign Minister of Romania H.E. Bogdan Aurescu and CoD Secretary General Thomas E. Garrett, the meeting discussed CoD current and future activities, including the upcoming Ministerial Conference, as well as challenges and opportunies for democracy in a post-pandemic world.
The session featured a guest speaker Mr. Robert Oliphant (M.P.) the Parliamentary Secretary to the Minister of Foreign Affairs of Canada, who presented Canada's initiative on "Declaration Against Arbitrary Detention in State-to-State Relations". 
The Governing Council meeting successfully adopted the Outcome Statement, in which Member States stressed that full, equal and meaningful participation and representation of all women and girls is crucial for democracy, women's leadership and inclusion in decision-making at all levels contributes to strengthening government accountability and transparency; and promoting full and equal enjoyment of all human rights by all women and girls, both offline and online, as well as the systematic integration of a gender perspective across all sectors of government and society is essential for advancing democracy globally. They also underlined the disproportionate impact of the COVID-19 pandemic on women across all spheres of live, highlighting their enormous contribution to fighting the pandemic, and stressing the importance of ensuring women's participation in all COVID-19 response and recovery efforts. The full statement is available here.