Community of Democracies hosts regional civil society consultations and workshops in Bishkek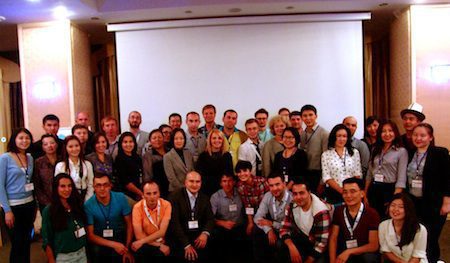 October 3, 2014
Over fifty civil society activists from Central Asia, the Caucasus, and Eastern Europe took part in the fourth round of civil society consultations and workshops organized by the Community of Democracies and the U.S. Department of State in Bishkek on September 30-October 2.
The Community began civil society consultations in May 2014, with the goal of enabling civil society to advocate for the needs of their communities and to understand the fundamental role that civil society plays in democracy.

The meetings in Bishkek addressed ways in which the international community, and the Community of Democracies in particular, can continue to improve its support to civil society, and how the Community of Democracies can better facilitate broad engagement within its civil society pillar.

In addition to regional consultations, the Community in cooperation with the U.S. Department of State hosted capacity-building workshops known as TechCamps. TechCamps provide civil society activists with training and access to technological tools and expertise, focusing on issues such as democratic governance, interactions between government and civil society, and government transparency. In the TechCamp's highly collaborative and technology-focused environment, participants consider ways their organizations can better use technology to engage their countries' citizens and facilitate a more productive exchange with government. Read participants' impressions and experiences at the TechCamp Global blog.

This was the fourth in a series of civil society consultations and capacity-building workshops hosted by the Community of Democracies. Earlier events were held this year in Mali, Botswana, and El Salvador.