Community of Democracies Recognizes Diplomats & Welcomes Argentina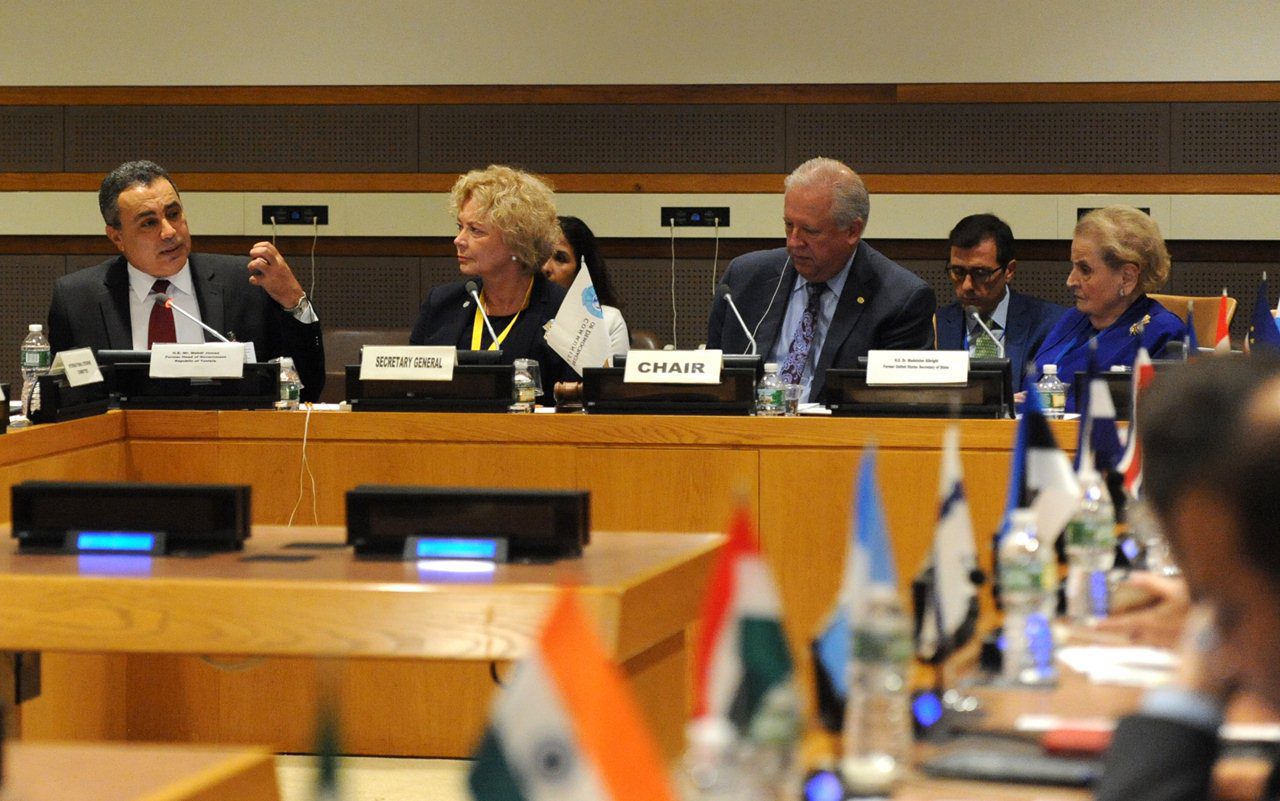 October 5, 2016
News from the 22nd Governing Council meeting in New York
The Community of Democracies recognized two brave diplomats and officially welcomed the Argentine Republic at its 22ndGoverning Council meeting, on the sidelines of the UN General Assembly in New York.
The high-level meeting, which provides a diplomatic platform for democratic governments, took time to honor the hard work of H.E. Luis Almagro, Secretary General of the Organization of American States (OAS), and Canadian Ambassador Deborah Lyons, a leading voice for women's rights and former special envoy to Afghanistan. Both were recognized for their courageous commitment to advancing freedoms and democracy worldwide.
Over the course of three days, the Community convened governments, civil society actors and journalists to discuss democracy renewal, the safety and protection of journalists, as well as the linkages between democracy and security. Brazil, Czech Republic and the United Kingdom observed this session.
The Democracy and Renewal event focused on the experiences of countries that have demonstrated a respect for constitutional limitations on the basis of democratic transitions through free and fair elections. The event included Estonian President H.E. Toomas Hendrik Ilves, Senegalese Foreign Minister H.E. Mankeur Ndiaye, Secretary General of OAS Luis Almagro and Assistant Secretary Tom Malinowski of the United States. Photos are now available on Flickr.
The second session of the Democracy and Security Dialogue was convened by H.E. Mr. Mehdi Jomaa, former Head of Government of Tunisia, and Dr. Madeleine Albright, former U.S. Secretary of State. The meeting, held at the Graduate Center of the City University of New York, addressed the integration of democracy into security policy and countering violent extremism. Photos are available on Flickr.
A side event on Safety and Protection of Journalists, organized by the Community's Working Group on Freedom of Opinion and Expression, looked at how we can counter suppressive trends and end impunity against reporters. The event included participation from David Kaye, UN special rapporteur on the promotion and protection of the right to freedom of opinion and expression, as well as Robert Mahoney, deputy executive director of the Committee to Protect Journalists. Photos available on Flickr.
The next Governing Council meeting of the Community of Democracies will be held in December in Warsaw.
About the Community of Democracies
The Community of Democracies is an intergovernmental organization that drives the global democratic agenda through common action. Since its establishment in 2000, the Community has brought the world's democracies together to advance the democratic principles and promote the standards enshrined in the Warsaw Declaration Toward a Community of Democracies that was signed by 106 countries.

Please follow @CommunityofDem on Twitter or visit www.community-democracies.org to learn more about the Community and its work.