Cooperation, assistance, dialogue: the Community of Democracies enters 2015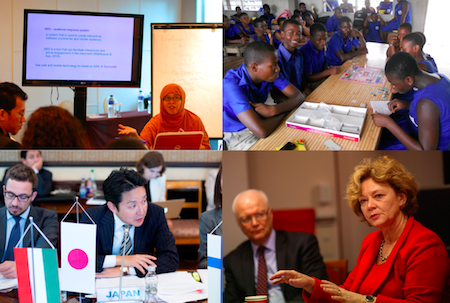 The Community of Democracies works tirelessly to protect and support the democratic principles enshrined in the Warsaw Declaration. In its mission statement, the Community vows to support democratic transition and consolidation worldwide, help in the implementation of principles of democracy and human rights, assist in the development and strengthening of democratic institutions, defend civil society, advance broad-based participation, and give a voice to those working for democracy.

The year of 2015 holds many challenges and opportunities for the Community to fulfill its mission. In July, El Salvador will hand the rotating Presidency of the Community to Nigeria during the Eighth Ministerial Conference of the Community of Democracies, the biggest democratic event of the year. This comes at a time when the need to stand for democratic principles and defend democracy and civil society activists around the world is clearer and more urgent than ever. At the same time, the Community is growing, and is becoming more widely recognized as a leading actor supporting democracy and civil society globally.

In light of such crucial circumstances, the Governing Council of the Community of Democracies approved the Community's work plan for 2015, designed to fit the needs and challenges that democracy faces in our times. The Council endorsed three major priorities: enhancing intergovernmental cooperation, increasing democracy assistance, and enabling multi-stakeholder dialogue.

Under these three priorities, activities of the Community of Democracies during 2015 have the following aims:
To strengthen the democratic voice within the United Nations;
To support and promote regional democracy and human rights instruments;
To enable old and new democracies to support democracy;
To assist emerging democracies and transitioning states;
To provide assistance to democracy actors;
To support civil society organizations;
To advance multi-stakeholder dialogue on democracy-related policies;
To create sustainable platforms for multi-stakeholder dialogues on democracy; and
To deepen and expand multi-stakeholder initiatives to support, defend, and sustain the work of civil society worldwide.
The Community of Democracies will meet these aims through a variety of programs, projects and initiatives, some of them continuing from previous years, and some to be launched during the upcoming year. Developments from all initiatives will be reported on the Community of Democracies website and social media.