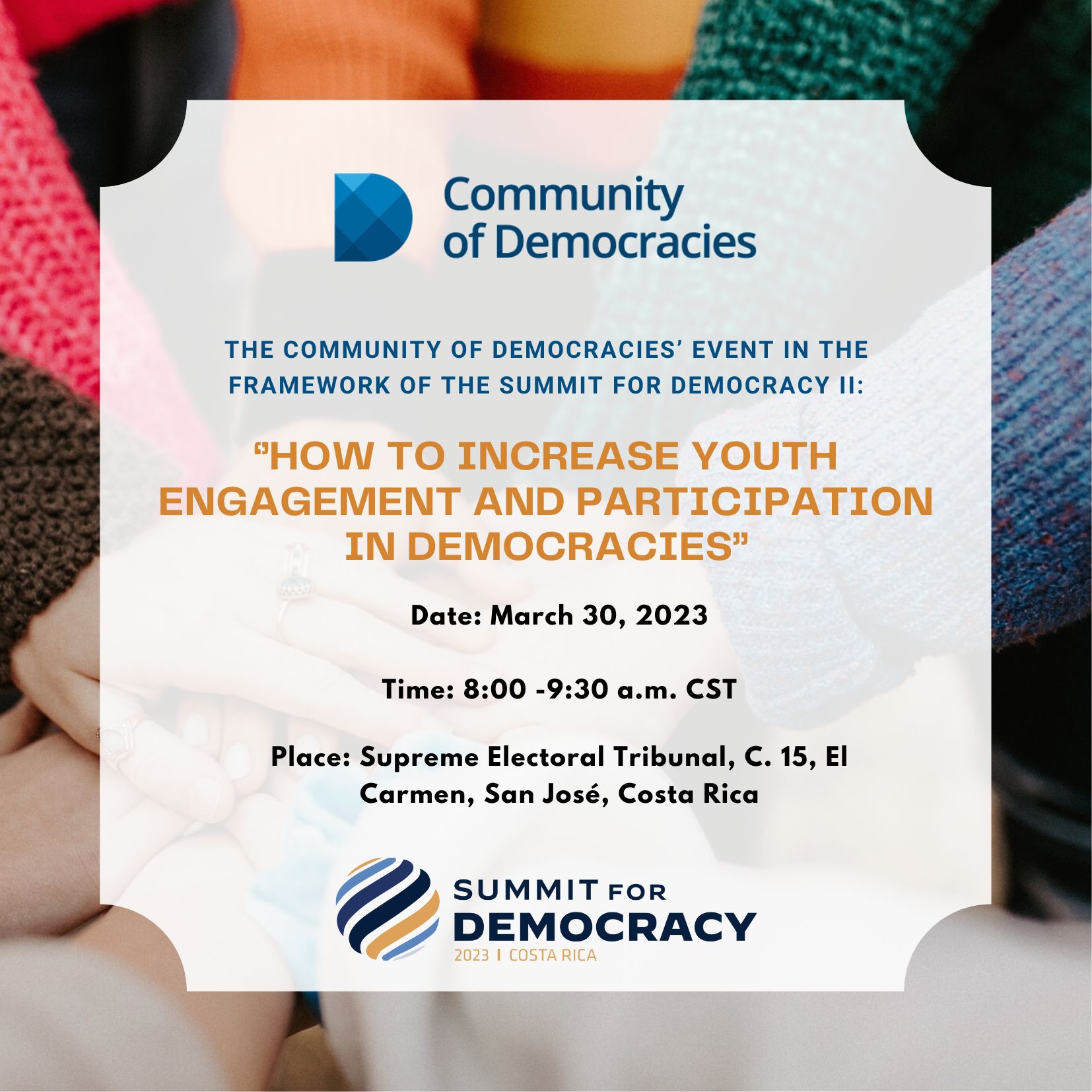 "How to increase youth engagement and participation in democracies"
CoD event at the Summit for Democracy
The Community of Democracies is proud to be a part of the 2023 Summit for Democracy.
During the Summit for Democracy II, co-hosted by Costa Rica, the CoD is holding an event on "How to increase youth engagement and participation in democracies." The event will give voice to #CoDYouthLeads and other young democracy leaders who will discuss ways to advance youth engagement in democracies and present the policy recommendations on youth participation, developed by CoD YouthLeads following the first edition of Summit of Democracies (2021). 
The event will be held on March 30, 2023, from 8:00 – 9:30 a.m., in San Jose, Costa Rica. 
Agenda
8:00- 8:15 am
Opening remarks by Thomas E. Garrett, Secretary-General of Community of Democracies
Welcome remarks by Ms. Kristel Ward Hudson, Vice Minister of Youth, Costa Rica
Welcome remarks by Ms. H.E. Elizabeth Williams, Ambassador of Canada to Costa Rica
8:15- 9:15 am
Panel discussion on policy recommendations to engage youth in public life, moderated by Mr. Andrea Venzon, CoD Youth Advisor
Presentation of youth policy recommendations by:
Dennis Sankale, Kenya
Lourdes Argueta, El Salvador
Tinatin Oboladze, Georgia
Walter Corzo, Guatemala
 Comments on the Policy Recommendations by government officials:
Kristel Ward Hudson, Vice Minister of Youth, Costa Rica
H.E. Elizabeth Williams, Ambassador of Canada to Costa Rica
Abby Finkenauer, Special Envoy for Global Youth Issues, United States Department of State
9:15 – 9:35 a.m.          Q/A session; audience dialogue with youth speakers
9:35- 9:40 a.m.           Concluding remarks by Thomas E. Garrett, Secretary-General of Community of Democracies