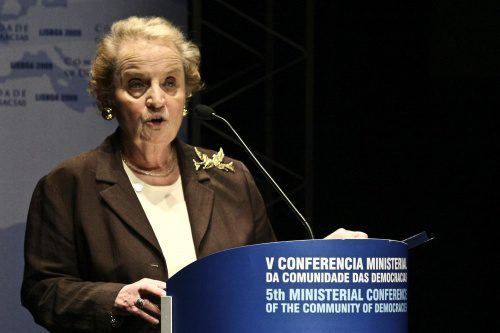 Message by the Secretary General Thomas E. Garrett ahead of one-year anniversary of Russia's invasion of Ukraine
February 23, 2023 
As we prepare to mark tomorrow's tragic date, 12 months since Russia's murderous and unprovoked aggression across Ukraine,  I want to take note of the written words of Dr. Madeleine Albright on this day, February 23, one year ago.
In the last major piece published before she passed away in March 2022, Dr. Albright warned Vladimir Putin that if he were to invade Ukraine, it would be "an historic error."
Russia would be, she predicted, "diplomatically isolated, economically crippled and strategically vulnerable in the face of a stronger, more united Western alliance."
As U.S. Secretary of State, Dr. Albright was present in Poland on June 27, 2000, when 106 nations adopted the Community of Democracies founding document, the Warsaw Declaration, consisting of 19 principles of democracy, human rights, and the rule of law.  Among those 106 countries were the Russian Federation and Ukraine.  Less than a year after this adoption, Kyiv and the Kremlin sharply diverged in the way they interpreted and implemented the principles of the Declaration. Ukraine sought guidance from those 19 principles as it proceeded along a path toward democracy, albeit with starts and stops along the way.  In contrast, the Russian Federation moved quickly to ditch "democratic development for Stalin's playbook" as stated by Dr. Albright in her op-ed.
In 2000, and again in 2022, Dr. Albright expected nations to act in accordance with international standards.  She rejected "might makes right." For those who ask what is at stake in Ukraine's fight on behalf of the free world, Dr. Albright was clear on February 23, 2022: Either a "world governed by the rule of law or one answerable to no rules at all."