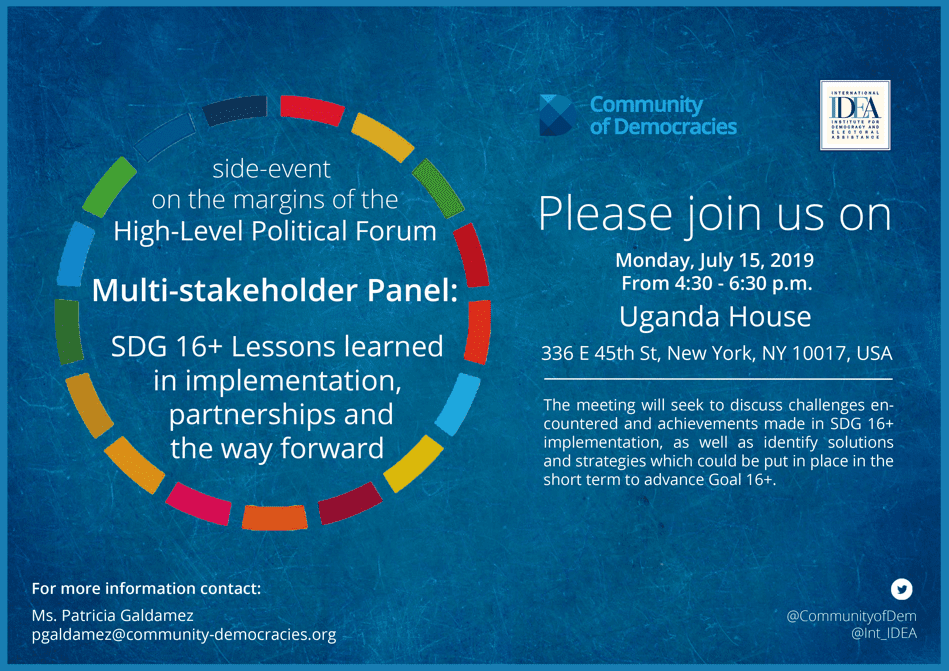 Multi-stakeholder Panel: SDG 16+ Lessons learned in implementation, partnerships and the way forward
Side event at the High Level Political Forum in New York 
On the margins of the UN High-Level Political Forum in New York, the  Community of Democracies and International IDEA are holding a "Multi-stakeholder Panel: SDG 16+ Lessons learned in implementation, partnerships and the way forward."
The event will be held on Monday, July 15th, 2019 from 4:30 – 6:30 p.m. at Uganda House, 336 E 45th St, New York. 
The Panel will bring together representatives from the Community of Democracies, International IDEA, global and regional organizations, as well as multi-stakeholder initiatives, and civil society, working on the advancement of SDG 16+.
The two-hour meeting will discuss challenges encountered and achievements made in SDG 16+ implementation, identifying solutions and strategies which could be put in place in the short term to advance with Goal 16+.
To register for the event, please email  events@community-democracies.org by July 12.