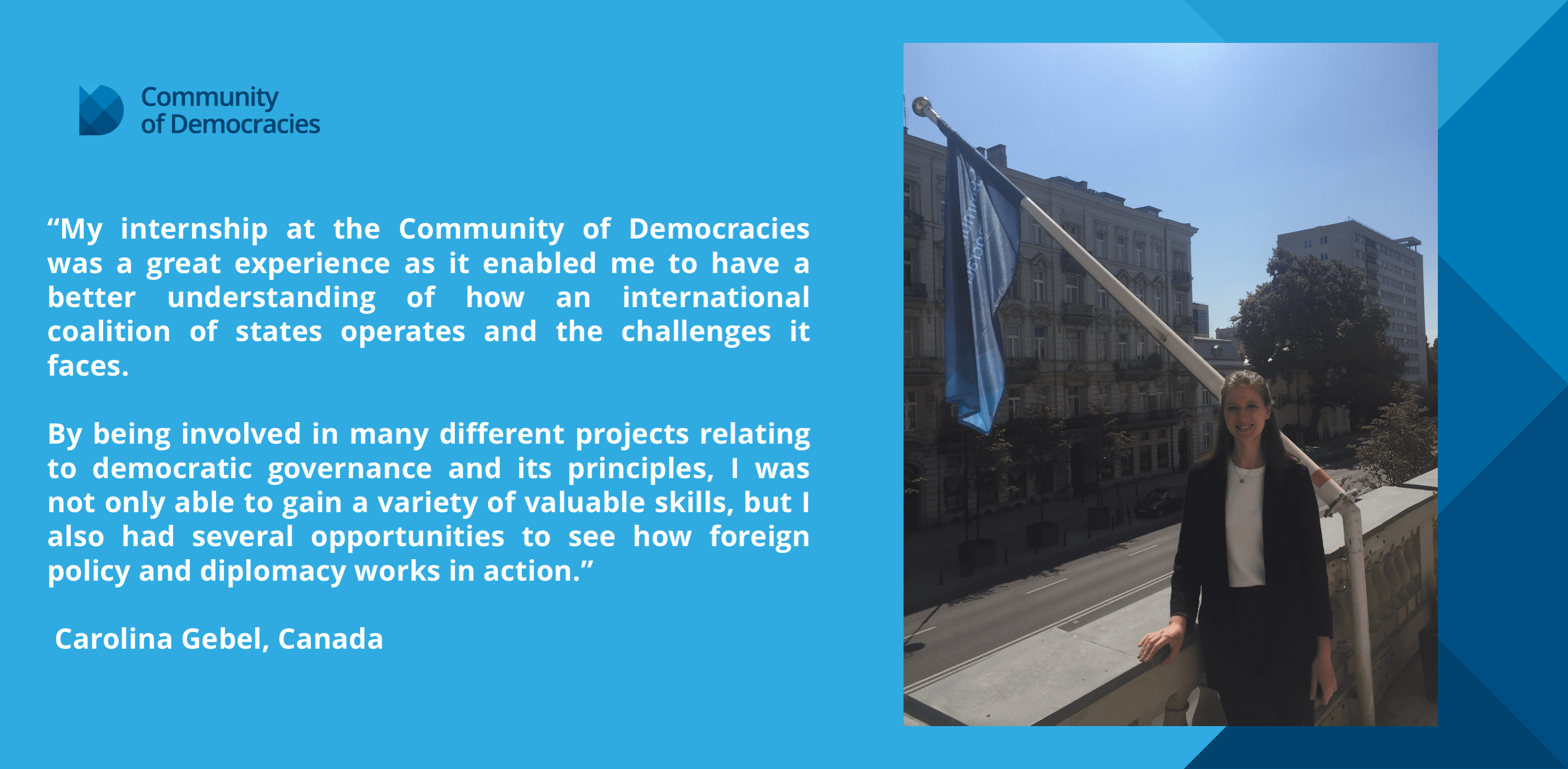 Unique internship opportunity
Apply to join our team in an exciting time of preparations for the CoD 20th anniversary and Ministerial Conference 
The Permanent Secretariat of the Community of Democracies (PSCD) is looking for talented interns to join its Warsaw team in an exciting time of preparations for the 20th anniversary of the Community of Democracies (CoD) and the 10th Ministerial Conference, to be held by the CoD Presidency Romania in June 2020.  
The PSCD offers university students and recent graduates a unique opportunity to spend four months working on activities on the cutting edge of democracy, human rights and diplomacy, and participate in preparations of the 20th anniversary activities as well as the Ministerial Conference, which takes place every two years and gathers leaders from governments, parliaments, and civil society from across the world.
Successful candidates will join a diverse and multicultural team that plans and implements activities supporting adherence to common democratic values and standards enshrined in the Warsaw Declaration. 
How to apply: terms and deadlines 
Please send your CV and cover letter to hr@community-democracies.org with 'Internship Spring 2020' in the email subject line. All documents must be in English. 
Deadline for applications:

03 February

 

2020

Duration of the internship:from 02 March- 30 June 2020

The PSCD maintains a degree of flexibility over the exact dates;
Candidates who wish to extend the internship period up until 6 months (July, August) are also welcome
Responsibilities
Contributing to preparations for the CoD 20th anniversary activities, including communications and events management;
Participation in preparations for the CoD 10th Ministerial Conference, including communications, logistics, administrative tasks;
Conducting research and analyzing issues associated with democracy and human rights;
Reviewing or editing documents and diplomatic notes;
Contributing to the development of concept notes, project proposals and communication materials;
Organizing conferences, panel discussions and roundtable discussions with external partners;
Monitoring social media and providing input and contributing to the organization's communication channels;
Attending events on behalf of the Permanent Secretariat.
Qualifications
As passionate as we are about the principles of the Warsaw Declaration and committed to supporting democracy and protecting human rights around the world;
University student or a recent graduate with top marks;
Demonstrated interest in democracy, diplomacy, international relations, human  rights, civil society, gender equality, diversity, women's rights and politics;
Professional fluency in English (additional languages are an advantage).
Practical information
The internship is held at the Permanent Secretariat of the Community of Democracies in Warsaw, Poland;
Typical working hours are 10am-4pm Monday to Friday but the PSCD maintains a degree of flexibility;
The PSCD does not offer any payment or expenses allowance for the internship; the interns are responsible for all costs associated with travel, accommodation, insurance and maintenance during the internship duration;
The PSCS does not offer assistance regarding relocation to Poland (visas, accommodation, etc), however interns are encouraged to join the PSCD interns Facebook Group where they can find some useful tips and information on living in Warsaw.
Click here to read testimonials from some of our former interns