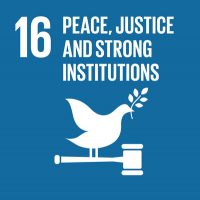 Patricia Galdamez of the Community's Permanent Secretariat presented the Community's work towards the implementation of SDG16 at the workshop organized by the Friends of Governance for Sustainable Development. The workshop, in New York on April 27th, brought together a number of organizations to discuss their initiatives on Goal16 on peace, justice and strong institutions.
The UN 2030 Sustainable Development Agenda acknowledges the importance of democracy as a precondition for economic and social development. It has created a visible frame for the Community to strengthen its role at the global level and, within multi-stakeholder efforts, to strengthen democratic principles and institutions by promoting its implementation, and in particular that of Goal 16.
During the workshop, Patricia Galdamez highlighted the Community's work towards SDG 16, including the Voluntary Supplemental Indicators for SGD16. She also outlined the CoD's road map for continuing to support the implementation of SDG 16 and other goals that are particularly relevant to the mission set out in the Warsaw Declaration.