Preparing for the elections: Community holds trainings for civil society, journalists, and media monitoring organizations in Tunisia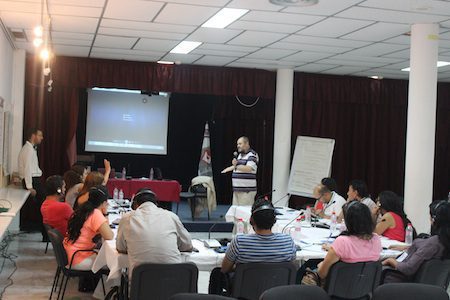 September 14, 2014
Parliamentary and presidential elections will be held in Tunisia this October, November and December. These elections, crucial in a country undergoing a process of democratic consolidation, are also an important test for civil society and the media. The Community went to Tunis to share experiences and best practices.
Elections are one of the biggest democratic events in a country, and capture the attention not only of voters, candidates, and political parties, but also of a wide range of media and civil society organizations. In countries undergoing a process of democratic consolidation, some of them might lack crucial experience to properly cover and monitor the electoral campaigns. To fill this gap, the Community of Democracies, in partnership with the Arab Institute for Human Rights, held a series of trainings for media and civil society, preparing for the upcoming elections.

The trainers worked with three different audiences: civil society; journalists; and media monitoring organizations. Civil society organizations learned how to advocate for their issues during campaign periods, as well as how to build a coalition. Journalists reviewed international standards for reportage. Media monitoring organizations studied how to carry out the necessary quantitative and qualitative methodologies during electoral periods.

The workshops were conducted by world-class experts, all with vast experience in the field of observing, monitoring and covering elections. The trainers came from countries that underwent democratic consolidation in the last 25 years, which increased the sense of solidarity and understanding between trainers and participants. "A journalist is not just a transmitter. A journalist should not just be putting out exactly what he has received from the political parties. He has to give context as well. The journalist has to ensure credibility. A journalist should defend citizens' rights", said one of the facilitators, Ivan Godarsky of Slovakia, in the training for journalists.

The pre-elections training session was co-funded by the governments of Estonia and Slovakia in the framework of the Community's CD-UNITED mechanism.