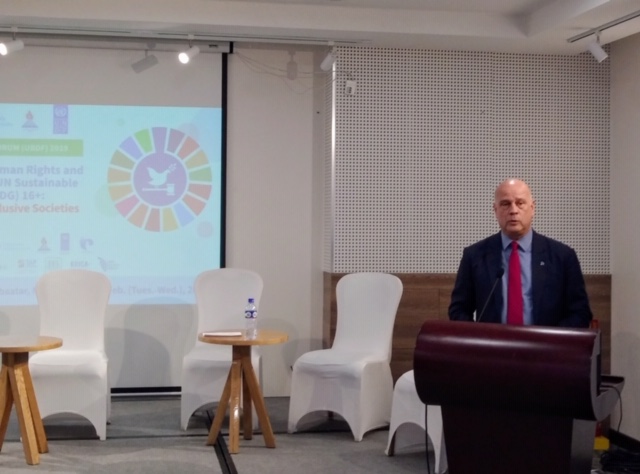 Secretary General's Visit to Mongolia
February 25 to March 1, 2019
Ulaanbaatar Democracy Forum 2019, February 26-28
The Secretary General (SG) provided opening remarks to the Ulaanbaatar Democracy Forum 2019 (UBDF), an Asia regional consultation on promoting democracy, human rights and peace through Sustainable Development Goal 16+.  The Community of Democracies (CoD) was a lead organizer of the event, with funding provided by the Republic of Korea.  The SG's remarks on peaceful, just and inclusive societies mirrored those also offered by Foreign Minister Tsogtbaatar of Mongolia, Ambassador of the Republic of Korea to Mongolia Jae-nam Chung and UNDP Resident Representative Beate Trankmann.
UBDF 2019 built upon the 2018 CoD Busan Democracy Forum and reviewed and shared best practices of Asian governments, UN organizations and national civil society organizations engaged in the implementation and monitoring of the Sustainable Development Goals, particularly SDG 16+.  In addition to the SG opening remarks, Senior Advisor Patricia Galdamez addressed the Forum on the CoD's Voluntary Supplemental Indicators for SDG 16 and on CoD work on women and peacebuilding.
Bilateral Meetings, February 26 and 27, Ulaanbaatar
The SG met with H.E. Traian Hristea, head of the European Union delegation to Mongolia, and Deputy Head of EU Mission Marco Ferri, to discuss the current work of the Community of Democracies and future CoD work in Asia.
H.E. Ambassador Philip Malone of the United Kingdom met with the SG to discuss initiatives of the CoD on increasing democratic participation, a theme of focus at the recent Governing Council meeting of the CoD in London under the U.K. chairmanship.
Leaders Advancing Democracy (LEAD) Keynote Address, February 28, Ulaanbaatar
The USAID-funded LEAD Summit, implemented by World Learning and the International Republican Institute, asked the SG to speak to its participants from Mongolia, Myanmar, Bhutan and Kyrgyzstan.  The LEAD scholars, young activists selected for their leadership potential, were briefed on the Community of Democracies' mission and work among youth, constitutional dialogue in Myanmar, and Mongolian democratic lessons learned.