Strengthening voices for democracy: the Community celebrates International Day of Democracy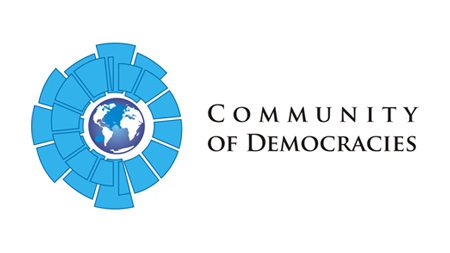 August 23, 2013
In two weeks time diplomats, policy makers and civil society activists will join the Secretary General and the Permanent Secretariat of the Community of Democracies in Warsaw as they celebrate democracy in a series of special events. The celebrations will be organized on the eve of the International Day of Democracy – September 15 – established by the UN General Assembly, and focusing this year on the theme "Strengthening voices for Democracy".
"Each country has a national holiday to celebrate, and for us, as an international organization devoted to the ideas of democracy, the International Day of Democracy is a great opportunity to share our happiness with our partners to the goal" said the Community's Secretary General, Ambassador Maria Leissner, on the occasion. To share this happiness, the Permanent Secretariat of the Community will host a number of events.
A meeting on women's role in democratization, on September 10, will initiate the special week. Organized with the senior Warsaw-based diplomats, the event will host prominent women actors professionally engaged in promoting democracy in Poland and in the world.
The following day, a special screening of the film "A whisper to a roar" will be held in the Secretariat. Young professionals- diplomats, government officials and civil society representatives will have the unique opportunity to watch one of the most inspirational and celebrated documentary films on democracy of the last years. "A whisper to a roar" follows the heroic and turbulent stories of democracy activists in five countries – Egypt, Malaysia, Ukraine, Venezuela and Zimbabwe – who risk it all to bring freedom to their people.
On September 12, the Comunity's Permanent Secretariat will host the inauguration mmeting of the "Warsaw Democracy Club", an initiative of the Secretary General intending to create a common meeting place for democracy-related international organizations based in Warsaw- the Community of Democracies, the Office for Democratic Institutions and Human Rights of the OSCE, the International Republican Institute, the Solidarity Fund (Poland), the European Institute for Democracy and the Warsaw offices of the German Marshall Fund and the Council of Europe.
The first meeting of the Club will focus on the Russian local elections (on the regional, municipal, mayoral and governatorial level), including in Moscow, held on September 8th. In a first-of-a-kind panel, prominent democratic figures from Russia will engage in an open discussion with the Club's participants, on one of the key political events in Russia this year.
The international Day of Democracy will be marked by a special statement by the Community's Secretary General, Ambassador Maria Leissner.
See the official page of the events on the Community's Facebook Page.