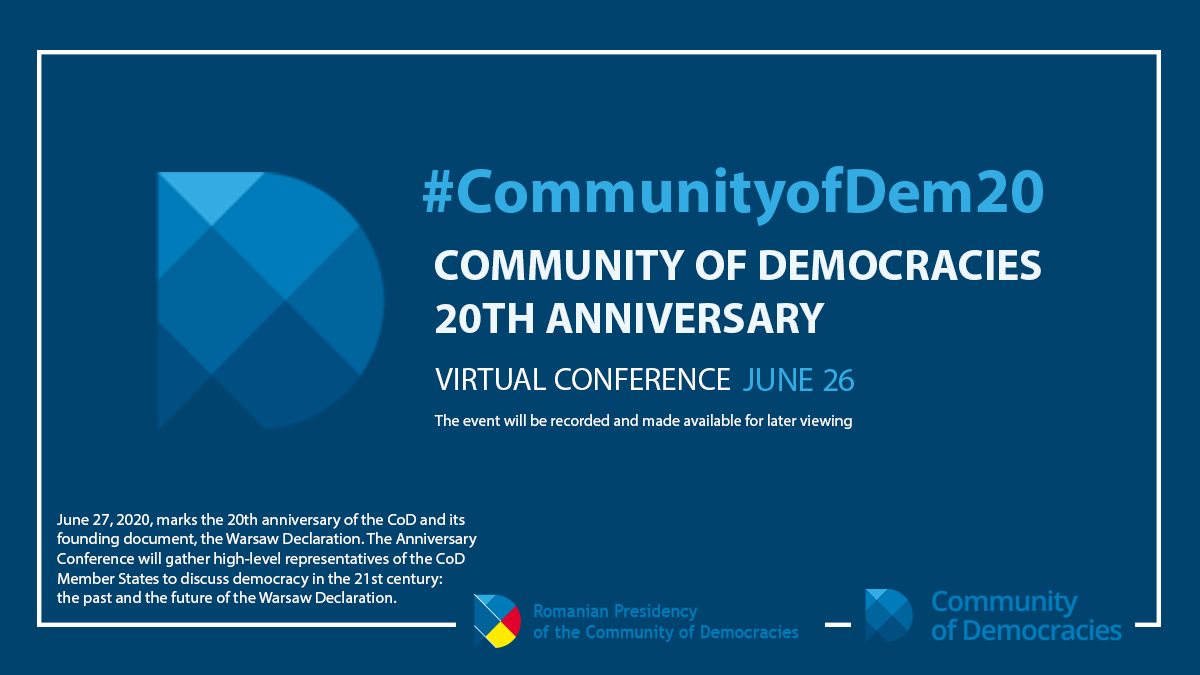 The Community of Democracies to celebrate its 20th anniversary at a virtual conference on
June 26
PRESS NOTE
Foreign Minister of Romania Bogdan Aurescu, former US Secretary of State Madeleine Albright, Secretary General of the Community of Democracies Thomas E. Garrett, and former CoD Secretary General Maria Leissner to deliver keynote remarks at the online Anniversary Conference of the Community of Democracies
June 27, 2020 marks the 20th anniversary of the Community of Democracies (CoD) and its founding document, the Warsaw Declaration. The Anniversary Conference, hosted by Romania, the CoD Presidency, will be held online and gather high-level representatives of Governing Council Member States, civil society, and international organizations. The discussions will focus on democracy in the 21st century: the past and the future of the Warsaw Declaration.
The Community of Democracies' Governing Council comprises 29 young and established democracies of different historical, cultural, or economic background – united by the shared democratic values of the Warsaw Declaration. Adopted by more than 100 countries in Warsaw in the year 2000, the Warsaw Declaration outlines 19 core principles for the effective establishment and functioning of a democracy. It provides a roadmap for young democracies and a checklist for established ones.
"The 20th anniversary of the Warsaw Declaration provides a unique occasion to assess the state of democracy in the world and to express collective hope for the future. On this note, we strongly believe that the virtual Anniversary Conference, held at Ministerial level, will be not only an excellent opportunity to discuss current developments and challenges to democracies worldwide, but also to reaffirm our commitment to democratic values." – Romanian Minister of Foreign Affairs Bogdan Aurescu.
"In 2020, the CoD mission to defend and promote the principles of the Warsaw Declaration and strengthen democratic institutions remains more important than ever. I am looking forward to the Anniversary Conference discussions with the Community's Member States to celebrate 20 years of working together and discuss current and future challenges and opportunities for democracy."- Secretary General Thomas E. Garrett.
The event will be live-streamed: ow.ly/AlKN50AivPI
For more information please contact media@community-democracies.org
Follow CoD on social media
Twitter @CommunityofDem
Facebook @CommunityofDemocracies
Hashtags: #CommunityofDem20 #WAWDeclaration20
The recording and pictures of the conference will be available after the event.