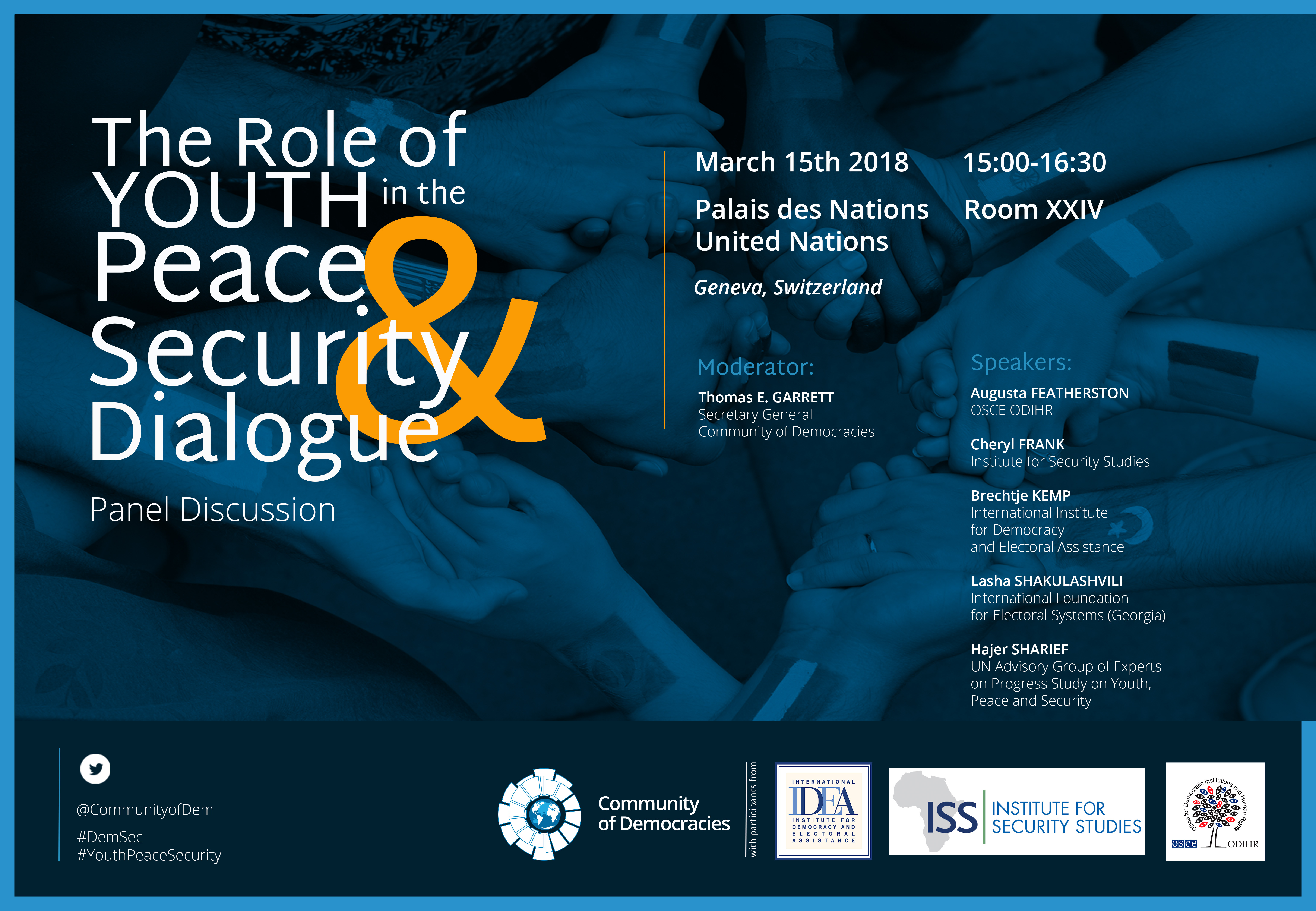 The Permanent Mission of Norway to the United Nations Office in Geneva, on behalf of Norway as the Chair of the Executive Committee of the Community of Democracies (CoD), is  hosting a panel discussion between experts with the participation of young leaders from around the world on "The Role of Youth in the Peace and Security Dialogue".
The discussion will center on the challenges to youth engagement in the peace and security dialogue and will showcase good practices for their participation, in the context of the Sustainable Development Goals. Panelists will also debate possible methods to implement UN Resolution 2250 on Youth, Peace and Security (2015) which urges States "to consider ways to increase inclusive representation of youth in decision-making at all levels in local, national, regional and international institutions and mechanisms for the prevention and resolution of conflict, including institutions and mechanisms to counter violent extremism".
The empowerment and participation of youth is a key tenet of the Sustainable Development Agenda, as emphasized by SDG 10, which calls for the promotion of the social, economic and political inclusion of the young generation, and SDG 16, which aims to ensure responsive, inclusive, participatory and representative decision-making at all levels.
International Institute for Democracy and Electoral Assistance (International IDEA) in its 1st Report on the Global State of Democracy explores how democracy can deliver for  youth, given the rising trends of economic inequality and social exclusion, and prevent their marginalization, while UNDP draws attention to the fact that the current generation of young people, the largest in history, totaling over 1.8 billion people worldwide, is at risk of being marginalized and alienated if they are not given more opportunities to meaningfully participate in social, political and economic activities and decision making.
As shown by a joint report on Liberal Democracy and the Path to Peace and Security produced by the CoD, the Institute for Security Studies and Brookings Institute, it  is of paramount importance to address this marginalization of youth in the context of the pursuit of peace and security. The report highlights that young people are a specific group of interest in discussions about violent extremism, and violence more generally. While the youthfulness of populations in many developing countries has been associated with increased security risks, it is also the source of potential demographic dividends, if young people are also recognized as contributors to society, including as political actors, employees, parents, and citizens.
Speakers:
Augusta FEATHERSTON, OSCE Office of Democratic Institutions and Human Rights (ODIHR),
Cheryl FRANK, Institute for Security Studies,
Brechtje KEMP, International Institute for Democracy and Electoral Assistance,
Lasha SHAKULASHVILI, International Foundation for Electoral Systems (Georgia),
Hajer Sharief, UN Advisory Group of Experts on Progress Study on Youth, Peace and Security.
Moderator:  Thomas E. GARRETT, Secretary General of the Community of Democracies