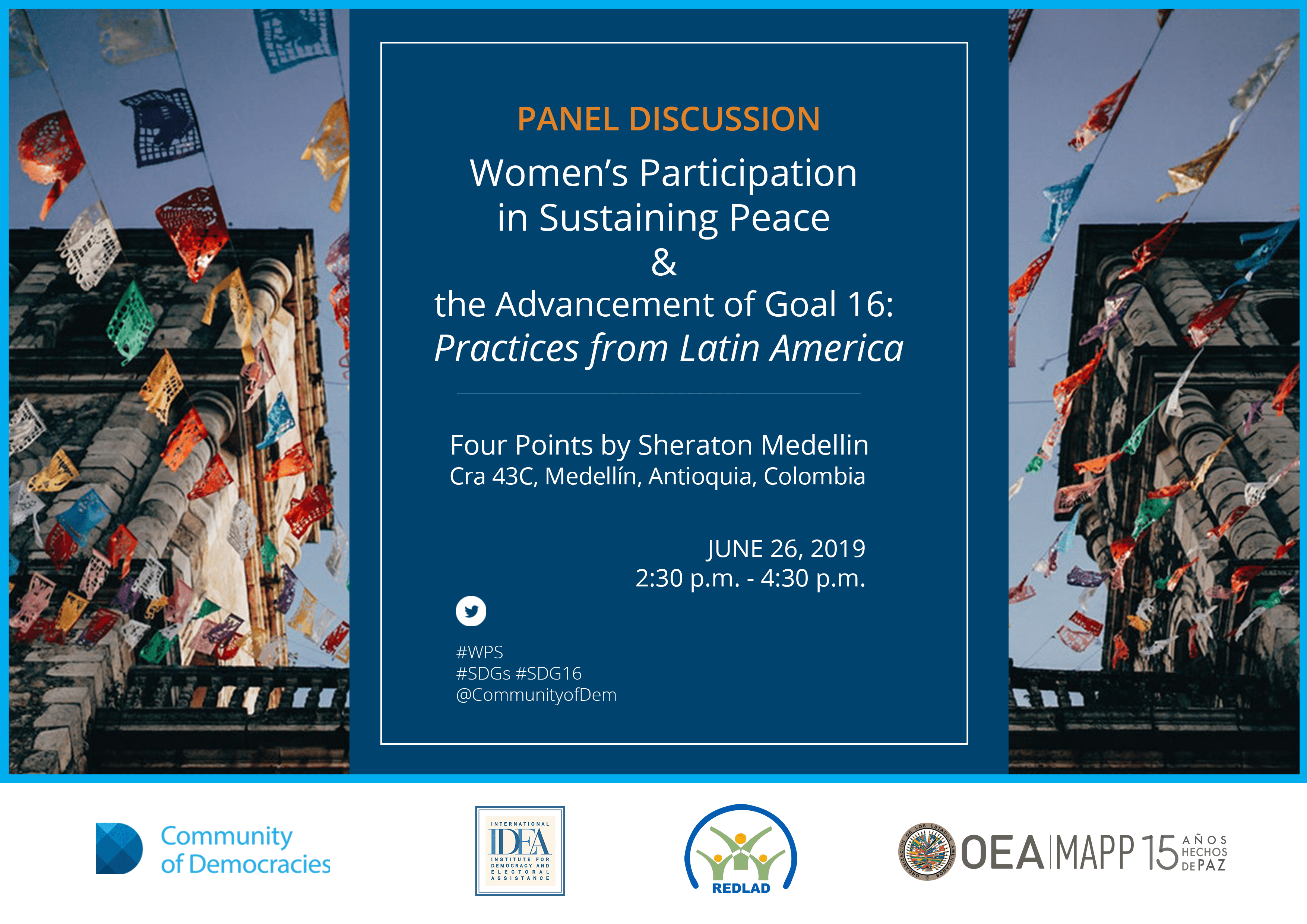 UPCOMING EVENT
"Women's Participation in Sustaining Peace & the Advancement of SDG 16: Practices from Latin America"
On June 26th, 2019, the Permanent Secretariat of the Community of Democracies, jointly with International IDEA, the Latin American and Caribbean Network for Democracy (RedLad) and the Mission to Support the Peace Process in Colombia (MAPP/OAS), is holding a panel discussion on "Women's Participation in Sustaining Peace & the Advancement of SDG 16: Practices from Latin America".
The panel discussion will be held as a side-event on the margins of the 49th Regular Session of the Organization of American States General Assembly in Medellin, Colombia.
The event will explore the role of women in peace-building, and also in the overall consolidation of peace, justice and inclusive societies, in relation to the advancement of the 2030 Sustainable Development Agenda. The meeting will address best practices for advancing women's participation in sustaining peace from Latin America and present preliminary findings of the Community of Democracies' ongoing research on "Engaging Women in Sustaining Peace". The study aims to assess women's beneficial inclusion in peace processes through a global perspective and embraces case studies from Africa, Asia, Europe and Latin America.
Challenges and best practices of women's meaningful involvement in peace-building in Latin America will be discussed.  Additionally, the panel will also seek to highlight the importance of ensuring the effective and active women's engagement in decision making, to allow for the contribution of women in building sustainable peace in the framework of the SDGs.