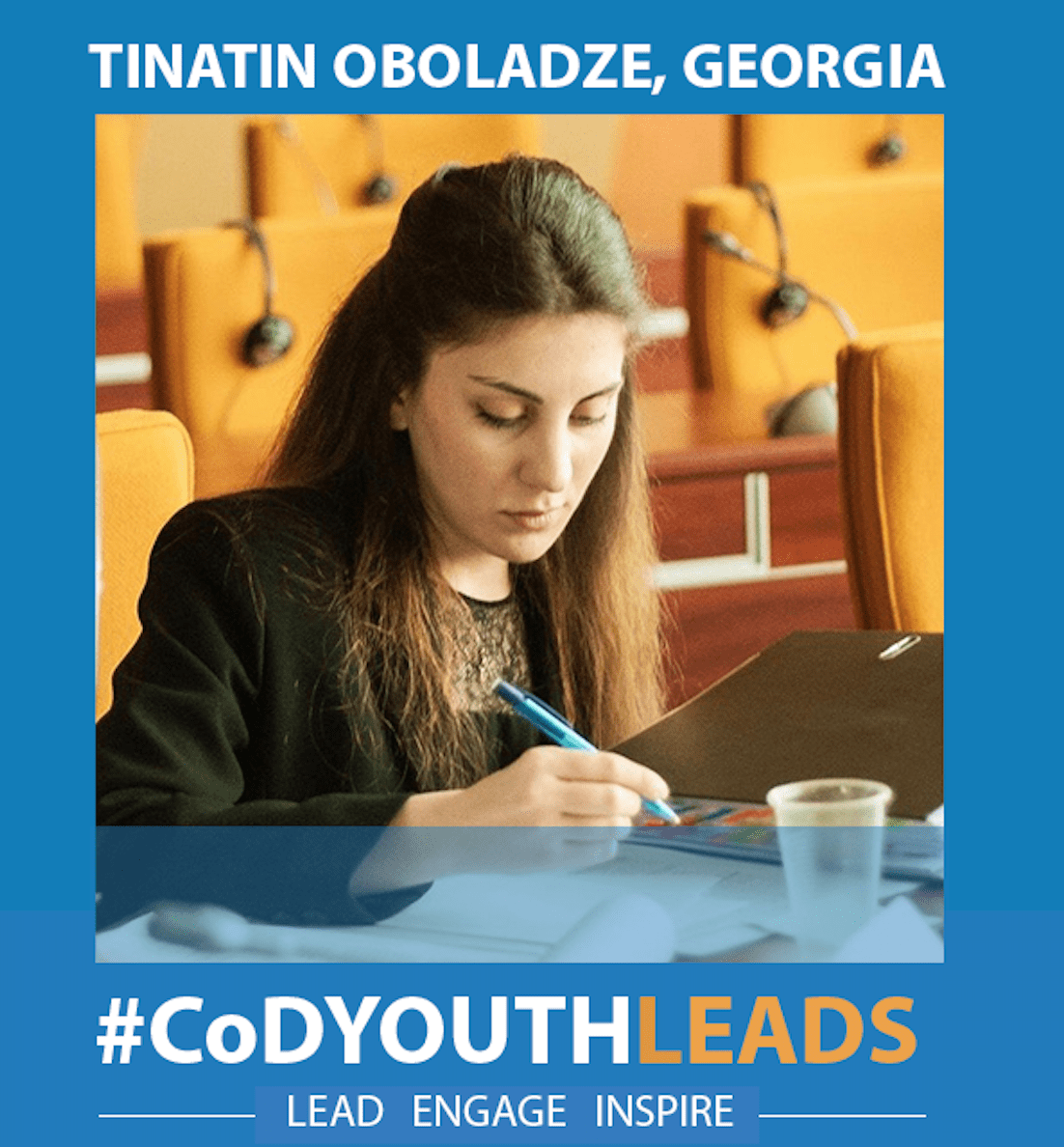 What is your attitude towards youth? – are they leaders of today, or leaders of tomorrow?
By CoD Youth Lead Tinatin Oboladze from Georgia
'What is your attitude towards youth? – are they leaders of today, or leaders of tomorrow?' This was one of the questions I have proposed to the CoD permanent secretariat and wanted to be asked to the CoD Youth Forum high-level participants including young leaders. On the one hand, the main reason why I am interested in finding out the real attitude of decision-makers towards youth is to identify realistic policy objectives that could be assessed and measured. On the other hand, asking this question to young people helps me identify what their expectations are in the process of boosting their activation in public life. I believe that young people are leaders of today and we should open the doors to youth generously to address the challenges of democracy.
With regards to youth participation in democratic governance, I suggest refreshing the democratic institutions by providing youth with real powers to watchdog democratic processes along with youth quotas in political parties and lowering the age of candidacies to impact on the composition of parliaments and local councils.  It is also important to recognize and fight the stereotypes and biases which prevent youth to hold decision-making positions. We fail to acknowledge the full potential of youth and the fact that youth deserve to be in healthy professional competition with adults of the modern world.
It is important to acknowledge that establishing strong democracies in countries cannot happen without peace and security in different regions of the world. More than 100 armed conflicts are taking place around the world having devastating effects on the youth population. For that reason, we need to implement SDG 16 effectively, we should provide innovative spaces for peacebuilding and dialogue. Democratic governments should become pioneers in building longer diplomatic tables, not making fences taller, thus making it possible for young people to have access to formal/informal diplomatic platforms. Yet on the other hand, for example, Georgia's capacity to ensure full participation of youth in peace processes remains limited, as long as its regions of Abkhazia and Tskhinvali continue to be under illegal Russian military occupation.
Another pillar of ensuring peace is to promote the idea of accountability and justice for all the victims of armed conflicts, develop and implement effective mechanisms to document and follow up cases on human rights violations against young people including creating safe spaces where young people can report them. Empowering international courts (including ICC) should become one of the priorities, as these institutions suffer from fake news campaigns and lack of meaningful cooperation from the states.
I will share the UN Secretary General's idea that it is time to halt hostilities and use the power of solidarity instead of the power of guns and take the momentum for ensuring peace and successfully fight our common enemy — the COVID-19 pandemic.